The oft used phrase "Change is the only constant" aptly describes the ever-evolving trend of digital marketing and communication. The digital market has rapidly changed in the past five years, and its progress doesn't show any signs of slowing down. And, as the year 2020 gradually approaches, the marketing landscape that encompasses SEO, PPC, content marketing, social media and many more, is witnessing a dramatic shift in trend.
As the rate of technological developments continues to accelerate at a massive scale, most companies are finding it difficult to maintain them abreast of advances. But, once you adapt to the new methodologies, it will bring you opportunities to consolidate your brand and boost your sales.
With every passing year, new technological innovations are forcing marketers to evolve their marketing practices. There was a time when we used to dismiss visual search and artificial intelligence as gimmicks of science fiction films, but that time has long gone. AI is already a significant aspect of digital marketing, and we are rapidly approaching the omnichannel marketing era. Though this seems to be a bit overwhelming at first, the new trends bring excellent opportunities for marketers.
So, today, I am going to explore four key trends based on the latest marketing technology and techniques (of 2020 and beyond) that will help you to drive up your sales.
1.) Interactive Video Content:
As digital marketing continues to evolve, there has been a rising trend of favoring video content. Since 2019, there have been immense changes in a very manner people consume videos.
Let's take a look at these interesting video marketing statistics published by Wordstream:
Almost one-third of the total number of internet users watches YouTube (which is nearly a billion users)
45% of people watch more than an hour of videos on Facebook or YouTube every week
87% of online marketers use video content
Social media videos generate 12 times more share than text and image content combined
Landing page videos increase conversion rates by more than 80%
Today, consumers are not just content with regular videos on the web pages but prefer interactive videos that explain a brand's products and services in a straightforward and simple manner. Many top brands are implementing this new form of media to increase customer engagement and successfully reach their digital marketing goals.
As the famous digital marketing website Wyzowl states, "While new, this media has already proven to be very effective; 70% of marketers say interactive video engages audiences 'well' or 'very well,' and 68% of marketers are convinced it will continue to become a more critical component of modern marketing mixes."
Research claims that more than 90% of the people in the United States find interactive videos to perform better than regular videos and results in higher click-through-rates. To make sure your marketing ventures fetch you the desired ROI and positive impact on business, you must include short 2 minutes videos that explain your product or service offerings.
2.) Artificial Intelligence:
Take my word for it; artificial intelligence is going to take over the world pretty soon, or at least all the simpler jobs of the world. Just two years ago the Garner analysts predicted that by 2020 (which is just a mere three months away) AI technologies would become all-pervasive in each and every new software service and product. Already various malls, campuses, and sports arenas use Knightscope K5 robots that petrol parking spaces and large outdoor areas.
These R2-D2-like robots can predict and prevent crimes, report suspicious activity, read license plates and collect essential data to report to their owners. And also, they are much less expensive than the wage you would need to pay to 5 individual security guards for the same benefits.
Another excellent example of AI in marketing practice is chatbots. AI uses natural language processing software to decipher a customer's needs and wants and respond like a real person. Besides these arenas, AI has been implemented in the following sectors as well:
Basic communication
Product recommendations
Content creation
Email personalization
E-commerce transactions
As per a prediction by Techgrebyte, "Artificial intelligence will increase global GDP by up to 14% between now and 2030." With the ability to analyze consumer behavior and search patterns, AI can use data from blog posts and social media platforms to help marketers understand the customer's behavior patterns and how they select their desired products and services. It will help businesses to accelerate growth by cut staffing costs and as a result, get an edge over their competitors.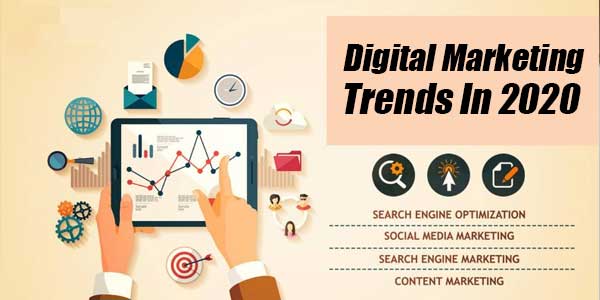 3.) Influencer Marketing:
Influencer marketing, the new marketing buzzword, is a type of word-of-mouth marketing that focuses on using influential people to amplify the visibility of a brand's services. Influencer marketing already holds a $ I billion-dollar industry on Instagram alone. The influencers are generally Instagram or YouTube personalities with a huge follower base who helps you to spread information about your business or product through their social media channels. Research has seen that 92% of people trust influencers over corporate advertising and take action based on recommendations and reviews from trusted sources.
For example, a popular British supermarket chain, Iceland, has switched from traditional advertisements to a campaign that features real-life moms. It has also teamed up with the YouTube community, "Channel Mum" to promote its products in a more 'authentic' fashion. The company now works with a number of real-life people and vloggers too, and this has increased their approval ratings from 10% to 80%.
AI also contributes to the influencer marketing tread to a great extent. Artificial Intelligence is making the process of figuring out a right influencer much easier and faster with every passing year (by identifying influencers with better social media engagement, fewer fake followers, and a higher chance at generating a positive ROI)
4.) Precise Targeting:
Finally, we need to focus our attention on the next big trend in 2020- i.e. personalization. People are tired of seeing random advertisements as they are exposed to more than 5000 ads per day, most of which are just not relevant to them. And if your targeting is off, even by a little, you are in a risk losing your business.
Today, most businesses focus on providing customized product recommendations through email, social media, mobile SMS, flash messages, etc. It will be essential to build a specific buyer persona to target your desired market. You can use this questionnaire, to determine who your ideal client is and know their buying patterns. It will help you to deliver improved customer experience, drive revenue and increase your brand loyalty.
With the right automation technology, you will be able to identify which channel customers engage with. It will help you to automatically follow up across different channels as part of an omnichannel approach.
On a parting note, you must keep in mind that the future of digital marketing is being transformed by technology quite fast. AI automation, Big data, smart tech, and immersive technologies are changing the way marketers analyze customer data and interact with their followers – who are getting savvier and expect a truly personalized experience.
To increase your conversions in the coming years and stay ahead of the curve you'll need to get better at producing customized conversational content (that preferably includes audio and video material) – to share with your better-targeted audience.
And looking ahead, you might need to invest in some insanely futuristic tech to stay ahead of the competition!