Newsletters have become an integral part of every successful email marketing strategy. As emails are the most cost-effective way to reach your subscribers and deliver powerful incentives that will help you promote your growth, it is absolutely necessary to have an optimized newsletter strategy that will take your business to the next level.
Email marketing can power-up your sales efforts and increase your revenue; however, to do so you need to have the most engaging emails that will make your audience want to click on your calls-to-action and turn into loyal supporters of your company
So, to supercharge your email marketing strategy, we found the best ways to help you optimize your strategy, enjoy the benefits of newsletters and achieve greater open, click-through and conversion rates. Are you ready?
1.) Set Your Goals And KPIs:
To implement successful changes that will improve your strategy you first need to set your goals and KPIs. Setting your goals will help you reach your objectives and give you a clear idea of what you need to do to achieve growth.
KPIs are equally important to boost your newsletter strategy because they will enhance your decision making and make sure that you can accomplish your goals. To supercharge your newsletters, you need to keep in mind some of the most important email marketing KPIs:
Email deliverability
Open rate
Click-through rate (CTR)
Bounce rate
Conversion rate
Return-on-Investment (ROI)
Keeping these key indicators in mind will help you create the best newsletters out there and help you strategize more efficiently.
2.) Mailing List Segmentation:
Mailing list segmentation is a powerful technique to enhance your newsletters and send better, more targeted messages to your subscribers. To take advantage of it, you simply need to group your subscribers according to specific criteria like age, gender, profession or interests and then start sending them emails that will better suit their needs.
Here's an example from Stanley Tools:


Sending the right messages to the right people is the best way to drive high engagement, reduce your bounce rate and nurture your audience with content that will be tailored to them.
3.) Email Personalization:
What your subscribers don't want to see in their inbox is a generic mass email. So, if you want to get your newsletter strategy to the next level, you really need to take into account that your subscribers want to have more personalized experiences.
Leveraging personalization will not only help you deliver messages that will be tailored to them but also make them feel unique and lead them a step further down your marketing funnel.
To use email personalization you simply need to include your subscriber's name either in your subject line or email body and, along with segmentation, deliver the content they want to see and interact with.
Here's an example from Salesforce:

4.) A/B Testing:
Every business knows that the best email formula that works miracles can't happen overnight. While you might already have great emails that perform well, testing different elements will help you power up your newsletter strategy like a pro.
As your subscribers' interests and preferences change all the time, running regular A/B tests will help you optimize your newsletter strategy and give you an all-powerful tool to discover what your subscribers want to see in their inbox.
If you want to start an A/B test, you simply need to create variations of your original design and then send them to different subscribers. Then, you have to monitor how well they perform compared to your control and use the data to create the best newsletter to convert them.
5.) Craft Amazing Subject Lines:
Subject lines are the most important part of your emails and can determine your open and click-through rates. If you think about it, your subject line is the first thing your subscribers will see when they check their inbox.
Ending up in spam folders and trash bins can really harm your sender reputation and render your email marketing attempts unsuccessful. To avoid that create subject lines that will be free of spammy words, straightforward and creative to make your audience click on your emails and take your CTA.
Also, using email verification tools can be your precious allies to protect your email sender reputation and improve your email performance
6.) Take Advantage Of Visuals:
Using visuals in your emails has become a popular trend that numerous businesses have leveraged to increase their conversion rate. As your subscribers favor content that has eye-catching images, you need to start using them in your newsletter as soon as possible.
Find visuals that will support your copy and make it stand out. Then, make sure to use the right amount of images necessary to deliver an amazing result. Also, since visuals can make or break your content, focus on getting only high-quality images avoiding to minimize subscriber dissatisfaction and poor email experiences. If you search around the web, there are numerous free stock photo sites you can use to get your high-quality images.
Use visuals to turn boring text-only emails into amazing emails that will charm your subscribers and make them click. Be careful, though, because overusing them can have the opposite result.
7.) Mobile-Friendly Newsletters:
Mobile devices are on the rise and for this reason, you shouldn't neglect to optimize your newsletter strategy for mobile devices. As you can see in Movable Ink's Consumer Device Preferences Report, almost 66% of email opens happen on mobile devices.
If you want to have mobile-friendly emails your mobile-first subscribers will open, you need to watch your subject line length, make use of pre-header text to show them what your email is about and keep your copy short and concise.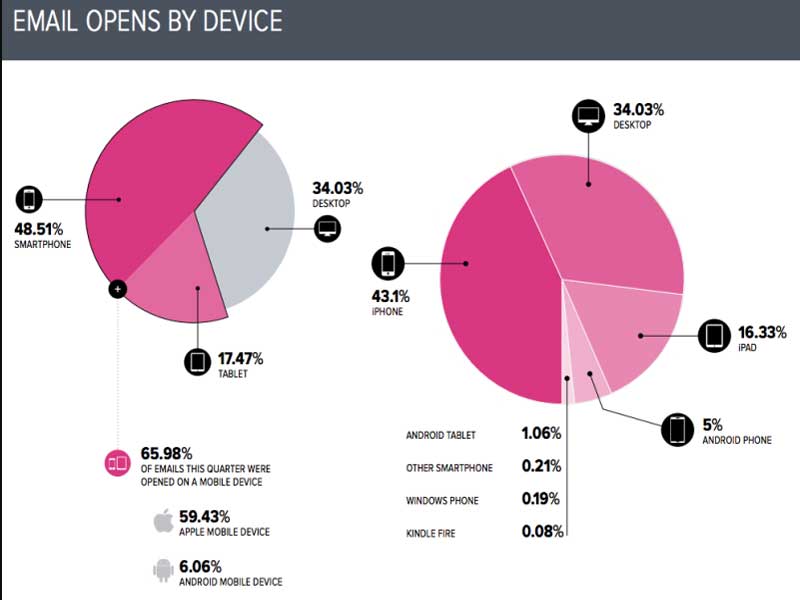 Create CTAs that are as clear as possible and make them stand out to achieve better clicks. Also, give your subscribers the option to disable or enable images according to will as not every subscriber wants to have the same experience with them.
Optimizing for mobile will help you bring your open rate through the roof, so it's a necessary element for every successful email marketing strategy.
Takeaway:
An optimized newsletter strategy will help you skyrocket your business in no time. What you need to do to achieve it is to set your goals and KPIs first. Segmenting your list, personalizing your emails, creating amazing subject lines are some of the best things you can do to get your newsletters to the next level and see your open, click-through and conversion rates go up. So, if you want to succeed faster, follow the steps above and start sending amazing newsletters like a pro.