Is your Windows PC running like a snail? Do you often reformat and reinstall Windows in your machine because it is often laggy, slow and acting out strange? Do you often get a warning notification that your PC might be infected?
We all love our Windows machine but unfortunately, it is prone to a lot of issues when it comes to security and keeping it optimized. But that does not mean that you always have to resort to reinstalling a new Windows OS every time you feel that it is getting slow.
Keeping your Windows machine performing in its top form is actually easy. No need to go through the hassle of install and reinstall and reinstall again. If you can do these things properly, then perhaps your next Windows reinstallation could be in 3 to 5 years. Sounds good? Let's start!
1.) Save A Restore Point: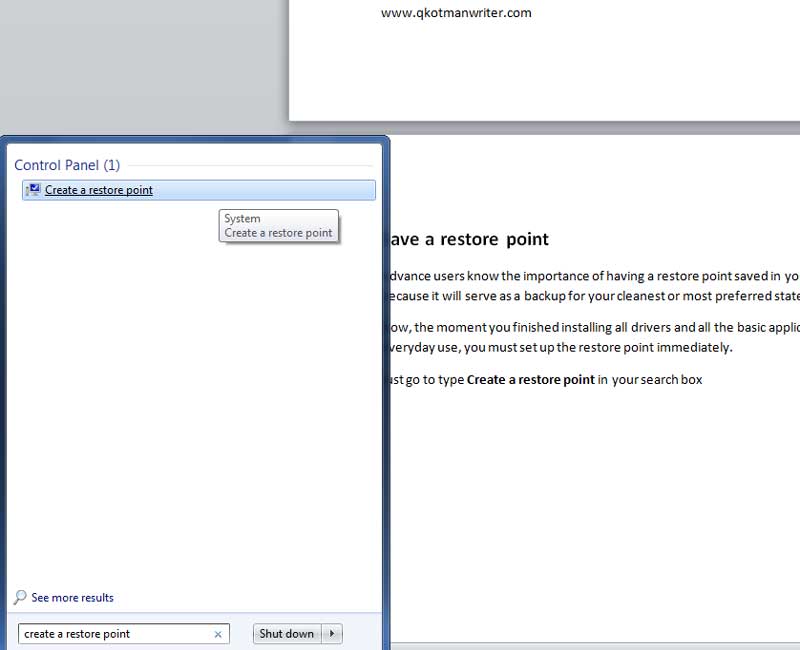 Advanced users know the importance of having a restore point saved on your computer. Why? It is because it will serve as a backup for your cleanest or most preferred state of your Windows system.
Now, the moment you finished installing all drivers and all the basic application that you need for your everyday use, you must set up the restore point immediately. Just type Create a restore point in your search box and open it. The rest should be simple from there.
2.) Install What You Only Need:
A lot of Windows OS users get overexcited sometimes when they see great game titles or enticing apps that promise great value and productivity for them. And that is where everything starts to go wrong.
You see, even the strongest processor and an 8GB RAM has its limits. And if you want to make full use of your system resources, I advise you to not abuse your machine like giving it unreasonable workloads and processes that you hardly even use.
Install the applications that you really are going to use like office suite, a media player (GOM Player or VLC), a browser (Google Chrome or Mozilla Firefox), PDF reader (Adobe Reader or Foxit Reader), Skype and a music player (1by1, AIMP3 or you could stick to Windows Media Player or VLC). Other than that, you should choose wisely.
Too much clutter inside your system is often the main cause of performance slowdown.
3.) Install Only 1 Antivirus:
I have had a lot of clients that complained about their laggy PCs and then finding out that the real problem is as simple as having 2 or multiple antiviruses running in the background.
I mean, I get their reason why they installed multiple antiviruses, it's because they thought that having more than 1 protection is better. But that is where they are mistaken. 1 antivirus is already demanding enough for a system with 2-4GB of RAM, so if you installed 2 or 3 more will result in significant delays of responses.
If you don't trust your current antivirus enough for protecting your system, then find another that can do the job.
4.) Avoid Shady And Unfamiliar Websites:
One common cause of having a system with adware popping up every time you open a site or a page is because users visit different sites that are not secure or unverified. The Internet is a dangerous place for those who recklessly click and open sites that they have no idea about.
5.) Update All Apps, Drivers, And Antivirus:
The best way to get the most out of your machine is to regularly update the drivers for your Windows. Errors and bugs are fixed with updates and patches so the chance for adding more power and speed through your machine is better.
Antivirus should be updated daily because new viruses and malware are being created every single day. So if you want to be always protected. Keep your antivirus definition up-to-date. Also, if you really intend to visit those shady sites, a layer of protection will do you good.
6.) Wipe Out History And Cache:
Make it a habit of wiping clean your browsing history and cache to keep your browsing activity at top speed. If you don't, the accumulated data that went through your browser will eventually be the cause of slow or laggy response from your PC.
7.) Avoid Ads About Making Your PC Run Faster:
The most notorious adware are those that offer to make your PC fast again or optimize your PC performance. They are not true and if you install them, you will just be annoyed by their consistent reminder of upgrading to a professional version which basically is just marketing.
Not to mention that they occupy almost 80% of your screen so it is pretty annoying especially when you are busy. Some of them even don't get uninstalled easily once you realize what they really are.
8.) Disable Unnecessary Autostart On Boot:
If you wonder why opening a Windows machine takes up more than 5 minutes is because you have a lot of application that automatically starts at boot. Disable those that aren't necessary and put them on manual.
Step 1.) To do this, type CMD then open it.
Step 2.) In the CMD box, type msconfig then enter.
Step 3.) Another box will open and then go to Startup.
Step 4.) Uncheck the ones that you do not need to be running automatically in the background. I'd advice that you just leave the Google Update and all the Microsoft related in the list. Others you can uncheck to put them on manual mode.
Step 5.) Keep in mind that nothing will be uninstalled if you uncheck any of those on the list.
Do all of the above and your Windows system will last longer and perform efficiently. If you have more to add to this article, please feel free to share it in the comment box.