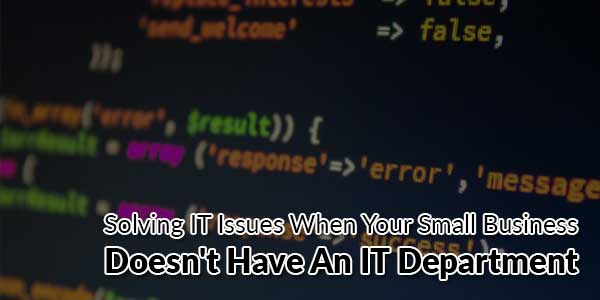 Technology plays an important role in most businesses today, but not every business has the capacity for a full IT department. If your small company does not have a dedicated IT department, you may want to consider some options to ensure your IT needs are still covered.
Write A Detailed Instructional Manual:
Although time-consuming, with the help of several employees or a task force, a comprehensive instruction manual can be organized to cover the office equipment's IT issues. The manual can be updated as needed and contributed to by employees who can share their problem-solving strategies to help others. The manual may be distributed digitally or in print to all employees.
Bookmark Online Instruction Guides:
Search for online training manuals and troubleshooting guides for your office equipment. Have the employees bookmark these sites for handy reference. Often, instructional websites provide a chat option to speak with a tech representative. Employees who experience difficulty can utilize this resource at their convenience before taking their IT concerns to another person if it turns out to be more serious.
Hire A Part-Time Employee:
Instead of hiring a full-time employee to handle all the IT issues, it can be cheaper to employ an IT specialist to come in part-time each week. Usually, a benefits package is not offered to part-time employees, which will further reduce the cost of this service. The individual can be scheduled to come into the office and check the tech systems as well as address any signs of trouble. Routine maintenance, security updates, and app upgrades can also be managed by this person while they are in the office.
Have A Tech Support Expert On-Call:
A local IT expert might agree to be on call if you pay a reasonable retainer fee. The monthly fee could cover a certain number of hours spent working on your company's technology systems and equipment. The fee could be variably priced depending on how many services calls the person makes to the office or the number of hours spent on-site within a month's time. If the systems generally work well, this can be a reasonable option compared to hiring someone as a part-time employee.
Contract With Managed Tech Services:
If your technology systems require periodic maintenance or repair, you may want to contract with a managed IT services company. They can provide office support by telephone, webchat, videoconferencing, and onsite visits. These managed IT services can typically handle all of your technology issues and problems, freeing your employees to focus on other aspects of their job.
Having a small business doesn't mean you don't still need tech support sometimes. Make sure your company has reliable and affordable IT support when needed. Check out these options to see if they can help to protect your small business.