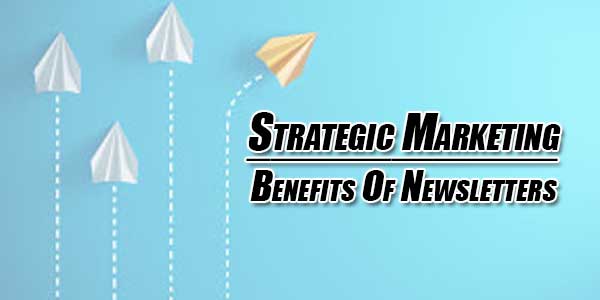 Your marketing at your company is growing. There is so much information in the online world on strategic marketing you don't know where to begin. You are wondering what step you should take next. Did you know that email marketing with newsletters may drive your return on investment as high as 5x or more?
If you're looking for strategic marketing, find out how newsletters can be your next step to gaining traffic for your website.
Strategic Marketing: Benefits Of Newsletters
The best way to connect with a captive audience and your community that wants to hear from you is with a newsletter. Did you know over 90% of people use email?
This means you have the creative control to craft a newsletter with value for your community any time you want. They let you know they want to hear from you when they give you their email with your opt-in.
1.) Value:
The benefits of newsletters include the ability of you landing in your community's inbox with something of value. You may decide to provide a newsletter to your community each week, bi-weekly or monthly. You decide.
You may share tips, tools or tech that relates to what you offer the same way you would give tips to a great friend. Don't miss out on this consistent way to create value and connect with the community.
2.) Snapshot:
When you use newsletters to offer a snapshot of what is going on in your community, you are practicing strategic marketing. You may get better at this by using simple and effective newsletter templates that will capture the attention of your community.
You may want to test new newsletter templates every 3-6 months along with the day you send out your newsletter to see what is best. In case you didn't know Tues-Thursday 8-10 am EST is statistically the best time to send emails that get read.
3.) Results:
Using strategic marketing and newsletters will also increase your website traffic on demand. It's basic cause and effect. The newsletter goes out during an ideal time that your community will open your email. They will get to click through to articles, episodes, and offers on your website.
Some call in the equivalent of an electronic ATM machine. It is a great way to offer specials, coupons, and launches of your product and service as well. You get to train your community on actions you want them to take.
This may be reading a blog post or responding to an offer. The result – increased sales for you and your company.
Benefits Of Newsletters:
In summary, it isn't enough to focus on what you've been doing. Strategic marketing requires that you and your firm expand and grow your digital footprint. Newsletter templates and marketing are essential to growing your business.
You will want to choose the best newsletter template for you and highlight important news. The team should decide how you integrate blogs, media and offers you want to make to the community as well.
The important part is to start and set a schedule for sending out a newsletter.
To learn more about strategic marketing including SEO, Blogging, and Internet Tips + Tricks, keep browsing our blog.