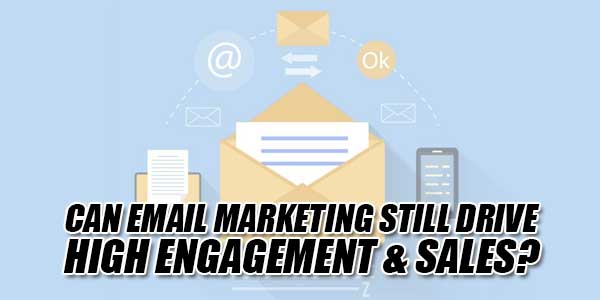 A persuasive email can enhance your outreach for a wider audience. With social media platforms gaining momentum, the focus of marketers is shifting away from email marketing. However, if used in a responsible way email marketing can still prove to be a company's ladder to success. So if you think you need a new email marketing strategy or you are planning to upgrade yours, it is time! Here are 7 ways how email marketing can drive high engagement and sales for any business.
A Personalized Message For All:
If you have some information about your customers, emails can be used to send them a personalized message. This is unlike your marketing campaigns on social media addressing a group of people that might be interested in your business. For example, you can personalize your emails on the basis of your customer's location or an exclusive discount for celebrating a milestone with them such as the day they subscribed to your newsletter.
Generate Real-Time Conversations:
Taking your personalized email marketing to another level, send your customers a real-time offer! In this way, you can pursue them to take immediate action. For instance, apparels stores can send an email offering a huge discount on coats at the store, if the temperature goes below zero in the area. Restaurants can send an automatic email to customers offering a discount on days when there is a sporting event. Similarly, educational institutions can send real-time information to students about the number of seats left for a course.
Connect With Clients Directly:
Emails can be a lucrative way to initiate direct conversations with your clients. For instance, if a customer has shown interest in your business, you can send them an email with all the information. It is a good way to pursue them directly why your services are appropriate for them. Not only this, you can ask them to share their reviews, experiences, and feedback about your service.
Persuasive Emails:
Following the traditional purpose of email marketing, you can use emails to talk about your services and increase your website visits. Send your existing customers a mail about your new service or product including a CTA for free-trial. You can target new customers by sending them a list of benefits of choosing you, your elite services and products. For instance, cruncgrade.com increased its website visits by sending emails to their students about their services, benefits of online learning and customer feedbacks.
You Mini-Referral Campaign:
Referral marketing can be a boon to your marketing strategy. We all like to buy a product or access a service that is already used and liked by our friends and family. Marketers can include a share option in their emails to ask the customers to float a marketing message. It could be a promotional code, information about a huge sale or an exclusive discount. With no time you can find a new group of customers.
Easy To Optimize:
It is easy to test whether your emails are proving fruitful for your business. It is a lot easier to optimize your emails rather than your social media posts. For every platform you need to optimize your social media posts by altering the amount of text, including video clips, adding images. With emails, you can change your subject lines, include pre-headers, add a call to action or change the template and can send it to your customers directly.
Easy To Use:
Starting an email marketing campaign is a simple process and it takes no effort to execute it seamlessly. Out of all the marketing campaigns, email marketing is actually the cheapest. Similarly, studies have shown that emails are liked by the majority of customers. According to a survey conducted by MarketingSherpa almost 60% of customers like to receive notifications through emails. It is easier for them to respond to a direct email rather than a generalized social media post.  A personalized email has a far better effect on a customer than a lucrative post on social media.
Don't know where to start? Start with simple strategies to attract your customers and engage them with your emails.  Email marketing has been ignored over time because of fancier ways of promotions coming up. But it is here to stay!  It is indeed is an effective and efficient way to increase sales and attract the right customers. If you are not having an email marketing strategy you are definitely losing a valuable group of customers. So when are you beginning with your email marketing campaign?