According to a recent study, up to 88% of millennials have thought about using virtual offices and other types of co-working environment. It is a staggering figure, particularly when you consider how young the concept of shared workspaces happens to be. They have only been around, in an easily accessible and mainstream capacity, for around a decade.
However, in that time, virtual offices in Australia and around the world have become very sophisticated. Check here for an example of a high-end virtual facility in Sydney. It combines practical corporate resources – high-speed internet, telephone lines, mailboxes, IT support – with beautiful, contemporary office architecture. So, if the notion of co-working appeals to you, it is time to learn a little more about it.
This guide to general etiquette in a virtual office will give you some tips on how to become a truly flexible worker.
Be Smart And Aware:
One common mistake that entrepreneurs make is to assume that all co-working spaces are as bright, wacky, and unusual as the Google offices. While some virtual facilities are very innovative, the focus is always on productivity. Networking is very much encouraged, but you have to learn to be aware of who is around you and what they are doing.
Private, uninterrupted space is still necessary, even in a communal environment, so be tactful when opening up lines of communication. Most virtual facilities actually provide a combination of open plan and private workstations, so it should be easy to see when users are up for having a chat and sharing creative ideas.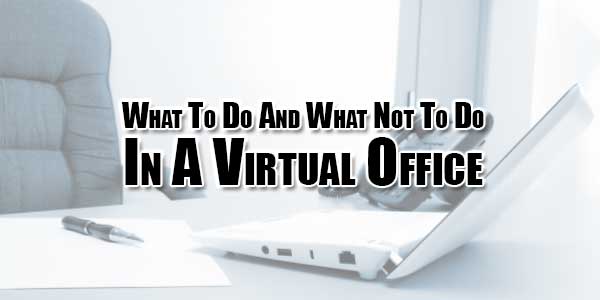 Plan For Easy Access:
All good virtual providers offer access to extra resources like boardroom facilities and meeting spaces. Usually, they contain things like presentation software and media equipment, both of which can be really helpful if you need to share information in a memorable way. However, if you do not need regular access to these resources, try to book them during off-peak times.
You will not have to worry about starting late and running over or getting cut off by the next user. The facility will be quieter, so it is a great time to schedule sessions with investors, sponsors, and partners. Plus, don't forget that there will be fellow office tenants who really do need the peak time slots. Showing a little tact and awareness of this is a good way to raise your profile.
Generosity Is Valuable:
If there is one thing that you should keep coming back to in a virtual office, it is that generosity pays. The littlest of acts – not taking in demand conference room slots, offering to make drinks for others, etc. – can end up securing your future business partners and new friends. Shared workspaces are hubs of creativity and enterprise, so use them to your advantage.
If you are looking to expand into the Australian market, for example, a co-working facility is a great place to launch. There is no rigid lock in lease, the rates are low, and you are exposed to a broad variety of Australian businesses, brands, executives, and freelancers. All you have to do to capitalise on it is learn how to be an entrepreneur people want to know.
Why Good Etiquette Will Get You Noticed:
Over the last ten years, the rise of the entrepreneur has triggered many changes in the business world. One which is often overlooked is the opportunity to be less aggressive and more collaborative. Entrepreneurs are more willing to work alongside their rivals than they might have been a decade ago and this has led to a greater focus on the growth of ideas.
Virtual offices are a good example of this. They allow businesses to remain competitive and on top of their game, but without a fight for space and resources. Even in the main cities like Sydney and Perth, where rental costs are some of highest in the world, shared workspaces give entrepreneurs access to everything they need for success.