Your website availability is vital to reputation management, which is why server uptime monitoring tools reduce downtime and financial losses. Having a server uptime monitoring strategy prevents disruptions from server error, hosting inefficiencies or security breaches that, in turn, reduces website downtime. The only way to overcome a website failure is to have an automated alert system with a centralized location that notifies multiple teams of performance issues. Here are the most reliable tools for server uptime monitoring:
Many of these tools offer no-obligation trial periods, which allows you to perform testing, set up alerts and analyze reports. The ability to take advantage of a trial period permits you to not only optimize website and infrastructure health, but it enables you to learn about application performance monitoring (APM).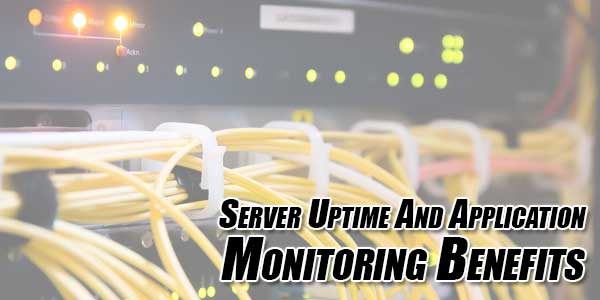 Server Uptime And Application Monitoring Benefits:
Server Monitoring Of Hardware:
Bottlenecks occur from the smallest of glitches and coding errors that have great effects on performance monitoring. A hardware bottleneck prevents server uptime and application deployment, which is why server monitoring metrics are critical elements:
If your hardware is underachieving, it is most likely due to central processing unit (CPU) load, which a server monitoring tool identifies and provides insight into overcoming the challenges that affect user performance
Disk performance routinely causes bottlenecks to happen when capacity surpasses 100ms or if queue dimensions are elevated, which points to a storage performance problem
As more users turn to virtual memory capabilities, more data flows from one random access memory (RAM) to the next. On-site disks experience extreme overload, which causes fragmentation to take place
Bottlenecks that affect memory are also problematic; a monitoring system advises your team on when it is time to add more RAM or servers
Processes & Services Oversight:
Processes and services utilize server resources, which often cause application performance problems. Automated monitoring tools allow teams to work remotely to reboot a system or end problematic processes that are causing a disruption of services. With automated monitoring capabilities, you can ensure website availability.
Infrastructure Health:
Do you know your hardware health score? Server monitoring metrics hit on essential server health components that allow your team to make repairs before they become a major factor to disruption. Metrics check for load speed, server temperature or power sourcing, which allow for proactive infrastructure health oversight and reparation.
Application Performance Monitoring:
APM allows for automated alerts that promote visibility. The centralized dashboard also allows for application management for vital business functions including server authentication, multiple database server types, email servers, web servers, cloud-based servers, Java servers and multiple operating systems.
Your server uptime monitor provides automated application detection, availability and performance monitoring that oversees your infrastructure's health. Most APM software that includes server uptime monitoring has out-of-the-box templates for easy software deployment.

Server Uptime Monitoring Strategy:
Does your business have a server monitoring strategy in place? Application monitoring environments are often complex since several teams monitor different elements of your IT operations. Any disruption causes an end-user experience that reflects on your web reliability. For this reason, developing a deployable strategy is difficult since procedures must be adaptable by various departments and channels. An effective strategy must take on performance, alerts and reporting that proactively define bottlenecks and loading speeds.
Your performance monitoring strategy must include policy and procedure for hardware, applications, database health, hosting, availability, networking and digital experience monitoring. During the architecture of your strategy, you must also address storage, caching, containment and virtual-based services so that clear monitoring and deployment exists.
Monitoring Tools:
Now that you have a strategy, you need to determine the best monitoring tools for performance and application optimization that meets critical business function. Determining your needs also allows you to identify the tool that bests provides the most beneficial resources.