When one talks about the requirement of an app for a business, it is understood that they want their app to offer customers something unique, perhaps solve a problem and provide a more user-friendly interface than any web portal ever could.
Going by the statistics on app downloads, there must be plenty of businesses who have a fair knowledge about these benefits. For those who are yet to make up their minds, here are a few reasons:
Apps help to create awareness and offer brand visibility
Mobile apps are great data collection tools and provide insights into customer likes and dislikes
Accommodates push notifications of new releases
It serves as a mobile front of a business by enabling customers to search and purchase the products
Target a younger generation of customers as they are the ones with most access to emerging technologies
There are numerous app development companies mushrooming all over the world, offering custom mobile applications on demand. Singapore, which is one of the main commercial hubs of Asia, has its own list of app development companies that are competing to give the best results.
1.) Rainmaker Labs: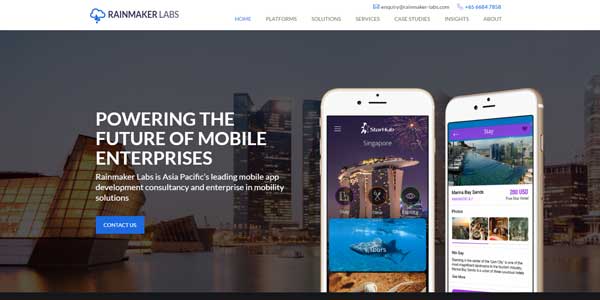 Rainmaker Labs was founded in 2011 and is now a fast-growing company offering mobility platforms that deliver both iOS and Android app solutions. It has its headquarters in Singapore and offices scattered all over the Asia Pacific region. They offer tailor-made mobile solutions to companies ranging from retail to large enterprises in a variety of sectors like automotive, healthcare, banking, telecommunications, education, energy, transportation and many more.
2.) Octal Info Solution – Singapore:

Octal Info Solution has been around for more than 11 years and is considered one of the leading mobile app development companies in Singapore. It offers both mobile and web development solutions. The company offers Cross-Platform Enterprise apps, Mobile Intelligence apps, Security Application Management, Mobile Assets Management apps, Real Time Mobile Analytics and Dashboards, Developing Commercial Mobile apps for Business and Developing Mobile app for Business Enhancement and Management.

Swag Soft is different from some of the leading app development companies in Singapore – they project themselves as marketers first, developers second. In other words, they not only develop the apps, they help in marketing it too. They also discuss your objectives and help work out a strategy for them as well. They have built solutions for well-known enterprises like BMW, Toyota, Caltex and also government agencies like the MDA (Media Development Authority), MOE (Ministry of Education) and Singapore Air Force.
Ranosys also offers high quality mobile app development in Singapore. They are experts in mobile specific features like location mapping, real–time notifications, NFC (near field communications) and synchronization across multiple devices. They deliver apps across all platforms including HTML5, iOS/Android and Windows app development, together with Enterprise Mobility Enablement, Sensor and Internet of Things (IOT) Solutions.

This company uses research and customer insights to create innovative mobile experiences that simplifies usability. They use high-end technology like augmented reality, Oculus, iBeacon, Projection and many other forms of upcoming mobile technology.

Regarded as one of the best web development companies in Singapore, Vinovalikes to create cross platform mobile apps. They also love building for emerging technologies like IOT and wearables. To ensure best user experience and security for the apps developed, Vinova creates native apps.

Services offered by Singsys, an Indian company, include custom native iOS and Android development, GPS-enabled or location based services, mobile payment services using payment gateways and many other expert solutions in mobile app development.
8.) Zoliotech:

They build mobile applications for iOS, Android and Windows platforms. App development is their core objective and their proficiency in Objective-C, Swift, Xcode, Java Programming language and Android Studio make them one of the best companies in Singapore.

A leading mobile app development company in Singapore, Square Fresco, provides consulting, development and project delivery around mobile application solutions. They also offer cross-platform solutions on iOS, Android & Windows platforms. They are considered one of the most experienced iPhone/Android developers in Singapore.

Started in 2011 with a handful of employees this mobile application and web designing company has emerged as one of the industry leaders in Singapore with a revenue of well over $3 million already and caters to clients that range from big enterprise organizations, multinationals to government bodies and innovative startups.
By acquiring an app, a business becomes prepared for the future. A business with an application stands a chance to benefit immensely from future technologies. The current crop of mobile app development companies coming up in Singapore hopes to deliver that and much more.