Running a business can be a challenging thing. There's a lot of different things to consider and decisions to be made. These can all be very time consuming and difficult, so improving your education can sometimes take a back burner. However, there are ways that you can run a business while enhancing your knowledge, and we're going to take a look at what that entails here and now.
Make Learning Part Of What You Do:
Depending upon the kind of business that you run, it can be quite simple to integrate learning into the everyday routine. Let's suppose that you're a company who produces web content for other companies. You'll learn about their industry, as well as new tips for delivering excellent service while you work. This knowledge is unique in the sense it's picked up 'on the job' instead of being learnt in a classroom. Dr Roy Ale, Marketing Executive for Oxford Summer School, says that 'there's always the potential to go and learn something new and you'll more often than not benefit from putting yourself out there'.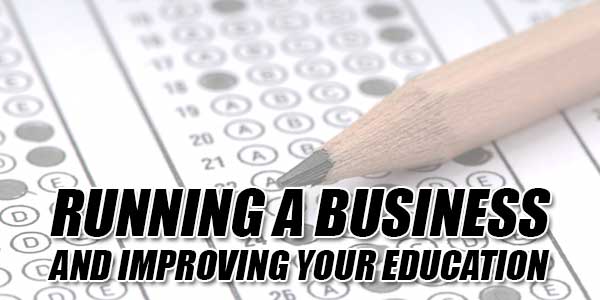 Keep Up To Date:
Within any industry, there's always going to be news, stories and new innovative breakthroughs being made. Keeping up with these tales is not only a great way to make sure you seem like an industry expert but also that you are learning new things all at the same time.
Do Your Own Bookkeeping:
Keeping your books is something which is typically passed onto an accountant or company that specialises in these things. However, there are merits to taking the time to do it for yourself. Not only are you saving money, but you're also giving yourself a new skill in the form of keeping track of finances and considering all the options.
Attend Seminars:
When you're a business who is looking to give the best possible service to customers, you might find that it is in your interest to attend seminars. These are sessions which teach you new skills, which will both help you to run a business and also to improve your education.
Take A Break:
You can't run a business unless you're giving it your all, and you can't do that without the occasional holiday. It's challenging to try and provide the best possible service without some downtime, so try and take holidays wherever possible. Not only will it recharge you, but you could use it to catch up on some reading and enhance your skill set.
All in all, these are just a few of the different things that you can do to try and make sure that you can run a business while improving your education. While is it not always easy, there's no doubt that it can be immensely satisfying to get the balance just right. It's all a question of looking at what you do every day and seeing how the opportunities for education can work their way into that.