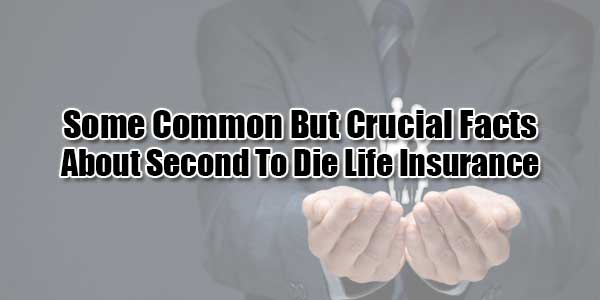 Choosing a life insurance policy is not an expense rather it has been considered as an investment. Whether you consider it as an expense or investment, you certainly cannot ignore the benefits of insurance policies. Putting money in insurance policies will make your future financially stable. At the same time, it will give you significant tax benefits, as per the taxation norms of the states. Now, when it comes to investing in life insurance policies, people actually come across different kinds of plans. Not all life insurance policies are beneficial. You need to choose a plan as per your requirement as well as convenience.
Facts On Second To Die Insurance:
A few important things about second to die insurance policy are required to be known. So, before you decide on investing money, you need to check the facts on this insurance coverage so that you can make the best decision.
Cost-Effective Policy:
When it comes to second to die life insurance, this type of insurance coverage has been found to be quite cost-efficient as well as beneficial from the aspect of budget-friendliness. Different kinds of premium plans are available for the buyers. There are monthly plans, and there are also yearly based plans. The average age of the couple has been regarded as a determining factor for this type of insurance policy. Higher age shall be made to pay higher premium rates. Younger couples have to pay smaller amounts as premiums.
Useful For Estate Planning:
At some stage of life, you need to go for estate planning. Effective estate planning is required for the benefit of the future generations. It is the moral responsibility of the people to plan estate properly. It is important for everyone to leave some financial aids for his or her kids. Second to die policy is necessary for such people, who want to leave behind some amount of financial support for children. The overall sum of this kind of insurance policy is higher than standard life insurance policies.
No Benefits For Spouse:
Every insurance plan or plan has its own advantages as well as disadvantages. Judging the drawbacks or limitations is important, along with proper judgment of the benefits of insurance policies. The major drawbacks of second to die insurance is that your spouse will not get any benefits of this plan. This type of policy has been intended to help the kids. When both husband and wife leave the world, children can claim the insured amount.
Tax Benefits And Flexible Premium Plans:
You need to choose professional and reliable life insurance company otherwise you would not get the best advantages of this type of insurance policy. Another important aspect is that like the other insurance policies it comes with default tax benefits in the offering. You shall get a certain amount of tax benefits as per norms or regulations of the states.