Mining is among the most crucial sector currently in the world. It is because most of the consumed products use mined minerals. Additionally, most of the global energy used comes from nuclear power, which uses uranium or coal. For these to be supported, there is a need for modern mining equipment parts to be used. Mining can happen both on the surface or underground, which is the determining factor when it comes to the appropriate type of equipment to be used. To better understand the machinery used, here are some of the equipment used in underground and surface mining.
Mining Trucks:
Mining trucks are used to move things around the mining area. Unlike other conventional trucks, the trucks are also known as off-highway trucks and have large tires to support heavy loads and rough terrains. They can also handle high payloads of up to 400T to move heavy mined minerals out of the site.
Hydraulic Mining Shovels:
Also known as excavators. It employs the use of hydraulics for it to move the shovel and be able to go through rigid materials. It has a pivoting cab which allows access of materials in a circle without necessarily moving. An articulated arm holds the shovel, and the operator controls it when inside. It is primarily used in moving materials, digging removing rocks, among others.
Large Dozers:
A large dozer helps in moving materials quickly. With some attachments, dozers can be used in building mine sites by moving materials to expose mining sites. It is also used in removing dirt from the mining site and raking the land around. When outsourcing mining equipment parts, consider getting them from reliable vendors.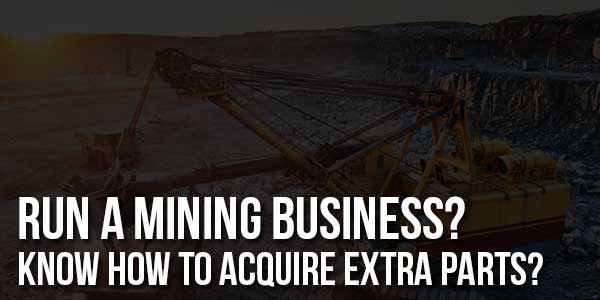 Electric Rope Shovel:
Unlike the hydraulic shovel, the electric rope shovel uses electric operations to work which allows high-efficiency performance. The uses are similar to those for hydraulic shovels.
Motor Graders:
Many mines are inaccessible due to a lack of roads. Motor graders are used in creating roads and maintaining them. It ensures that the roads have necessary grading and also good drainage. When you maintain the roads leading to various mining sites, you increase your efficiency.
Large Wheel Loaders:
Large wheel loaders are generally used in packing and moving materials to a loading truck. As the wheel loader size increases, its capacity and also its load handling will increase. It would be best to match the wheel handling capacities with the volume of materials carried to avoid premature wear.
Draglines:
It is a large excavator with a bucket that you lower and scraps along the ground to collect mined materials. Swinging the bucket will enable it to dump the content to a specific location. It is used to remove exposed materials, cutting wall surfaces.
The above are some standard mining equipment parts. This article will help you understand some of them and choose the best for your mining business.