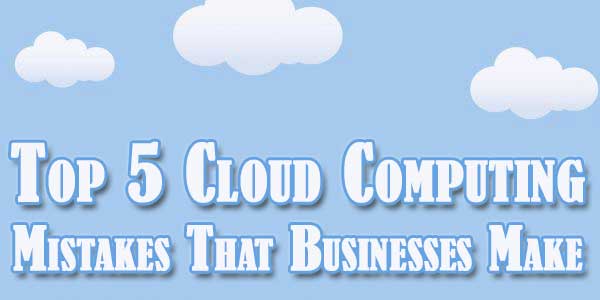 The Cloud seems to be the hottest technology around. Some claim that it's the future, that there's no stopping its success. But is your business really ready to enter this brave new world of Cloud computing technology?
It probably is, but you have to make the transition in the right way. In this guide, we navigate through some of the major pitfalls. The Cloud isn't foolproof, so you always need to be aware of the risks so you can avoid them.

1.) Disaster Preparedness:
The Cloud offers enhanced security as one of the major benefits. However you need to consider what happens should your Cloud solutions provider lose your data.
Although the odds of this happening are small, the risk remains. And you need to know that the provider has a plan in place to recover your data quickly and efficiently should this happen.
Ask your provider what plans they have in place to recover lost data. You might be surprised at how many providers don't have a comprehensive recovery strategy.
An ideal recovery strategy uses multiple layers of failover. Even if one data center collapses, the data is still stored elsewhere and can be restored later.
2.) Getting Value For Money:
Cloud storage has always been a lot of cheaper than other methods of storage. But this doesn't mean every price is the best price. You still need to shop around to compare the costs of each option.
Think about how much it will cost to move your data to the Cloud. If you can't make this money back in efficiency or hardware savings later on, it's probably not worth it.
Always carefully consider whether the value provided by the Cloud is truly worth making the switch.
3.) Privacy Laws:
Industries that deal with customer information in the U.S. have laws that they must abide by. If you break these laws, you could be sued by any clients that have been affected.
Could your business survive multiple lawsuits from clients?
Make sure you research local legislation and ensure your Cloud computing package complies with these laws. The easiest way to do this is to ask the provider directly.
For example, Cloudamour offers multiple packages for different professionals. They've responded to customer demand for tailor-made Cloud products that comply with all local legal requirements, reducing the risk of litigation from your clients.
4.) Open Access:
One benefit of the Cloud is being able to access your data whenever you like. But by offering open access, the potential for problems with privacy arises again – are you breaking any laws by doing this?
Cloud providers tend to offer some measure of control over who can see what. The administrator of your Cloud service can create multiple user profiles, permissions levels and then control what areas of the system they have access to.
This granular control is ideal when you have guest collaborators accessing your files in the Cloud. You can configure their access permissions so that they only see the files relevant to them.
5.) Not Getting What You Need:
It's a mistake to believe that the Cloud is just "the Cloud". Not all services or solutions are the same — there are major differences between providers and their offerings. It is vital you take these differences into account when you go shopping for Cloud services.
Start by outlining what you currently get before defining what it is you need to get from Cloud hosting.
If one of the offered packages matches this list of requirements, along with a lot of other services you don't need, keep searching. One of the biggest errors businesses make when adopting Cloud solutions is paying for things they don't need.
With the Cloud industry growing so large, and with so many packages available there's no excuse for not having the right solution for your needs. Cloud service providers can make as many different packages as their customers need because there are no restrictions on the amount of customisations available.
If you're struggling to find the right provider, ask someone else online. There are a number of community forums that allow you to ask questions and get answers from customers, giving you a good insight into the providers you may be considering.
About the Author:
This article is written by Mitchell Feldman. He currently works in the IT industry, and his expertise lies primarily in Cloud Computing.