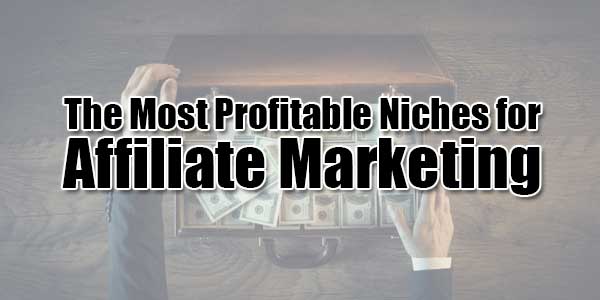 Banner ads were the best way to make money online – up to a point. People developed ad blindness, and they invented ad blockers, and the websites relying on banner ads alone have seen their revenues continuously decrease. Affiliate programs, in turn, have gained a lot of popularity, especially an ever-increasing number of merchants and service providers started using it to promote their products. Today, there is a product or service to promote for pretty much every niche imaginable – but there are some that stand out with their profitability. There are three of them that are especially lucrative – let us take a look at them below.
Money:
Money makes the world go round, Liza Minelli sang in her famous song in the musical Cabaret. Making money, saving money, investing wisely and getting rich quick are topics of interest for a large mass of internet users, turning the "money" niche into one of the most profitable ones among them all. And it has quite a few sub-niches that stand out with the hefty profits they can make. Online gambling is one of them: online casinos lack access to many traditional advertising channels, and this makes affiliate marketing one of their principal methods of promotion. And ever since popularity of mobile casino games have grown substantially with the explosion of modern smartphone technology, their efforts to promote their products (and to attract as many players as possible) have expanded as well.
Love:
Every human being on the face of the Earth is seeking for his or her other half, a significant other, a soulmate, someone to share the joys and burdens of life with. This makes "love" another niche of interest for many users – and one that can generate hefty profits for those who choose them.
The topics a blog in this niche covers range from dating tips, self-improvement advice, social training, cold-reading skills, online dating tips, seniors dating advice, and many others. And this is an evergreen topic, with fresh potential clients entering the market day after day.
Health:
One of the goals of every man and woman in the world is to live a long, active, and healthy life. And they are willing to spend a great deal on products that will help them do so – the product range that can be promoted within the "health" niche includes everything from diets to supplements, gym memberships to sports apparel and gadgets, water bottles to personal hygiene products, and everything in between.
With the number of people conscious of their lifestyle and looking for ways to improve it is constantly growing, the "health" niche will continue to be popular – and profitable – for a long time.