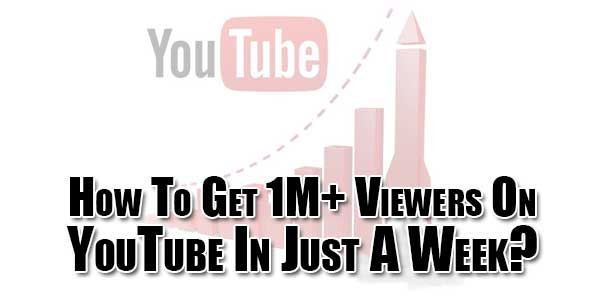 We all dream of becoming one of the popular YouTubers who have millions of views in every video they upload. How do they do this? Surely, these people started off with mere viewers, but what's the secret behind their staggering views today? YouTube is definitely a platform that you should consider when you want to gain a huge number of followers. With users of over 1,300,000,000, amassing subscribers wouldn't be a hard task to do. In fact, there are over 5 billion videos being watched every day according to recent statistics. However, why do some videos have fewer views while other ones reach a million? If you are aiming for a spot on YouTube, here is how to get a million views in just one week:
Step 1: Choose The Thumbnail Wisely:
While other uploaders might see this as insignificant, choosing a thumbnail is an essential step to gain viewers. How would a viewer know that the content of your YouTube video is amazing when your thumbnail doesn't even show much? The viewers must be able to see an image worth clicking. Choose images that are interesting or eye-catching. There is a downfall for this though– if you pick images that are not related or are overly exaggerated, then you are click baiting. Usually, viewers don't appreciate this move.
Step 2: Pick The Right Title:
Just like the thumbnail, your YouTube title must be short, clear, and smart. Don't build up lies just to make the video seem sensational. This will only breed hate than likes, so just be honest with what you are actually sharing.
Step 3: Upload Videos One At A Time:
When you upload several of videos for your viewers every month, it is possible that your views will be minimal. This happens because your viewers are given too much to watch. A variety of video posted will only divide the watchers. When you want to amass these views, you need to have a video that solely stands out. If you want your video to stand out, promote this in other social media to create traffic.
Step 4: Keep It Short:
Videos that are too lengthy might discourage your viewers from watching. It is likely that they are only going to skip within the video and miss some parts of it. Instead, why not have 5-minute videos. These keep the watchers wanting for more because it's straight to the point. Time is important, so don't go wasting your viewer's day with boring introductions and unnecessary dialogues.
Step 5: Get To The Point Right Away:
In relation to step 4, your videos shouldn't just be short in duration, but it must also contain contents which are direct. Cut all the talking and explaining because viewers get bored easily and might click on another video instead. Usually, if YouTube videos are this short and direct, viewers would make repeat visits. Aim to upload videos that would make leave viewers unsatisfied. In fact, some might even watch the video for a dozen until he gets contented.
How Widely Used Is Youtube In Today's Generation?
Just like any other websites, YouTube also started out small, but with every year, the website seems to be getting a lot of users. In fact, it is now considered as the 3rd most visited site on the internet. Since its popularity, the influence that this site brings knows no bounds. This happens because the website is a great platform for anyone who wants to upload anything that they can think of. The site now has become famous for users who want to gain the limelight by posting their own kind of artistic expressions, passions, and just basically anything that interests them. This has also been where people are able to seek out entertainment in any kind of form, thus making it a convenient platform for all kinds of people. Lastly, aside from all the benefits that one can get in exploring YouTube, it is also free. You can post and watch videos without charge, so this makes one of the most loved sites ever made.
Additional Tips On How To Get 1M+ Views On Youtube:
Tip 1: Include Annotations:
Adding annotations can easily lead your viewers to click on other videos of yours. This can also be a great way to gain likes and subscribers instantly.
When you incorporate a playlist to your YouTube videos, users will be able to have a list of your videos ready to be played next. Thus, this would eventually give you an opportunity for more exposure.
Tip 3: Gather Subscribers:
Gathering subscribers is the best way to gain views in your videos. They are the ones who watch and share your content with other people, so it's essential that you make an effort to build a fanbase. How? By simply asking your watchers to subscribe at the end of the video can already help greatly.
Tip 4: Communicate With Your Subscribers:
Knowing what your viewer wants would mean that you are gathering information that would make them love your content even more. By this, it means that you should communicate with them. If you have a solid fanbase forming, your chance of being known is high. Taking the time to communicate with them will not only solidify your relationship with your viewers, but this would also make them feel that you value them.
One way of letting your subscribers know that you have a fresh video to share is to use Bulletins. This option allows you to send a text with a video to let your subscribers know about your latest uploads.
Tip 6: Make Collaborations:
Use the site's thriving community to your advantage. Start off by commenting, following, and subscribing to other YouTubers who have the same content as yours. Once you get to build an image and start to get attention, ask for collaborations. This is one way to advertise your channel and make it known.