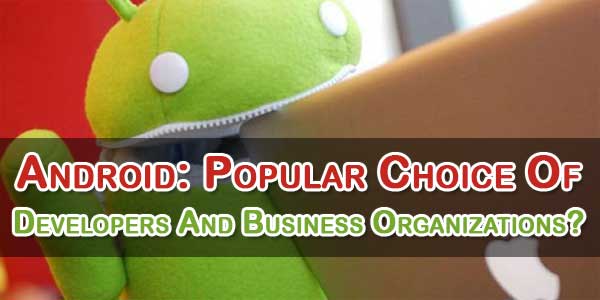 When you think of smartphones, several manufacturers' names may come to mind: Apple, Samsung, HTC, LG, Motorola, etc. The last four in this list all have one thing in common: their phones use the Android operating system (OS) from Google. Apple's iOS and Android almost have the smartphone market sewn up between them, so most developers choose one or both of these OS as targets for their applications (apps).

In September 2013, Google reported that there had been one billion Android device activations. By activation, they mean that a new device has been registered to use Google/Android services by a new user. There are several websites that market Android apps, including Google's "Play Store" and Amazon's "Appstore for Android".
Through these app stores, users can search for, review and select from a vast range of apps. Developers see there is a huge market out there for their apps, and even when sold for a low fee (such as $0.99), the volume of sales can quickly produce a profit.
How Easy Is It To Develop Android Apps?
Google provides a free Android software development toolkit (SDK) that can run on Windows XP or 7, Mac OS, and versions of Linux. The SDK comprises the Eclipse Development Environment and ADT (Android Developers Tools), Android platform tools, and an Android emulator to permit app testing. Apps are written using Java and object-oriented programming techniques.
The SDK is fairly easy to use, and competent programmers should be able to start producing apps very quickly. The secret is to develop something that is likely to be popular. There are about 150,000 Android developers in the world, according to figures from Google in October 2013, so you need good ideas!
One thing to remember is that not all devices use the same version of Android. KitKat (4.4) is the latest version, but most users still have devices with older versions of Android. A developer needs to decide the base version he or she is prepared to use depending on the Android features the app will want to access. Currently, the largest number of devices use Jelly Bean (Android 4.1) but a significant number are still on Gingerbread (2.3). You may choose to develop only for 4.1 or higher, because this provides better Android functionality for your app, and almost all new devices come with Jelly Bean or Kitkat.
The number of apps on various app stores gives an idea of how easy it is to develop apps. There are about one million apps in the Android Appstore. Google has worked hard to make it easy to identify popular apps within various categories (such as games, tools, and productivity).
One of the newest acronyms is BYOD — Bring Your Own Device – meaning "bring your own device to work". Some companies actively encourage their staff to bring their own smartphones and tablets to work to connect to corporate systems. This might be for such basic things as email, but increasingly businesses are creating their own apps for staff to use at work.
This is popular for several reasons. Users can choose their own phones and tablets (maybe from a set of company-recommended products to ensure minimum standards). They are responsible for maintenance and replacement of their devices. The business needs only focus on security of access to company resources and the app development itself. Android is proving itself very popular in this regard.
An example of this might be: a travelling salesman takes a tablet with him to customers to discuss requirements, and creates or updates their orders on the tablet using a custom sales-order-processing app. When an order is complete, the tablet uses the phone service to send the order to the order-fulfilment department.
About the Author:
Danny Bob is a professional writer and blogger. He is expert in technical writing especial about IT certification training, education, tech, trending news and events. He spent most of his time searching useful sites which he can contribute or can post any review.