A laptop is one of the most valuable gadgets anyone can have. The majority of people prefer laptop to store their data due to ease of portability. Imagine one day you lose all your treasured data?
Well, I cannot! I would go bonkers if it gives any sort of error at start-up. But not to worry my fellow laptop lovers, this article will help you maintain your laptop in two major parts – hardware and software – so that you never get to face any such glitch ever. By following these guidelines, you can ensure safety of your laptop in every possible way. Here are the tips:
Hardware:
You cannot control the wear and tear of your machine but the health of it depends on the hardware's condition. Keep your hardware neat and cleaning by following these steps:
Keep Your Hands Clean:
Make it a habit of washing hands before using your laptop. Even though it doesn't really make sense but the cleanest hands also hide a lot of dirt and grime that can make your laptop dirty.
No Food And Liquid Items Near Your Laptop:
The habit of eating and drinking while working on your laptop can ruin your laptop. Food should not be near to your work machine; you never know if you spill coffee or drink on your keyboard. Similarly, you can drop the crumbs of your solid food while you eat them over your laptop. You need a food-free laptop so keep the food away.
Handle With Care:
It is a portable machine; it is delicate and needs to be handled with care. No matter how tough it looks, it is very much fragile. Always hold it by the base and not from the screen. Take care of your screen while shutting the lid and make sure you do not drop it on the floor. It might not harm the outer shell but something will break on the inside.
Buy A Nice Case:
If your laptop travels with you then it is advisable to carry it in a case. Be it a hard silicon covering or a padded laptop cover or a shoulder bag or even your backpack. If you like to keep it stylish and I would suggest a fancy hard silicon cover would do just fine.
Keep The Keyboard And Screen Neat:
Due to the excessive usage of the laptop, the keyboard starts sticking which is a clear indication that it needs to be cleaned. Turn your laptop upside down, tap gently so that dust and food crumbs fall out then use a can of compressed air to blow out anything still stuck in there.
Also, keep your screen clean, it catches dust easily and we don't realize that it harms our machine. Keep a microfiber cloth with you to wipe off the dust every time before using it.
Avoid Over Heating:
Don't let your laptop heat up for too long as it is it can damage the hardware. Laptop's hard drives are high tolerant of temperatures but still, it can cause damage. To keep the temperature in check use System Mechanic's DriveSense, which displays the temperature of the drive and gives you real time data.
If it is heating excessively then you might want to blow some air into exhaust fan to clear out the blockage. It is advisable to keep a cooling pad under the laptop to avoid overheating.
Maintain Battery Life:
The more the merrier fits perfectly when it comes to the battery life of the laptop. When you are out and about, and you don't find any place to charge your laptop, a healthy battery saves your day. Keep the battery safe by maintaining the temperature, do not kill the battery and then charge it, keep it at the half and keep it in charge then. When you are not using your laptop and you put it on the'hibernate' mode,it savesthe energy consumption of your battery.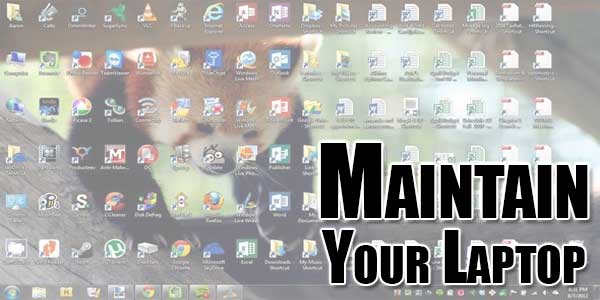 Software:
Now that your hardware is all fresh and clean, it's time to keep your software up-to-date and well maintained. To ensure its operations running well follow these steps:
Install And Update Antivirus:
Be it PC or Mac, keep your OS updated. New updates bring a lot of new upgrades that helps in adding more life to the system. If you are a PC user, make sure you keep viruses, spyware, and other malicious programs away from your machine.
Keep The Clutter Away:
Keep your laptop light and clutter free. Take out few hours to sort out the files, software and other data to keep it clutter free. Now that you know all the etiquettes to maintain your laptop, take out some time and make it look as good as new.