In this digital era, most of the users prefer online email method for sharing vital information from any corner of the world. There are numerous numbers of online and offline email-client tools are available in the market but for e-communication, Microsoft Outlook application is exceptionally superb. Released and Advertised by Microsoft Corporation, MS Outlook is one the most preferred email-client application around the globe that is utilized multiple professionals, non-technical, students, and so on. Today thousands of users and other employees uses MS Outlook as the best source for e-communicate with each other.
MS Outlook provides amazing features to communicate, manage, Schedule, exchanging  important data by serving options such as calendars, notes, Exchange ActiveSync Support, reminders, contacts, meeting schedules, journals, RSS feeds etc. Although, The complete user's data are stored in PST file format i.e. "Personal Storage Table" in MS Outlook application. Using MS Outlook, you can add security on your PST files to restrict unauthorized users access. Unfortunately, when it comes to data loss problem, no one can predict or ensure that it's completely invulnerable since due to some unfavorable situations  your PST file may get inaccessible and you require to repair PST file to execute it normally. Luckily, you can repair corrupted PST file by using MS Outlook ScanPST.exe.
Common Scenarios That Indicates Corrupt PST Files:
Power Surge or Instant System Shutdown– Mostly files gets corrupted or damaged by sudden system shutdown or power failure, as unexpected turning off of your system may collapse and result in data loss.
Virus and Other Internet Attacks– Since regularly data and attachments sharing by users are done using emails services. SO, the maximum changes of data stealing, misusing, and corruption gets increased that makes the entire PST file corrupt.
MS Outlook Malfunctioning- Sometimes, MS Outlook starts behaving abruptly because of using unsecured data, system file deletion or instant modification, etc., they can easily damage your Outlook PST files.
Oversized Files– Earlier, the PST file storage capacity was only up to 2GB, but now with the release of new and higher versions the files storage capacity is more than before. Nevertheless, today PST file provides large data storage, yet there is a possibility that it may get override it's given limit and the files become inaccessible, that leads to oversize issues.
File Partaking on Different Networks:
Formerly, user opts for network drives for sharing the PST files. Unfortunately,  sharing PST over a network can result in an outcome in corrupt PST file. If you desire to exchange your MS Outlook PST over a network, some technical errors may lead to its corruption.
Few Errors that Pop-ups During PST File Corruption:
"The file is not a Personal Folders File"
"Errors have been detected in the PST file"
"xxxx.pst cannot be accessed – 0x80040116"
"Data error. Cyclic redundancy check"
"The Fatal Error: 80040818"
"The Inbox Repair Tool does not recognize the file xxxx.pst"
"An unexpected error prevented access to PST file"
"PST recovered from Scanpst.exe is empty"
"PST file size reaches or exceeds the 2GB limit"
"The file xxxx.pst cannot be opened"
Manual Method To Fix Deleted Or Corrupt PST Files:
A corrupt PST files can be easily restored with the help of MS Outlook ScanPST.exe that is an inbuilt utility. It helps to correct errors that stop files to get accessed normally.  To search the utility on your system (location varies according to Outlook version) and access it to repair corrupted PST file minor issues.
The steps for Outlook PST Recovery are as follows:
Step 1:  Exit MS Outlook application.
Browse to C:\Program Files.
Browse to C:\Program Files (x86).
Step 2: Now, in Search box, type SCANPST.EXE.
NOTES: If you fail to find SCANPST.EXE in one folder, then you can try to search it in the other folder given in step 1. Navigate the folder location as per your MS Outlook version.
For Outlook 2016: C:\Program Files (x86)\Microsoft Office\root\Office16
For Outlook 2013: C:\Program Files (x86)\Microsoft Office\Office15
For Outlook 2010: C:\Program Files (x86)\Microsoft Office\Office14
For Outlook 2007: C:\Program Files (x86)\Microsoft Office\Office12
Step 3: Now, choose a file by clicking Browse option-> Press on Start button.
NOTE: By default, a new log file will get created during the scanning process. You can disable the log creation option of an existing log file.


Step 4: During the scan process, if any error appears then choose Repair to start the process to repair PST files.
NOTE: The scan process creates a backup file while repair process. If you want to rename the default name or location of the backup file, then type the name of the backup file, or choose Browse to provide the file location that you want to use.


Step 5: Once the repair corrupt PST file is complete, begin MS Outlook to use your account  Data File you just repaired.
This method is quite straightforward and simple to follow. Still, it suffers from some limitation like Run Time Error, Corrupt Header Error, and some technical errors. Furthermore, if the emails get corrupted or deleted permanently then they are beyond repair. You can choose a third-party tool as an alternative to repair corrupt PST files like PST Recovery Tool.
PST File Repair Tool:
The PST repair is available in two versions – Free Demo Version and Licensed version. You can apply any tool to repair PST file as per your needs and satisfaction.
Free Demo Version: In the free demo version, PST Recovery tool can easily fix and recover corrupt or damaged PST file. You can easily restore your crucial data by following the procedural steps.
Licensed Version: It is the purchase/premium version PST Repair Tool that is needed to purchase from the company's website. This version completely repairs and restores corrupt PST files so that user can user utilize them safely for their work if required.
Step 1: Download and install SysInfo PST Repair Tool on your system.
Step 2: Press on Open button-> Choose a PST file you want to repair-> Select a recovery mode: Standard, Advanced or Deep-> Hit on OK button.


Step 3: Now, the scanning process will proceed. Click on OK button once it gets completed.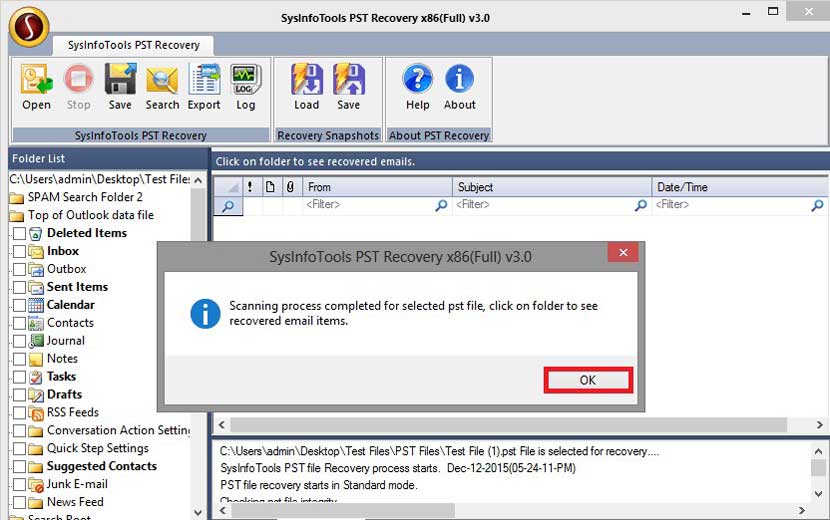 Step 4: Press any mailbox folder to begin the recovery data process from it-> Choose the mailbox folders-> Click on Save button.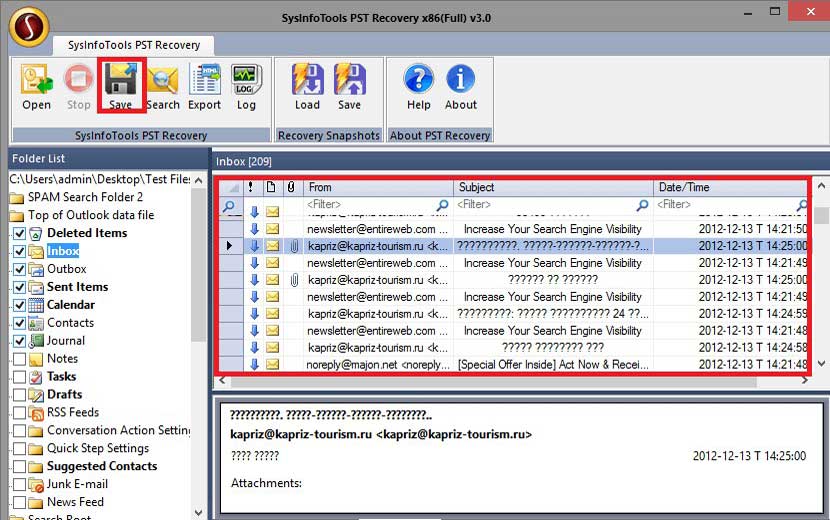 Step 5: Click on Browse button-> Choose  a location to save the recovered data along with the file format-> Press on OK for starting the saving process.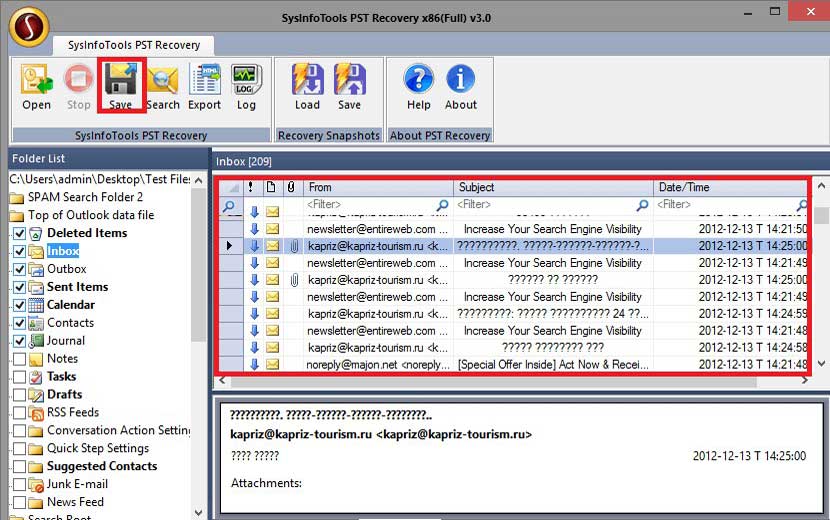 Step 6: the repair and recovery process will start and after completion, a dialog box will pop-up Click on OK button,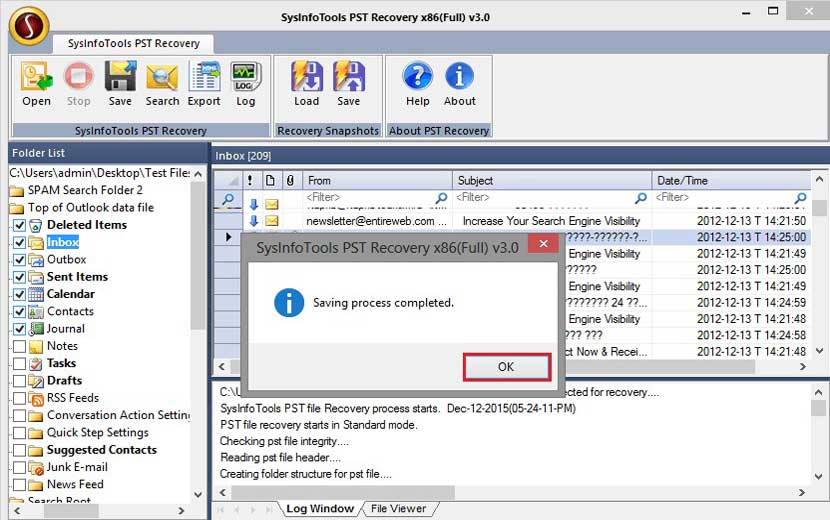 Pros:
Fix and repair not only minor but also major corrupt files easily.
Preserve the data integrity without any single alteration.
Faster scanning speed and repair corrupt PST file up to 80GB.
PST Repair tool supports MS Outlook 2016 and all its below versions. The tool smoothly runs on the Windows Operating Systems, like Windows 98, NT, 2000, 2003, XP, Vista, 2008, 7, 8 and Win 10.