The iPhone 14 has been released, and I believe that many users already have their favourite choices. But when replacing a new iPhone, what software can help you transfer the data from the old iPhone to the new iPhone? Which software can protect the data security of the new iPhone? I believe that many users have these questions, but don't worry, in order to better help users realize the data conversion between new and old iPhones, AOMEI FoneTool is holding a giveaway event.
AOMEI FoneTool:
AOMEI FoneTool is a free data backup and transfer tool created for ios devices. If you always worry about data loss or insufficient storage, backup would be a good choice. You can use it to back up messages, contacts, and various multimedia files from your iOS device to a PC or another iOS device to prevent data loss and free up storage.
Of course, when replacing a new iPhone, what we need more is data migration. With a few simple clicks, FoneTool can easily help you to transfer all of your files and settings to your new iOS device. You don't have to waste lots of time doing the download and settings.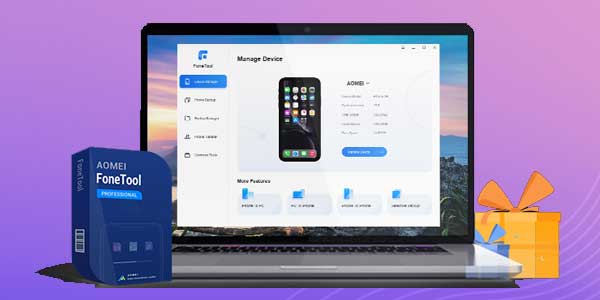 In This Giveaway, You Can:
Quickly Move Your iOS Data to New iPhone
Erase All Data on Old iOS Devices for Sale
Make Complete iPhone Backup
More Useful Utilities for Better iOS Experience
Participate in this event and you can get a one-year FoneTool license code worth $49.94. All you have to do is click on the giveaway page and get it now. Find the license code in the zip file and activate it before 22nd September 2022.
If there are users who want to change to a new iPhone, you can click on the event link to participate in the event before the event ends.