When any app or web service is launched or made available to use for customers, the first thing to do is to check its load tolerance capacity. The tool or web service is not designed for a handful of people. No one can ever predict with assurance how big or small the consumer response will be. That is why the developers partner with load testing services and do the needful to ensure that the app withstands all kinds of challenges waiting for it in real conditions.
So, let's try to find first what load testing means.
What Is Load Testing?
Load testing is the process that involves testing the app or web service in a simulated environment that matches the conditions created when people use the service concurrently. The load is nothing but allowing concurrent users to perform activities on the platforms. And, testing is all about checking how resources behave when required to serve an unpredictable population.
Reasons Why Load Testing Is Essential:
Load testing, as is evident from the above explanations, is an essential activity to do before the app is introduced to real-life use instances. It is a way to understand how the app or web service will perform when throttled to full gear. The main advantages of load testing are:
Allows experimenting with different traffic loads: Thus, it gives suitable insight into bottlenecks and other analysis-worthy features and functionalities of the app. With load testing services support, the app makers can design or redesign the resource pool structure and have the best simulation in hand.
Offers a chance to reinvent the product: Performance testing services consider the load test as a chance to visit the weak points of the app or web service. They identify the opportunities, strengths and weaknesses and incorporate changes in the product keeping user experience in mind.
Offers a cost-effective solution: It is always better to stitch the loop in time than to repent it later and allow it to consume your whole business. A poor consumer experience costs businesses their reputation, sales, and customer trust. Just one bad experience and you are eyeing losses amounting to some thousands of dollars. Thus, the ability to acting proactively that comes with hiring load testing services can help businesses save loads of dollars and save reputation too.
Prepares you for unprecedented traffic load: When you get the required quality checks done by professional performance testing services, you can prepare well for high-traffic events like festive seasons, Christmas or exceptionally famous Black Friday.
Best Examples Of Load Testing:
Load testing services prove their relevance to a number of use cases. Some very interesting and easily relatable examples of load testing processes are:
Testing how a mailing service will respond to millions of concurrent users.
Testing how a web or mobile application will perform in real working conditions
Finding how a product like a laptop or mobile can perform when it is given a variety of tasks to do simultaneously.
Assigning multiple printing jobs to printers and assessing how the device performs when the documents are fed to it back-to-back.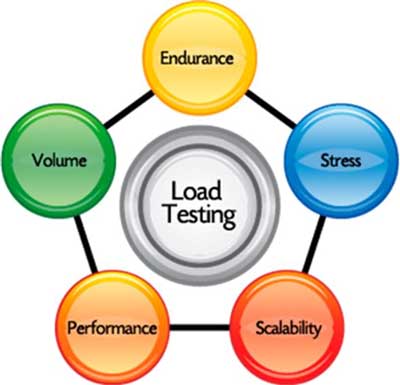 Important Types Of Load Testing:
Load testing is a detailed service. It covers several points that make it easier for the app or website makers to understand the scaling up or down needs. The idea is to find a perfect balance between the features and the user base strength. Some of the important types of load testing are:
Capacity testing: It is the process that covers how the app will support a maximum number of users. In other words, it tells what the upper threshold capacity of the app or website is.
Soak testing: The soak testing answers questions about how the system responds and if it degrades the system resources in the long run of usage. Issues like memory leak that affect the system and may eventually cause a crash can be found in advance with the help of soak testing.
Stress testing: This testing helps find how the system will behave and respond to extreme conditions. User experience and system response are recorded as a part of load testing services activities while performing the stress test.
Load test: It is the primary service of all performance testing services. The users can understand the performance quality, the response time of the app and several crucial factors by putting the app or web service to load test.
Summing Up:
"What do you know about load testing?" is quite a valid question to ask, especially when the interviewer is hiring an accomplished load testing expert. This quick guide can surely help you prepare yourself better for the job. With the best resources and knowledge in reach, you can give any product a high-quality makeover. Success does lie in entering the market with the perfect product in hand.