Engaging the users with the most user-friendly services is the only key to success for any business. This paradigm also holds true for the digital printing companies as well as the e-commerce firms. When you add a custom online t-shirt design tool to your printing business, you not only move a step forward to offering a more customer-centric service but also enhance the entire UX of your website.
The market is replete with custom online t-shirt design software but most of them lack the qualities and attributes that must be present in such a tool. While some are good at providing an easy interface, they lack the features that make a tool highly usable. A few of them that boast an impressive feature-set, their ease of use is not even satisfactory. We will be delving deeper into these issues and find those tools that are great in all respects.
The two most important qualities that make such a tool a sought-after one, is the ease of use and the software's compatibility with the website. However, there are other attributes as well that must be present in a custom product design tool.
In order to quell the confusion and doubt that surround the online product design software, we have brought a few of the best tools that you can implement for the desired results.
1.) inky ROBO: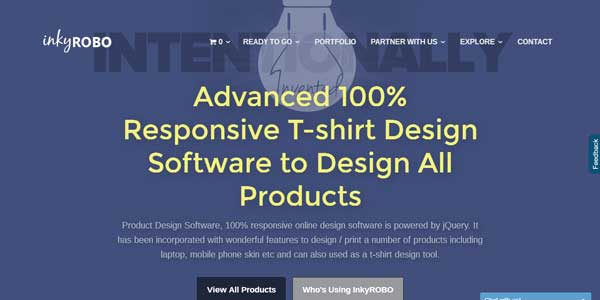 inkyROBO deserves to be at the top of the list because of its unmatched range of t-shirt design tools and their impeccable quality. The company boasts three different variants of t-shirt design tool namely T-shirt designer OpenCart version, T-shirt designer WordPress plugin and T-shirt designer developer version. These tools cater to all kinds of needs of a printing company or an e-commerce firm. The best part of using these tools is that they can be used to create designs for other merchandise like coffee mugs, cushion covers etc.
2.) NO-Refresh:

No-refresh is a India based firm that develops and provides online t-shirt design software along with other design tools as well. Its t-shirt design software comes equipped with a host of features and has been designed to be very user-friendly. By implementing this tool into your business will let you allow your end users to craft designs for themselves on their favorite apparel. You can choose among the OpenCart versions and SAAS based t-shirt design software.
3.) theem'on:

theem'on is a well known name in t-shirt design software development and you can count on its t-shirt design tool that can be integrated to all e-commerce platforms like WordPress, OpenCart and Magento etc. The design tool that theem'on offers has some incredible features for both the end users as well as the business owners. The users get an interactive and easy to use interface with pre-built design elements like images and cliparts that can be added to the design with drag and drop operation. A robust and feature-rich backend is provided for the admin to help them upload new products and manage customization options.
4.) Design 4 Prints:

design4prints offers a superlative tool for creating designs on t-shirts with an impressive feature stack. There is no restriction on the type of tees that you choose for designing. You get customization features such as color palette, cliparts, images etc. The tool is technologically very advanced as it is developed using AJAX and other tools and frameworks. Before you buy the tool, you can also look at its demo.
5.) Shirt Tools:

ShirtTools is a provider of online design software that can also be used to craft personalized designs on t-shirts. The tool is impressive in terms of performance and compatibility with different e-commerce platforms. You can get the desired outcome with this tool if you equip your printing or e-commerce company with the design tools from this provider.
6.) Live Art:

LiveArt is a t-shirt design tool that can be used on mobile devices as well without any hassle. It is an affordable solutions for the printing and e-commerce companies that wish to include the users in the design process to enhance the loyalty. There are several customization options to explore in this tool.
7.) Alt-Team:

Alt-team is a company that offers Magento and CS-Cart software development services. T-shirt design software is among the many software and tools that the company develops and provides. There is a vast range of t-shirt design software to be chosen which are offered as Magento extensions and CS-Cart add-ons. The interested customers can get their customized design tool developed by Alt-team as well. The development services are quite affordable and the tools are developed by seasoned developers.
8.) Zazzle:

Being an experienced custom design service provider, Zazzle is name that is synonymous with custom product design. It is essentially an online marketplace that offers products including t-shirts that can be personalized using a t-shirt designer software developed by them. The versatile t-shirt design software is capable of creating designs for other products as well.
9.) Whoop Tee:

WhoopTee lets the users design their own t-shirts with the help of an highly interactive and user-friendly t-shirt design software. The experience of crafting t-shirts with this tool is quite interesting.
10.) oo Shirts:

ooShirts is an established online t-shirt design service provider and is trusted by its users. It is a highly convenient and affordable tool to get your personalized t-shirts. The prints that they provide is also top-notch and in the finest quality possible.
Final Remarks
You can add immense value to your printing and e-commerce business by incorporating a custom online design tool procured from a trusted and reputable provider. The names of the providers listed here are some of the best in the industry. Depending on the attributes and features that you want in your tool, you can choose the provider and their design software.