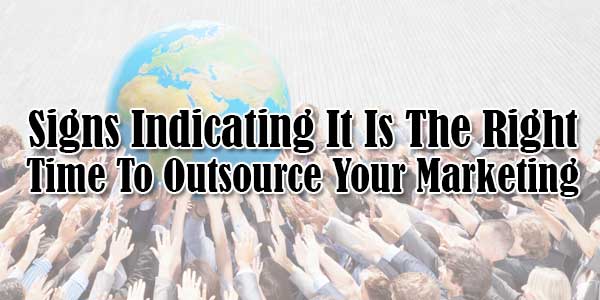 When it comes down to running a business, many owners try to do it all by themselves. However, there are certain challenges down the road they cannot solve on their own, and at a certain point in time they come to realize that it is better to pay a third party for handling certain tasks.
It is important to know how to outsource strategically and hire smart to build a successful enterprise. The following are several signs that indicate the need for hiring a marketing expert to achieve certain goals.
1.) You Can't Remember When Was The Last Time You Updated Your Site:
Although there are many tools for creating blogs and websites, having an updated, accurate, search-optimized, mobile-friendly and compelling website asks for more than a single landing page with a few words, an image, and a logo. Mort DIY tools, although user-friendly, often lead to inferior results, coding problems, and beg for professional help to address them.
2.) You Don't Have The Time To Constantly Keep Up With The Ever-Changing Rules For SEO:
One of the most difficult and evolving online marketing aspects is to keep track and stay updated on the most relevant local SEO changes. From constantly keeping an eye on how people are discovering your site and which search engine they are using, to having knowledge on how the Hummingbird, Penguin and Panda updates reflect on your efforts to establish an online presence. There are countless of important subjects to master and learn how to implement.
Luckily, there are many online marketing experts ready to devote their efforts, energy and time to help you market your online business efficiently. Because of its natural complexities and constant changes, SEO is a good area for outsourcing.

3.) Your Search Advertisement Is Ineffective And You Are Not Getting Results From It:
When properly used, search-engine advertising tends to be the most cost-effective and easy way for new prospects. However, if you try to manage it on our own, it may not wield great results and it can waste a lot of your time better spent on something else.
Search-engine advertising asks for compelling and effective texts that attract customers to relevant and optimized landing pages. You must also ensure you target the right audience so that your funds are spent on people likely to make a purchase from you. This is where a marketing expert can be of great help.
4.) Your Base Of Social Followers May Not Be Your Perfect Audience:
Your business may already have an established social media presence but if you only care about the number of fans, instead of who your Facebook and Twitter audience actually consists of, it is probably best to entrust your social media activities to marketing experts.
If you recognize any of these sings, perhaps the time is right to outsource your marketing.