Since the inception of Twitter, millions of people have joined this social network. With the audience of 326 million active users per month, Twitter is the most powerful digital entity right now. All the famous celebrities and even the influential people from around the globe are communicating with masses through Twitter.
If you're an affiliate marketer, then I'd suggest you leverage Twitter too. Although Twitter is not as huge as Facebook, it can help you better in reaching out to the people and in making an impact. But understand this that twitter affiliate marketing is a totally different ball game. Success on Twitter requires you to understand the platform completely.
Twitter Provides Micro Blogging Opportunity:
Before diving into the Twitter affiliate marketing there are a few things you need to know. Twitter is basically a news and social networking platform which allows you to send out short messages called tweets. It sets the limitation of 280 characters per tweet which encourages the clever use of words and language. The size cap is not just great for readability but also make the message all the more concise. You need to get smart to interpret your thoughts in a concise manner.
Affiliate Marketing On Twitter:
Well, I believe that if you do this thing right the little bird will take you places. Before digging into the twitter affiliate marketing you need to identify the goals you can achieve by using affiliate marketing. Well, here are a few goals you can achieve via Twitter affiliate marketing.
Helps in increasing brand awareness
Keeps the audience up to date with your new plans
Generate potential customers which are likely to convert
Helps in promoting loyalty to the products and services
You can also keep a close eye on your competitor's strategy to know how they are operating on their social media platforms. You can use Followerwonk to find out different Twitter users from all kinds of industries. You can follow or approach them to fulfill your purpose.
Well here are the affiliate marketing tips that can get you started with it.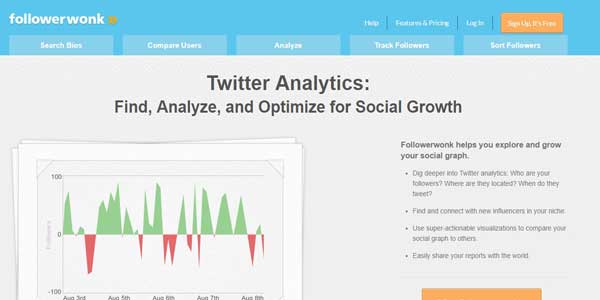 1.) Manage Your Bio:
Your bio will be the first thing your audience will see about you. The 160 characters of your profile will depict how your audience perceives you. So make these characters count and use them rightly to impart a positive impression on your audience. Try to convince, present your message clearly with authenticity. Keep in mind that while setting your profile up, you need to keep your bio aligned with the content you post.  Here is an example of an effective Twitter bio which shows the potential of being.
2.) Do Engage With People:
Twitter is the place which has your targeted audience and customers in one place. It gives you an opportunity to interact with your audience directly and to make a strong connection with them. All you need to do is to find yourself the most relatable twitter threads to get the conversation started.
You can also use Twitter chats to voice your opinions. This gives a great opportunity to communicate with the like-minded people. And is a great hack to gain attention.
In order to keep constantly connected to the internet world, you would need a reliable connection. Speaking of reliability Cox communications has my confidence. I've been using Cox cable and internet for a long time now. Even Cox cable Las Vegas was up to mark and is doing great among several huge competitors.

3.) Increase Your Followers:
After setting up your profile and starting communicating with fellow Twitter users. Now is the time you also start focusing on how to increase your followers. Twitter users are basically attracted to people with a great number of followers. But how to increase your followers if you're new to the platform. Well, don't worry we have got you covered on this one.
Create an interesting bio
Post intriguing content
Follow the people related to your niche
Participate in Twitter Chats
Encourage other people content on your profile
And also run a paid campaign to increase your followers
4.) Use The Power Of Hashtags:
Tweeting regularly build up your profile and increase the chance of getting a decent number of followers. The more interesting your content will be, the better are chances to tract the audience. Try to keep yourself updated with the trending hashtags. Every day twitter introduce you with the trending hashtags of the day.
In order to gain the most traction, keep your content aligned and planned. There are several social media management tools that can help you in scheduling your posts.
Sprout social
CoSchedule
Feedly
Tweetback
5.) Widely Use Twitter Analytics:
Twitter analytics allow you to measure and boost your content on Twitter. Analytics let you identify which of your marketing efforts are actually fruitful and which are not. This allows you to identify the weak points of your strategies and help to make them better.
Twitter provides an analytics feature for every Twitter account. You can easily monitor how your tweets are doing, how many people visited your profile, and how many mentions did you get etc. These insights are very useful in evaluating the overall performance of the account.