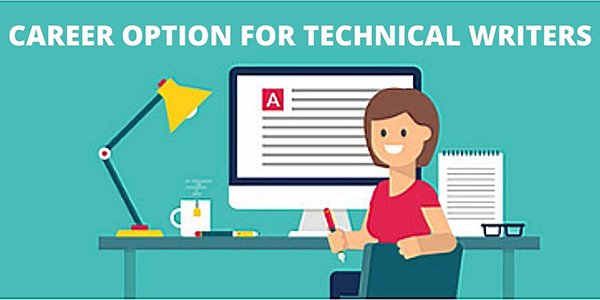 As technical writing evolved, it has now become a broad choice of fields across an extensive range of industries. The various types of technical content used by industries such as electronics, aeronautics, medicine, biotechnology, finance, and IT allow their products to be communicated effectively to the public. Technical writing has also become more popular recently due to Internet accessibility and digitization.
There is no special training required for writing, as it is an art. It is amongst one of the many skills that one develops with the help of their thoughts and what they learn from their surroundings.
Publishing content has become increasingly important to organizations in recent years. The demand for technical writers is therefore high. In recent years, technical content writing has grown in popularity. Furthermore, the career prospects are seen as promising now. This technology has grown in India over the years, and it is anticipated to gain momentum in the coming years.
Technical writers manage technical communication across a variety of fields as a career. You can determine if this is the right career path for you by learning about the responsibilities and duties of technical writers and what it takes to become one. A major objective is to reach out to their target audience with the best and most appropriate communication by investing time, effort, and resources into high-quality content. In light of this, Technical Writing Course will remain popular career paths in the future.
The purpose of this article is to discuss technical writing and the career opportunities available after the technical writing course.
Technical Writing: What Is It?
Writers in technical fields are usually professionals in their fields and continue to write for topics such as computer hardware and software, engineering, chemistry, aeronautics, robotics, finance, consumer electronics, etc. This is referred to as Technical Writing.
In the same way, science graduates may discover their inclination towards writing later in life and pursue it professionally. Even so, Technical Writers should be detail-oriented as well as have an excellent written aptitude, the latter being a requirement.
The job of technical writers is to manage the flow of information among project workgroups during development and testing, usually in collaboration with computer hardware engineers, computer support specialists, and software developers. The technical writer must therefore have the ability to comprehend complex information and communicate it to readers with different backgrounds.
Most of the time a technical writer is responsible for helping a user to understand and use the product. In order to do that, one should be familiar with the product and its technology, even if they are not experts in it. In technical writing, one needs to have expertise in the specific technical area for which one is working, and whatever they write or say about the field is called technical communication.
As a technical writer, you should possess a good command of English or the language you are writing in. To make the information clear, understandable, and easily digestible, the presenter must have good presentation skills.
What Are Technical Writers Responsible For?
These are the typical tasks that technical writers perform. They are listed below
Analyse the technical documentation needs of users.
Consult with product developers and designers while studying product samples.
Ensure products are easy to use and need fewer instructions by working with technical staff.
Support products with content by writing and organizing it.
Change materials prepared by other writers or establishment personnel, or edit material prepared by other writers.
Utilize images, diagrams, animation, and charts that will help users better understand what you are saying.
Content should be standardized across platforms and media.
Update and improve content based on user feedback.
It is part of a technical writer's routine to write reports often required by technical-oriented professionals, experts, and specialists. The activities they perform include writing 'how-to' manuals, project reports, online help files, instructions and installation guides, making graphical presentations, and writing brochures for products in many disciplines like IT, consumer products, health, and medical studies.
The technical writer can assist in the development of a prototype of a product using his or her knowledge of the user. By observing their topics personally, consulting libraries and the Internet, and talking to technical specialists, technical writers may research their topics.
A technical writer is also responsible for ensuring that technical content is consistent across the different departments of a company, including product development, manufacturing, marketing, and customer relations.
The delivery of technical information via the internet and social media has increased greatly. Text, graphics, multidimensional images, sound, and video are blended together by technical writers using the Web and social media.
Qualifications Required For A Technical Writer
There are associations that offer certifications for technical writers, such as the Society for Technical Communication. Additional educational opportunities are available through the American Medical Writers Association, such as continuous education programs and certificates.
The purpose of technical writers, or technical communicators, is to simplify complex or technical information and communicate it more effectively through instruction manuals, how-to guides, and journal articles. Technical information is also developed, gathered, and disseminated through communications channels within an organization.
It is important to have an eye for detail when working as a technical writer. Using easy-to-understand language is necessary in order for complex scientific theories to be understood by the audience.
Unlike other courses, Technical Writing Course doesn't require a specific degree. Good writing, speaking, and communication skills are the only things one needs, along with a desire to learn and grow. Due to the close connection between technical writing and technology, staying up-to-date on innovations and new launches is necessary. At the same time, it is also essential to have good research skills. An additional advantage is the ability to work in the IT and software sector, and a background in journalism, along with a degree in English or mass communication.
For a technical writer to produce flawless and effective writing, vigilance, precision, and accuracy are important.
Technical Writer: A Profession To Consider
Technical Writers can become Online Technical Writers, Technical Web Writers, Usability Testers, Information Mapping Designers, and Information Designers, among others.
You can work as a technical writer in various firms like advertising agencies, software firms, newspaper and magazine companies, etc.
Jobs for technical writers in India appear to be mostly in IT and web development firms. Software companies produce a variety of technical documentation to accompany their products and technical processes, including user guides, user manuals, and online tutorials. It is expected that technical writers will write and edit content for their website development companies. Moreover, technical writers ensure that relevant keywords rank high in various search engines.
Candidates who have a bachelor's degree in journalism, English, or communications tend to be preferred by employers. A degree in engineering, computer science, or medicine is usually required, along with knowledge in a specialized niche. A good understanding of web design is also helpful because of the growing popularity of online technical documentation.
Additionally, technical writers are employed in the telecommunications industry, banks, energy, insurance companies, etc. The primary responsibilities of a technical writer are to create brochures, user guides, reports, and white papers. The term technical writing does not represent a newly emerging occupation in India, but rather a new designation for these activities.
Often when writing technical content, you have to work with different teams and individuals from different departments. When it comes to delivering the best results, they sometimes need to surpass their comfort zone.
In technical writing, it is imperative that the language matches the project or product features. In many companies in India, technical writers are viewed as deliberate functions. It is imperative that a technical writer make itself an important part of the business function to gain her presence in the business world.
As technical writing's profile increases, there are more and more opportunities for career advancement. It is among the most challenging professions today. In other words, the more innovative the concept, the more opportunities for such initiatives there are.

Careers For Technical Writers

Content developers
Documentation specialists
Content writers
Information designers
Information developers
Manual writers
Policy writers
Technical communications specialists
Technical communicators
Technical illustrators
Technical trainers
Web writers
An advantage would be your background in technical fields or relevant experience. The good news is that you can pursue your career in this field by taking a technical writing course Online.
A course's duration depends on your choice of course and the academy in which you enroll. Today, technical writers and editors can be found in a wide range of fields and backgrounds, including entrepreneurial, legal, engineering, journalism, marketing, and even homemaking.
What's Next?
In order to meet the needs of the industry, specialized courses and educational qualifications have been introduced by various institutions. Educators weave technical material into words by ensuring that learners understand the concepts.
In order to accomplish any specific or infinite task, you must master writing technically. There are several wonderful institutes that provide technical writing courses.
It is the responsibility of all project technical writers to provide this information to stakeholders. Before engaging in research and discussions with subject matter experts, the writers write from below the level of the reader so they can gain a more thorough understanding of what clients want. It is possible for companies to provide more effective training if there is less preconceived notion. Through the application of these ethical principles and learning the material, technical writers become more confident and efficient.
Several places offer online crash courses in Technical Writing because of the nature of the job. In these programs, students become competent technical communicators who are proactive, responsible, and able to work at all levels. Furthermore, this program aims to develop creativity, attention to detail, and time management skills among students in order to match the industry's needs.
Henry Harvin's Technical Writing Course
Henry Harvin offers a unique technical writing program that is not offered at any other institution. The fees for the Technical Writing Courses here can be customized based on your priorities and learning pace.
The Henry Harvin Institute provides its students with essential, accurate, and professional instruction. The Henry Harvin Institute teaches professional writing as a distinct component of its courses designed to prepare students for a better future. Many of the characteristics of technical literature are evident in the modules set by Henry Harvin education.
There are many technical writing experts at the institute teaching different aspects of technical writing. Henry Harvin has experts and teachers with deep knowledge and experience not only in technical writing, but in many other business-related fields as well.
By scribing different events such as upcoming events, Henry Harvin offers the best training so that freshmen and experts in his area can enjoy a successful, bright career. A technical writing course from Henry Harvin will get you started on the path to becoming a technical writer. By enlarging and developing their skills.
Aside from providing technical writing education of the highest quality, Henry Harvin aims to train young people to be successful in the world of finance. It has been one of the best institutes for job placement in the country.
 In Conclusion
The technical writing courses in India are becoming more prominent despite its lack of mainstream recognition. In terms of total market share, technical writing represents 15% of the overall software industry. However, in India the trend has been fuelled by the growing aerospace and defence sectors, as well as the growing digital market and a focus on other engineering sectors.
Innovation and entrepreneurship are necessary in India to make use of the opportunities for technical writing. There has also been an increase in technical writing projects undertaken by Indian organizations. Along with this trend, more educated and experienced workers are entering the workforce. This assurance is also reflected in the fact that many local companies devote substantial amounts of funds to technical documentation and writing.
Henry Harvin Education acts as an information enriching and competence-enhancing institution and aims at providing the best technical writers for the forthcoming future.