Have you ever wondered why your blog posts aren't getting any traffic at all? Why is no one sharing your content? Or wondering about why your audience didn't take some time and interest to share it? But let's admit! Not all the times we have higher traffic on our blog posts, right? We spent hours sitting on our desk thinking about what content to write, yet no one is sharing it – and it frustrates us the most!
Bloggers know well that one of the best ways to build and increase blog traffic is to get their audience share their content. Without any social sharing, it is impossible for them to achieve their desired traffic. However, this is also one of the most crucial things to do for most bloggers or marketers. Yes, content matters, but it doesn't just end there. You need to have a guaranteed SEO to get engagements from your audience.
Getting your audience to share your blog posts can also be daunting and frustrating. You have to think of what strategic ways on how you can make them engage on your posts. But before anything else, you also need to know why and how come your blog posts aren't engaging enough. With that, you will understand why no one is interested in sharing your blog.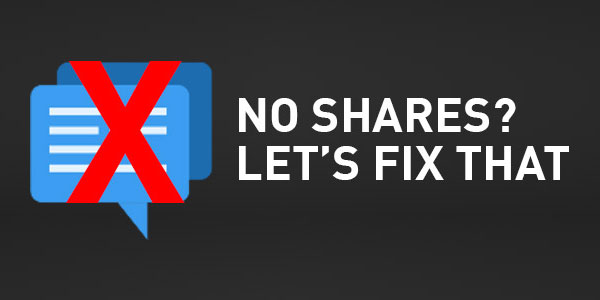 1.) You Haven't Identified A Strong Audience Persona:
"Who are you writing for?" "Who are your target audience?" These questions may be simple but have a crucial answer.  If you don't know who your target audience are, it is impossible for you to have a focused topic. Perhaps, the contexts of your blog posts are too general, that people might tend to be confused whether the posts are intended for them or not. As a result, there are not getting the answers or information that they want to know.  Of course, who would want to share it if they themselves are not sure about it? Right?
As a blogger, this is one of the important information that you need to know – your audience! If you know who they are, you will have a clearer view on what your topic would be. For instance, if your blog is all about sports, then you'd most likely have an audience that are athletes or people who just love sports. With that, you will have an in-depth knowledge of your audience and your topic.
2.) You Focus Too Much On Products, Services And Promotions:
Whether you like it or not, let's just accept the fact that people don't like to read about you. They don't care what and who you are as a blogger. All they ever wanted is to have and read something that is informative and useful to them. Yes, occasional announcement or promotion is okay, but it shouldn't be your main focus. Make a content that is worth their time. And yes, creating an engaging content can also be frustration – but that if you don't know anything about your target audience.
Moreover, if you have an interesting blog post, your brand, products and services will only follow. Engage your audience first with your content, and they will most likely be curious and interested in what you are promoting. Rather than focusing on your products without any basic information on what it is all about.
3.) You're Not Infusing Any Personality Into Your Writing:
Content is the king. We all do know about that. But sadly, not all of us can make it happen. There are times that our content is too crappy enough, that no one would like to continue reading it. Who would even want to share your crappy blog posts? No one! When you have one, then you need to stop! Think! And know the reason why your content is not selling at all. Perhaps, it's boring. And no one would like to read a boring content. Would you?
Yes, creating content must be informative – of course, it's a must! But you also have to infuse any personality into your writing. Don't be too serious, make it as if you are talking to your readers and not just give to them the information that they need. Additionally, make it simple as possible in a way that they will clearly understand what you want to tell them without any back reading.
4.) You Don't Include Enough Images Throughout The Posts:
Visuals vs. Text: Which of the two are more engaging? Of course, you would definitely choose the visuals, right? Images are important. People naturally want to see pictures rather than a mere text on your post. Your content might be engaging, but to those people who prefer visuals than text alone, they will most likely skip your blog post.
It's a good thing if your audience won't mind having a mere text. But we're visual creatures. We want to see something that would appeal to our eyes. That is why, if you have just noticed, most blog posts have images. Including of images on your blog posts will help increase the traffic on your blog.
5.) You Aren't Crafting Compelling Headlines:
Headlines are the very first thing your audience will notice. There are studies that show that you only have 15 seconds to grab their attention with your headline. With that short amount of time, how will you let them engaged? It's a challenge for most bloggers, right? But it's just a piece of cake when you know the tricks or strategies on how to make an engaging headline.
Generally, your audience will most likely be interested when there are numbers or negatives that are included on your blog post. Or you can apply this formula "Number + Adjective + Keyword + Rationale + Promise" to achieve the ultimate headline.