It is best for email campaign to enhance chances of their business success with the help of responsive email templates. Instead of building a template on your own, time-saving approach is to avail a high-quality email template from trustworthy service provider, which is being appreciated for its tremendous work. However, opportunities to pick the best one are a lot, but be ensured that chosen template is tested thoroughly on distinct email clients & screen sizes. The best template surly reaps your advantages and enables you to make a different path, which helps you reach at your dreamed position in your industry.
We are providing a list of few premium email templates, enriched with several standard features and custom options that let users take desired advantages. All these templates are considered to reduce time in an extremely effective way. From thousands of templates, we have collected the best 10 responsive templates that are suitable for a variety of campaigns to fulfill their unique specifications easily. In addition, these are available at very reasonable cost, if you compare with their qualities and features with other templates.
1.) Attorney – Lawyer & Attorney HTML Template:
Live Preview | Download
This template is amazing for lawyers, barristers, legal law firms and organizations, powered by modern technology. With unique layouts, effective features, optimization and major clients' support, it lets users express their creativity and get expected outcome.
2.) Helen – Corporate Email Templates + Builder Access:
Live Preview | Download
Business owners can go for this responsive template as it holds numerous features to promote services online. It contains simple design and optimized structure to help you drive maximum traffic efficiently.
3.) E-Newsletter Email Template + Builder Access:
Live Preview | Download
Having a wide list of custom options, this email template can be used for different professional purposes, including portfolio, blogging, gallery and corporate sites.
4.) AirDev- Responsive Email Template + Builder Access:
Live Preview | Download
It is a creatively designed responsive email template built with enticing styles and modern concepts that can give a successful start to your organization with stunning features. Being a professional template, it works really awesome on a variety of browsers and supports multiple email clients.
5.) Cloe – Responsive Email Template + Builder Access:
Live Preview | Download
A vast set of fantastic features is available in Cloe, which is renowned as an outstanding email template and designed with the latest concepts. It offers a list of opportunities to bring your company on success track and make it leading.
6.) Travel/Hotel E-newsletter + Builder Access:
Live Preview | Download
Having a refined structure and 100% customized layout, Travel/Hotel E-newsletter has been built for travel agencies and hotels. It has styles by experienced designers to allure utmost niche and meet all your needs of travel businesses.
7.) Equinox – Responsive Newsletter + Builder Access:
Live Preview | Download
It is capable of capturing potential visitors and turn them in regular customers. This dark, but elegantly designed professional newsletter template is suitable for garments, businesses, photography, e-commerce and even fashion industry too.
8.) Wedding Invitation Email Template Builder: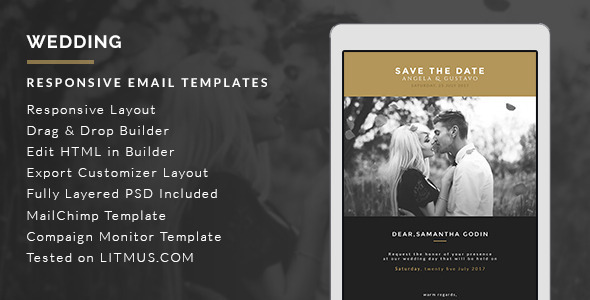 Live Preview | Download
Expand your online appearance & record all possible memories with a specifically crafted wedding invitation template for email. Its catchy structure provides diverse options to build unmatchable design and even enables an individual to alter background image in accordance with target audience & business demands.
9.) Visser- CV Email Template + Builder Access:
Live Preview | Download
This HTML template for emailing is modern and built for profile pages, portfolio, resume and CV. It is incorporated with different responsive layouts and assures you to enhance your company' brand value professionally.
10.) Travelesia – Responsive Email Template: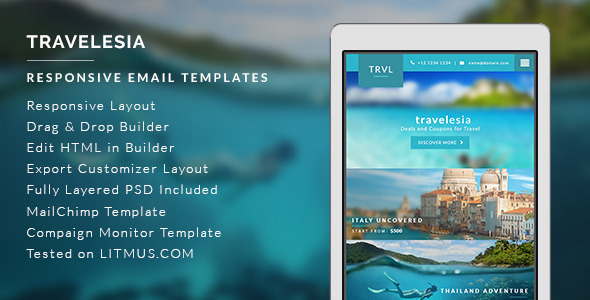 Live Preview | Download
It is available with layout builder access, clean design and responsive structure that improve its stunning look & feel. As the best responsive template for emailing, it is perfect for travel business owners to meet their ever-evolving needs and drive utmost traffic.
Last Few Words:
Hopefully, this exclusive list of top 10 email templates will fulfill your custom needs and aid you to pick the ideal. However, all of these responsive templates are premium, but you can avail them in very affordable cost and utilize their numerous excellent features for your business growth.