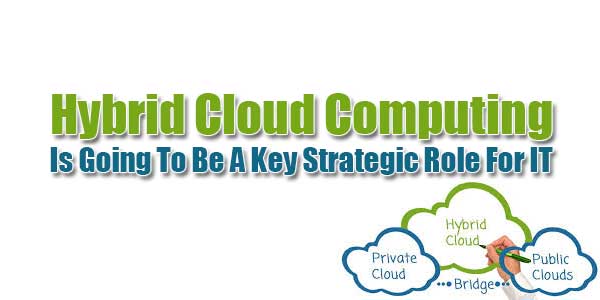 Technological advancements have made data management options for companies become ever more versatile. The world has indeed come a long way from the days when each organization had massive physical data management systems that were time-consuming and financially draining to manage. Private and public cloud systems have changed the face of computing, and hybrid cloud computing is all set to change IT systems the world over.
A hybrid cloud system is a combination of private, public and community cloud computing systems. They exist as separate entities, but are essentially bound together, giving the organization the benefit of different deployment models. Since it combines the best of all worlds, many companies are making the switch to hybrid clouds, and is the absolute destination for all enterprise IT.
Hybrid Growth:
There was a point of time when hybrid systems were considered merely as a jumping off point for a public or a true private cloud. However, according to researchers, more than half the existing business applications and services should be on hybrid cloud systems within the next three years.
In view of this, many big names in the cloud provider market have begun to take cognizance of hybrid clouds. Some giants such as VMware, Red Hat and Amazon Web Services have already started off by introducing their own hybrid cloud services. In view of the estimated mass migration to hybrid clouds, many other organizations meanwhile have been coming up with tools that can help deploy as well as manage these systems, as this is going to be the key focus in 2015.
Making The Move:
While hybrid cloud systems certainly do offer a number of benefits, creating a hybrid cloud takes a lot of work. Integration and migration pose hassles for many organizations, despite its overall flexibility.
In order to make the move, IT leaders will need to make strategic decisions about the adoption of hybrid cloud systems. In terms of these cloud systems, one size does not fit all. The ideal management strategy to make the move to a hybrid cloud system will include change control, security, fault management, configuration management, and not to forget, budgeting.

Cloud Computing Can Help with Cost-Efficiency:
As the vendor bias grows less with cloud computing, there is increased cost effectiveness. With the increasing heterogeneity of cloud systems and with various strategies being adopted, costs are all set to decrease further. Justifying services such as Disaster Recovery-as-a-Service (DRaas) will not be possible for many organizations, and cloud computing will provide logical as well as affordable solutions.
While specific workloads benefit with cloud technology, it is essential to work towards satisfying specific technological objectives and regulatory requirements for best results. As mentioned earlier, there is no single solution when switching over to hybrid cloud systems. You need to work with a cloud provider who can create a proper migration strategy that will work towards the success of your enterprise by integrating all applications.
Security and Multi-tenancy:
Security and multi-tenancy are always key concerns while migrating any system. With all cloud computing systems, some enterprises hesitate to make the move because of fear of physical separation from their data. While these fears of vulnerability are logical, they are actually without foundation. A hybrid cloud strategy can address all these security concerns, both in terms of data concerns as well as location. A secure hybrid cloud works with a complex environment that covers your data center, all cloud services as well as end user computing devices. This is one of the reasons why many organizations are making the move and improving their efficiency.
To summarize, hybrid cloud systems are all set to take over enterprise IT, and in view of this, many big names have already started their own hybrid cloud systems. Hybrid clouds address almost all organizational needs and have become systems that allow for flexibility, cost effectiveness and the highest possible data security. It is all set to play a key role in IT services across different domains in the days to come.