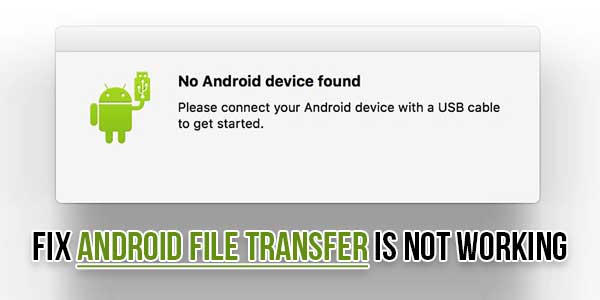 Google developed the free Android File Transfer app to help you get files off your Android phone and onto another device, including your Mac. That process can be finicky at times, so here's how to fix it if Android File Transfer for Mac is not working correctly.
Android File Transfer is famous for its convenience in transferring data between a Mac computer and an Android device. But recently, a number of users are complaining about the Android File Transfer no Android device found the issue. Although the Android device has been connected to the Mac with a USB cable, users see an error message saying "No Android device found", thereby making them not to transfer the file.
If you are one of the users whose Android File Transfer is not working, you can use the following solutions to get rid of the Android File Transfer no Android device found a mac issue. Read below to know more.
Often when you're having trouble with Android File Transfer, the phone is not in the proper mode to transfer files. Other causes include bad cables or USB ports. Sometimes, third-party software can interfere with the proper operation of the Android File Transfer app. Sometimes a computer that is not running the latest software can have trouble.
What To Do When Android File Transfer Is Not Working?
There are many troubleshooting steps you can try to resolve this issue. You'll also need to re-launch the Android File Transfer app most of the time. To do so, close the app or error message, then click Applications > Android File Transfer.
Here are the steps you can try in order of the most likely to succeed.
Put your phone into File Transfer Mode. When Android File Transfer fails to connect, the phone is not set up to transfer data correctly. When an Android phone is plugged into a USB port, most phones default to just charging. It happens regardless of what USB port the phone is plugged into, whether it is a computer USB port or a wall charger. The process is similar on most Android phones, though as always, you may need to follow a slightly different path. Swipe down your notification shade and tap Android System – Charging this device via USB > Tap for more options > File Transfer/Android Auto.
Check your USB Cable. Often, your USB cable can be to blame. Check the length of your cable for cuts, frays, or bends in the connectors. Alternatively, you can try a different cable to see if you have better results.
Try a different USB port. Sometimes if a USB port isn't working quite right, it can cause trouble with this process. Switching to a different port might give you better results.
Reboot your phone/Mac/both. It's a cliché, but it works. Try powering off your phone or Mac or both and turning them back on.


Update macOS. If you haven't updated your Mac's software in a while, try making sure you have the latest updates to the operating system. It's always a good idea to make sure you're using the latest and greatest software.
Reinstall Android File Transfer. It's always possible that the app itself has become damaged or corrupt. In that case, drag the app into the trash and reinstall it from the website listed above.
Uninstall Kies or Smart Switch. Those using older Samsung phones may have previously installed Kies or Smart Switch, Samsung apps that perform similar tasks like file management. Unfortunately, that software can interfere with the proper operation of Android File Transfer. Look for them in the Applications folder and if you find them, drag them to the trash.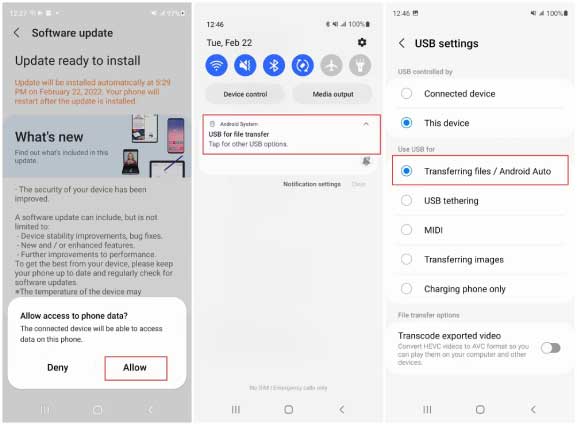 Turn on USB debugging. USB debugging is a developer mode for Android that opens up a lot of functionality that isn't otherwise consumer-facing. Some phones may have file transfer hidden behind developer options, so this can be an excellent route to try. To turn on USB debugging, you need to enable Developer Mode, which opens up a lot of functionality. Check out our article about How to Enable Developer Mode on Android to learn more.

Bonus Free Alternate 100% Free Software:
Use a different Android file transfer app. Android File Transfer isn't the only game in town. There are other options. Apps like Dr. Fone and Anydroid can be purchased for $30-$40 and can handle file management, photos, contacts, backups, etc.
Open MTP is an open-source option you can download from Github. It's free, but it's a nerdy option for those who can handle pulling a Github repository.

Bonus Free Fix For Android File Transfer:
I spent 40 minutes trying to understand why I was getting 'Android Device Not Detected…'. It turned out to be Dropbox interfering. The message in OpenMTP listing different problematic applications got me to the resolution.
I know this isn't an issue, but I wanted to give my thanks(and buy you a coffee) and hopefully, if anyone runs into this troublesome issue, they can try disabling or quitting some of the apps listed in the diagnostic message.
Final Words:
To sum up, this article has provided a comprehensive guide on how to fix the Android File Transfer not working problem. All you need to do is carefully implement the methods to ensure a successful connection between your devices via Android File Transfer. However, we strongly recommend users rely on AirDroid Personal for sharing unlimited data between any two devices, Mac, Android, iOS, and Windows. With this tool, you get the fastest data transfer speed without worrying about the why won't my Android File Transfer work issue.