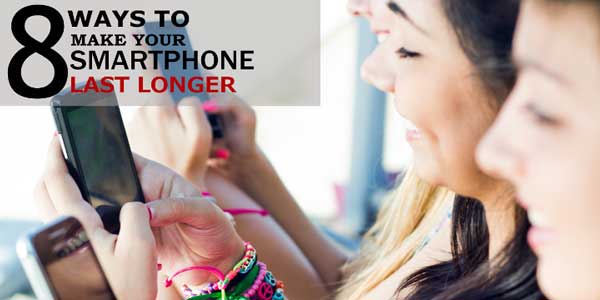 Smartphones are our lifelines to work, loved ones, entertainment, and social hubs. They are devices which we can carry around with us just about anywhere and allow us constant internet access and usage. When enumerating the benefits of this technology, the list seems to never end. On the other hand, when we talk about some of the drawbacks, fast depleting battery life seems to be on top of the complaint list.
Using apps, playing games, streaming videos, listening to music, etc all of this and more quickly drains battery life. With a smartphone, charging the phone everyday is normal. And if you use your phone extensively then you may be charging after every 6 hours. Now for those who have actual lives or are always on the go, this poses a real problem.

Keeping that in mind, here are some tips and tricks to help you preserve the battery life.
1.) Turn the phone when not in use. This is pretty much the basic rule. If you are sleeping, on a subway with no signal then instead of toying with the phone, turn it off for when you will really need it. Battery depletes when looking for non-existing signals as well as when it is on standby.
2.) Fully Charge and Fully Discharge. You have heard it countless times before but it's worth reiterating again. When your phone's battery is down to its last bar charge it completely before taking it off of charging and using. Then and only then. This will safeguard your battery and give you longer running.
3.) Switch Off Vibrate. When your phone is not on silent mode, then turn the vibrator off. The sound of incoming calls and message alerts should be enough to get your attention and save your battery too. You can turn the vibrator back on when you're in class or meetings.
4.) Turn Off Backlight. The backlight is admittedly important if you have a phone that doesn't give you the best sunlight visibility features. But nonetheless, if you are indoors or in an area where the lighting is sufficient enough, then you should turn the backlight off. You can also adjust settings to make the backlight stay on for a few seconds instead.
5.) Don't Engage in Long Calls. The most common sucker of battery life is talk time. If you can cut that down then your battery will probably make it longer than average. Try and keep calls short or where the option is available, text instead.
6.) Do Not Enable Extra Features. These would include Bluetooth, WiFi, GPS,and Infra. If your phone has these inbuilt then keep then on off mode unless you need to use them. This is also a safety tip that will help keep your phone secure.
7.) Adjust Visibility Settings. Keep your phones brightness on the most minimal possible setting. Also try and use a black background whenever you can as AMOLED screens take less battery displaying black rather than color.
8.) Safeguard against Cell phone spyware. This you should do to keep yourself safe from prying eyes but allowing any sort of spyware or malware on your phone means your battery life wil start draining a lot quicker than normal.
About the Author:
Sara Hoversten is a tech writer for stealthmate and considers herself a obsessively compulsive individual who needs to share her tech observations for the world at large.