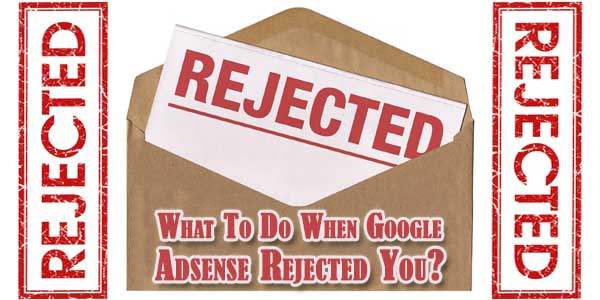 Earning online is made possible by placings ads on your website. Undeniably, Google Adsense is the most popular ad network to do this. However, not everyone gets approved to have this network on their accounts because it's not something that can be achieved easily.
Some may think that once their Google Adsense application is rejected, it's the end of the road for them. You may think that there's no other way to earn, but actually, Google Adsense is just one of the many ways to earn. It's either you sulk in a corner or find what else you can do to earn from your website.
It's not the end of the world when you get rejected. It simply means you need to open your mind to other possible ways to earn through your sites. If this isn't enough to convince you, then consider the following:
Affiliate Marketing

In a gist, affiliate marketing is promoting a product on your site. You get a commission everytime your site directs someone to the product. Some people actually prefer affiliate marketing for a number of reasons.
One, it's all up to the blogger to make people click the link. If you have a niche blog, this can come in easy. After all, you have a targeted audience who will probably read everything you write, especially if it's a product review. You don't need thousands of visitors to earn through this method. It's all in how you'll convince your readers to click through your link.
You also have the option of opening your site to sponsorships. Basically, you'll allot a spot on your blog to place ads by potential sponsors. What's even better is you set the terms yourself. It's all on how you'll lay out the details on how the sponsorship works.
Other Ad Networks:
Relax, Google Adsense isn't the only ad network out there. There are many alternatives that can offer you just as much and has less strict requirements.
In-text advertising is one of the things you can try. Sites such as Kontera doesn't require a separate space where you can place their ads. Their text ads can be customized to your preference. Infolinks works in the same way and even helps index your site's pages.
For PPC marketing, Clicksor is a popular choice of alternative. They have an amazing referral program and you can choose to more than 10 ad formats. Chitika is another one of the highest paying ad network out there. Their search-targeted ads can also ensure that you acquire as many clicks and pay as possible. If you want a network that approves account quickly, try Adversal that works pretty much the same way as Chitika.
Write Reviews:
Of course, placing ads on your site isn't the only way to earn money. There are actually websites that pay you to blog reviews of other websites. There's a pretty clear system, but of course, not just any blogger can be part of the program. Basically, you just need to pen an honest and objetive review of other websites. Sounds easy enough, right?
Buy Blog Reviews has the highest commission rate for bloggers, but you need to maintain your blog's PageRank and inbound links. But the result is favorable so it's all good. SponsoredReviews.com is another network that yields some of the best results. The bigger and the higher the traffic of your site, the better you get paid.
If you're willing to publish Paid Posts on your blog, then this can be a great alternative to Google Adsense. These systems work on the basis of finding advertisers that are compatible to bloggers. So don't worry if you're wary of posting about unrelated topics on your site.
Try Again:
Though there's a small chance of getting approved if you've been denied once, there's a chance that there's a small requirement that you missed. Learn why you're rejected and try to see if it's still possible to submit an application.
Trying again is still better than doing nothing. You can also get Google Adsense Hosted Account.
Google Adsense may be the most most popular way to earn through blogging. But it's definitely not the only way. So don't lose heart when you get rejected by the network. It probably only means that there are other ways to earn online waiting for you to be discovered.
About the Author:
Ella Myers is a proofreader and blogger for
UK Best Essay
. She enjoys reading novels and writing essays in her free time. She also advocates the use of social media and blogging to promote education.