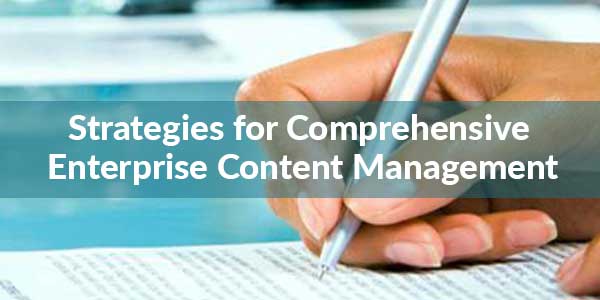 Did you ever thought of having a strategic management scheme for your enterprise content? The ways of business and behaviors have transformed remarkably. The advancement in technology concerning to big data and business intelligence has opened doors to handling the organizational processes and problems in an advanced manner.
Newer ways of working have emerged the concept of Enterprise Content Management, commonly known with as ECM. It is the systematic and organized collection of information that can be used by business groups, clients and consumers. Not a single entity, but ECM is a compilation of strategies and tools that manage, preserve and deliver content and documents supporting various enterprise processes.
Besides  content, we all require proper documentation, complying with industry standards and current trends. A content document certainly contributes to a great extent in dealing with the information present in the organization, facilitating quick and improved business decisions with increased efficiency.
As per a recent enterprise report, an ECP solution improves the document retention and backup recovery. Enterprises are constantly looking for advanced methods and techniques to streamline their business processes and manage files and documents so that they can always be prepared for the new developments and changing environments. If you are among them, looking for strengthening your ways of content, document management and work Elaborative ensuring powerful security and backup, you must scroll down to know better strategies for ECM.
Controlled Two-Way Information Flow:
Each business, in the present time, covers a broader geography than ever before. Everyone needs to reach out to wider audiences of diverse cultures and locations, which demands a structured and regulated way of communicating between various parties – vendors, dealers, clients, consumers, employees and stakeholders. Firewalls in the industry should be expanded as per company's changing hierarchy.
This two-flow of information lets business people achieve better outsourcing and, thereby, producing effective results at the end. Seamless collaboration is the key to ECM.
Get Ready For The Content Explosion:
Experts suggest with the inception of each new digital means to run a business, the content on the web is going to explode like 50 times faster by 2020 than what it was in 2010. The web portals will have whopping content, and your business needs to be ready for this explosion. Make the best use of digitally-driven tools like social media, smartphones, content collaboration and others and get to know the best content that can let your company stay in the race.
Embrace Cloud Storage:
Although the tradition of keeping your things in system's files and folders is followed until now, it's time to move on to the cloud storages that can keep it safely documented on the web. We have various mixed cloud and on-premise configuration services available to retain the sensitive corporate content and information. Hybrid ECM is a novel feature added to enable feature-rich, flexible and friendly ECM configurations, exceptionally useful for remote workers.
Are you up for a more controlled and supervised ECM? Share your thoughts and add more excellent ways of dealing with large amounts of content placed in multiple documents in multiple locations in your enterprise. Drop your messages in the comments section below.