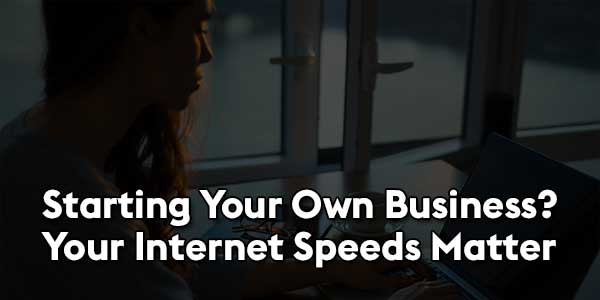 Starting your own business means beginning to launch your internet presence. Even when you choose to start a brick-and-mortar business, you still need to promote your business on the internet.
You may think that a cheap internet package is adequate for a start. However, speed is paramount in the cyber era. If you want to stay on par with your competitors, you should invest in your internet connection. There are several points to consider in selecting the right package from an internet provider of your choice.
Fast Uploads:
One of the biggest frustrations in accessing the internet is the lack of speed. You don't want to spend your time waiting while uploading documents or information. When you are able to upload quickly, your clients can access more content on your website quicker.
Seamless Connectivity:
Nowadays, it is not unusual to employ cross-border staff. You'll need fast internet to perform video meetings and file transfers between your employees worldwide. Thanks to the advent of cloud technology, the facilities can come free of cost. However, it's the speed and reliability of your internet connection that matter most.
High Productivity:
Online processes like maintaining an organized website or social media page and fulfilling client orders require a speedy and uninterrupted internet connection. The faster the internet connection, the more efficient processes will be. Therefore, it's crucial to invest more in IT tools with speedier connectivity.
Internet Package Options:
There are thousands of routers in the market offering several speed options. With the influx of great routers at competitive prices, you'd have many options to choose from. The main things to look at are speed and stable connections. It would be best if you also found out which provider can provide you with the best services. It's useless to get a high-spec and expensive router with full features only to find out that it's not compatible with your provider.
Business Scalability:
While it is great to have an internet plan with the highest specification, you can always start low. When starting a business, you might not need all the higher offerings. You may want to pick up a plan enough to fulfil your current needs and upgrade as your business grows.
Making a selection for the proper internet connection can be tricky, even more so with the plethora of products in the market. Like it or not, you need to do a bit of research to identify the most reliable internet package. A suitable investment in IT could be the deciding factor in the success of your new business.