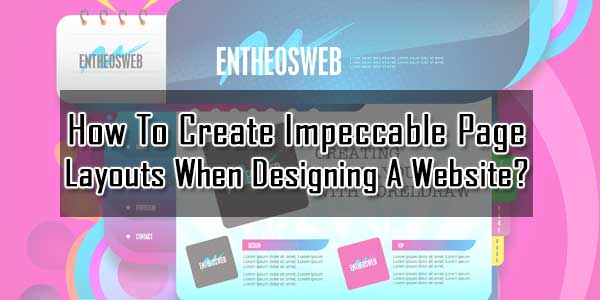 Just because website designing gives you creative flexibility does not imply that you need to create your own rules, especially when the website's layout is concerned. It goes without saying that a website is designed to deliver information. Essentially, in the absence of the right balance in the layout, this information provided is likely to look cluttered and overpowering, thus driving your readers away.
Balancing a layout may seem extremely technical and to say the least may seem like a herculean task. However, this is far from the truth. Freeform layouts may look more rustic and handmade but lack the professionalism that your clients may be looking for, not to mention the user experience that ultimately decides the fate of your website.
A good page layout displays all the vital information and at the same time it also makes sure that the most important information is conveyed first. Given below are some essential tips that will ensure that your layouts have the perfect balance and exude professionalism.

1.) Work With Grids:
One of the absolute rules of working on a page layout for a website is to work with the aid of a grid. When it comes to accuracy, the grid system is an absolute must. It is the grid that ensures perfect alignment of one element against the other.
It also gives you a fair idea as to which element should be the focus of your website and how much space it will take up. Essentially, using a grid ensures that all the elements are appropriately connected to each other. This helps add the much needed structure to your website instead of just throwing in elements in a haphazard manner.
2.) The Rule Of Thirds Is Your Best Friend:
If you thought that the rule of thirds applied strictly to photography, you need to contemplate that again. Once you have sorted the website on the grid, the second most important element is the rule of thirds that helps balance the layout and arrange the elements in a systematic manner.
Essentially, the rule of thirds calls for the web designer to divide the entire website into 2 horizontal and 2 vertical lines. The point at which these lines meet should be the point where a new element begins as it will help draw attention to these areas.
3.) There Should Be Just One Element That Can Be Focussed On:
Ambiguity can set in very easily when you are designing a website and this usually occurs because a reader is unable to gauge as to where he should be focussing on. There should be one element that needs to be quite larger than the rest and placed in a way that attracts attention first.
Once that is taken care of, the readers will automatically understand what needs to be done. Essentially, when you use an image, possibly the title and logo of the website, the reader understands the relationship between this focussed element and the other elements that get connected to it.
4.) White Space Is Golden:
If you are a beginner in the web designing world, you are likely to throw in as much information as you possibly can into your website. There is no doubt in the fact that information is good, but this information can be categorized into pages instead of having everything stuffed into the home page.
Essentially, white space can make a colossal amount of difference to your design. One rule to remember is that minimalistic designs work best for websites, no matter which industry or field the website is being designed for.
About the Author:
Charlie is a web designer and an app developer who has been involved in the creation of over 12 mobile apps and nearly 8 website designs for clients. He has a professional background in designing and development and also writes a blog – essayjedi.com that offers tutorials to beginners and even non professionals.