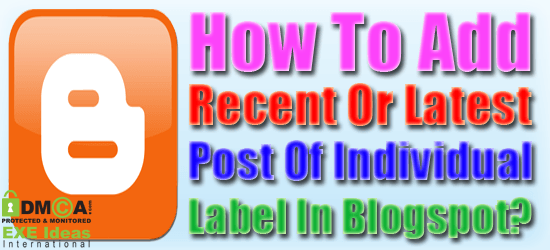 Hey Blogger friends, Do you want to list all or your most recent posts according to categories/labels? Well then, you've come to the right tutorial. I've seen people use a LinkList gadget to accomplish this. However this method requires them to MANUALLY add each post link to the gadget every time they publish a post with the specified label. Not good. But Today i have come up with another cool blogger hack. It's about showing recent posts with/without thumbnail from any particular label/category in blogger. As you can see in my sidebar, I have listed recent posts from each category. So if you want to do same with your blogger blog, You just need to add official blogger widget. You can find some default gadgets in blogger "Add page element" section to show recent posts, but they don't provide an option to show recent posts from a particular category. So in this post, I will guide on how to show the recent posts with thumbnail in blogger.

I was try looking for a way where by we could showcase articles from different categories or labels in our Blogger blogs. Using default popular post widget or recent post widget doesn't full fills the purpose as they show generalized content. What if you wish to add a widget that would only show articles from specific tags? Any way around? So today, we would be first making up individual feeds for our blog categories of our choice and then would incorporate into the widget to showcase it in a beautiful manner. Stick around and you would love it for sure.
Features:
1.) It's An Official Google Blogger Widget.
2.) No Spam Code Because It's Not By Any Third Party.
3.) No JQuery Or JavaScript You Have To Add In Your Blog That Will Conflict With Your Previous One.
4.) It's An Official Widget Called "FEED"
5.) You Can Add Unlimited Widget On A Single Page Or Blog.
6.) It Will Show Your Latest Or Recent Published Post From Your Desire Label Only.
7.) It's Good For SEO As To Decrease Bounce Rate And Increase Page View Time.
8.) Quick To Load And Easy To Install.
9.) Fully Intreaged With Your Template.
10.) It Can Show Maximum 5 Post With Date And Author Having An Option To Open Link In New Tab.
How To Add In Blogspot?
1.) Go To Your www.blogger.com
2.) Open Your Desire Blog.
3.) Go To "Layout".
4.) Click "Add A Gadget" Where You Want To Add It.
5.) Now Scroll To "FEED" Gadget.
6.) Click "+" Icon To Add It.
7.) Now Copy The Below Code And Paste It To There After Customization. (See The Below Title For Full Feed URL Info)
http://

YOUR-BLOG-LINK

/feeds/posts/default/-/

YourCategoryName
8.) Then Click On "Continue".
9.) Here You Will Expirence A Full Featured Form.
10.) Now Start Customization As Mention Below.
11.) First Add The Widget Title As You Want.
12.) First Choose A Number From 1-5 In Select For How Many Latest Post From That Label You Want To Show In This Widget.
13.) Check Out The Three Boxes If You Want To Add Post Publish Date, Authour Name And Open The Link In New Tab Option That Is Better For SEO.
14.) Now See The Live Preview That Will Be Available There To Confirm Your Customization.
15.) If You Want To Change Your Feed URL, Just Click On The Below Preview Link "Change Feed URL" To Do It.
16.) Now Click Save And Done, Scroll Where You Want To View This Widget.
See The Tuotorial Infograph:
Tuotorial Infograph
Customization Of Feed URL:
You Have The URL Like This As We Mention Above. (http://YOUR-BLOG-LINK/feeds/posts/default/-/YourLabelName), Just Change "YourLabelName" With Your Desire Label Name If You Don't Have Any Space Between Your Label Name As I Have (HTML-CSS-PHP-JavaScript). But IF You Have Space In Your Label Like Mine "Google Plus" Then While Editing Your Feed URL, Just Add "%20" Instead Of Your Spaces As It's The Official Space Code Is URL By HTML. Then Your Feed URL Become Something Like Mine (http://www.exeideas.com/feeds/posts/default/-/Your%20Label%20Name). It's So Easy That You Just Learnt Now.
Last Words:
Hope you guys liked the widget. Leave out your comments and let us know what you thought about the widget. I would be customizing the look of the widget soon guys. So keep an eye over that too. Till then, stay safe!