Are you aware that there are more than 6 billion mobile users worldwide? Each person spends more than 5 hours on the mobile screen using social networks, attending meetings, or playing games— living a life surrounded by apps.
By 2030, the mobile app development market is expected to be worth USD 366.34 billion, growing at a rate of 23.80%, as per Market Research Future (MRFR). With the great demand comes great competition. However, if you have a unique app idea, your chances of beating the competition are pretty high.
Apps with these features—stunning user interfaces, easy navigation, and simpler designs— will stand out no matter what. People will keep coming to the apps that provide solutions to their problems in an easy and user-friendly way.
So, how do you design an app that will be successful?
Planning, research, and marketing are all crucial to creating a great app. This beginner's guide will walk you through each step of designing an app. Let's get started.
Mobile App Design: Step-By-Step Guide:
Define Your Goal
Develop a plan
Budget Allocation
Know Your Competitors
Build Wireframes
Create Mockups
Build Mobile App
Testing the App
Launch a Beta Version
Launch your App
The mobile app design process may seem intimidating initially, but it becomes easier once you dig into the details. However, if you are not a developer, you can hire a professional mobile development company to help you build your dream apps at an affordable price.

Define Your Goal:
As you begin the design process, you should be clear about why you want to create this app and what you hope to accomplish with it.
Start brainstorming and write down the answers to the following questions:
What is the main purpose of your app?
What value does your app bring to users?
What problem does your app aim to solve?
How is your app different from the rest? Why should people use your app?
All these questions lay the groundwork for your app. Defining your app's goals and writing them down will help you stay on track throughout the development process.
Develop A Plan:
After establishing your app's goal, it's time to dive a little deeper. Having a clear roadmap for any project increases the likelihood of success.
Take the information from the first step and outline your app's scope. Break the project into small executable portions. Each component should have a specific timeframe within which it should be completed.
The app design plan is a visual representation of the entire app strategy. It will also have things like how the app will make money and how you will market it.
Budget Allocation:
After you devise the plan, the next thing is to allocate the budget. The continuous flow of money will keep things steady and on track. It will ensure that the app designing process will be completed in time. Budget allocation covers operating costs, human resources, tools purchases, and many more.
Know Your Competitors:
Observing your competitors is the best way to learn. You must research a niche market and clearly understand your competitors. Many apps will likely share the same idea as your app. But don't be intimated by this and try to find shortcomings in those apps.
Analyzing your competitors will help you identify weak areas and missing features to improve your product. The reviews posted on already-released apps are another great way to see what people like and dislike. It will allow you to see whether the app has resolved the issue and give you first-hand experience with users of these apps.
You can note these points and modify your app design plan accordingly to get the maximum out of it and beat the competition.
Build Wireframes:
It would be great if you could visualize each aspect of your app—typography, color schemes, navigation menu, etc. Because of this, wireframes have gained much popularity in app design. You can think of them as the blueprints for the look and function of your app.
Wireframes materialize your vision and visually represent the overall app structure. However, it doesn't mean it is the final design— you can still make changes and go for another design that suits you more.
You got an idea of what your app should do in the previous steps. Wireframes, on the other hand, are a more detailed outline of how things will work and what features will be needed.
Many tools are available for wireframing. The most common ones are:
Once your wireframe is laid out, you can share it with your friends and colleagues for feedback. Make sure your user interface provides an intuitive experience by removing unnecessary pages and features.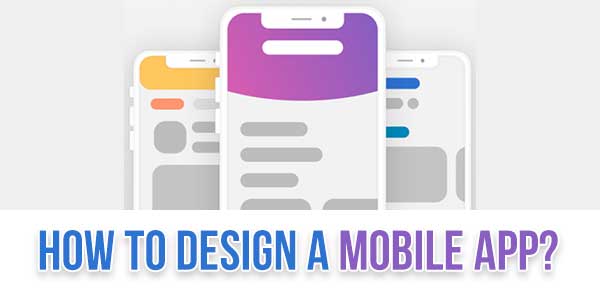 Design Your App:
This is the step where you build realistic mockups of your mobile app. Selecting eye-catching, beautiful, and professional design guarantees app success. Therefore, you should be extremely careful when choosing app design. What colors, fonts, or design elements you use will have a greater impact on your mobile app's look and overall performance.
Many options are available to get your app designed. You might hire a professional app designer or an agency for better results. We wouldn't suggest you design your unless you are a graphic designer.
Even though app designs are constantly evolving, there are some tried and tested app design features that you should keep in mind.
Consistency: getting the maximum out of the design requires consistency. Make sure your app should have a uniform appearance in terms of color, buttons, labels, fonts, and labels. Likewise, it should also maintain a functional consistency throughout the sections.
Easy Navigation: user-friendly app designs have seamless and smooth navigation. Your app should have a visible navigation drawer. Don't try anything tricky. Keep the layout simple and familiar to the users. Most importantly, the app design should be finger-friendly—buttons or links should not be so small that users cannot tap them.
Simple Design: simple designs enhance user experience. Emphasize elements that are important with whitespaces. More information on the screen will confuse the user and cause them to leave.
Right Color and Fonts: the color scheme affects the design of the app as well as the user experience. Users will immediately give up on bold or flashy colors. Make a proper color selection using Color Wheel. Likewise, fonts convey the look and feel of your app. Use fonts that can effectively communicate with your target audience.
Maintain Visual Hierarchy: Maintaining a visual hierarchy ensures a logical layout. Keep the visual hierarchy in your app design consistent.
Build Mobile App:
After finalizing the app design, it is time to hand it over to the developer team. As part of the development process, they will code the app and add functionality to it. Developers will ensure that the app works as it is supposed to it. There may be minor changes in the design to keep the app running smoothly without any problems.
If you don't have a mobile app development team, you can Hire a Flutter developer to get professional help.
Testing The App:
After the development team finishes the coding, you will have a fully functional app. It is time to test the app before its release. Your app must be working properly as well as visually appealing. You can share the app with your focus group and get feedback. Incorporates the necessary changes and gets it prepared for launch.
Launch A Beta Version:
An app's beta version is made available to users on a smaller scale for testing. It allows you to see how your app performs in a real-time environment and how users respond to your app. Get their honest feedback and use it to make final adjustments.
Launch Your App:
Your app is ready to be served on the Google Play store for download after it has been designed, developed, and tested.
What's Holding You Back From Creating Your App?
It is impossible to imagine a world without apps. In some way or another, these apps have influenced our daily social lives, businesses, education, and so much more. Designing an app with a unique idea can be a very profitable venture.
Creating app design may seem intimidating, but with this guide, your dream app will become a reality. So, why are you still waiting? Get your app design ready and hit the market.