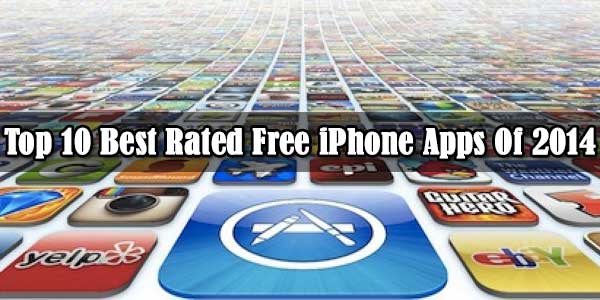 When we use the word 'free', we always talk about free apps available for your iPhone that should eat up some space on your device. With the increase in the number of Apps on the App store, you might be missing on some of the best apps available for your iPhone, iPod and iPad. Surprisingly, many of these apps are free to download. In this article we have picked up top 10 apps available on Apple store which might be missing on your phone. Let's take a look.

1.) Adobe Photoshop Express:
If you're one of those people who loves to pose and get click, this app is surely for you. There was a time when editing pictures was a task of desktop and laptops, but Adobe has surely turn the table with this app. You can now easily edit your favorite pictures in the mobile space with Adobe Photoshop Express.
2.) Bill Guard:
Now you don't have to worry about those false credit card statements. This app can help you track all your financial statements easily. We haven't heard of any other app or company providing this kind of flawless service. It's surely one of those apps which should be eating up some space on your phone.
Download Now
3.) RunKeeper:
RunKeeper keeps the track of your cycling and jogggin routes, mapping, and amout of calories burneed. Are you one of those early birds, who can skip to take bath but cannot forget to go jogging ? If Yes, this app is made just for you. Previously introduced with a 'pro' and 'free' version, RunKeeper now includes all the features in one free app. Don't worry, it might eat some space on your phone, but not your wallet.
4.) EasilyDo:
One App, different tasks. That is how we define this App. EasilyDo works as your personal assistant. The App can be connected to different online services running on your phone like email, calender, Facebook, twitter and so on and it looks for the task that can be easily done. For example, you can schedule a birthday post on your friend's facebook timeline and EasilyDo will do it for you at the schduled time and date. It's an awesome app that can help you save a lot of time.
Download Now
5.) Around Me:
This app is perfect for frequent travelers. AroundMe helps you find local places (bars, hospital, banks, petrol stations and etc) around you. The app relies on Google Maps for its results which mean there could be some cons. But nonetheless, it's good to have it installed for unfamiliar places.
Download Now
6.) Wikipanion:
In simple words, Wikipanion is wikipedia for your iPhone. The website works fine on the device, but this one is a dedicated Wiki mobile application for your Phone.
Download Now
7.) Pocket App:
Pocket App is also known as Read it later. It allows you to save your favorite webpages and read them later. No ugly advertisements and other junk. Pocket app is totally free.
Download Now
8.) OoVoo:
OoVoo is a cute lil app. It allows voice calls, video calls, group video calls and IM. And it is available for almost every major platform — iOS, Windows and Android. This is a super smooth app that keeps your conversation going smoothly.
Download Now
9.) Shazam:
And how can we forget Shazam. It's an little magical app. The App listens to any music source around and tells you what track is playing. Shazam isn't always right, but then it is not always wrong too. It's worth a download.
Download Now
10.) Find My iPhone:
Find My iPhone is a must download for all iPhone users. You can setup a free account and locate your iPhone within seconds.
Download Now
About the Author:
Nancy Griffin is a technical content writer and a gizmo geek. She loves to write about latest technology and gadgets. Presently she is working with Xicom Technologies, a leading company offering iPhone Development Services. Feel free to contact her if you're looking to Hire Dedicated iPhone Developer