Growing a business in a digital environment requires ideal ways to communicate with customers. The slightest delay in website loading frustrates potential customers. With the high level of competition in e-commerce, they don't have to wait for a slow website to load if competitors' platforms do it instantly. The best solution that was found for the problem of speeding up the transfer of information is the CDN service. It takes a little over 10 minutes to set it up, but the performance of the site improves significantly.
Choosing A CDN Service Provider:
The most important thing when setting up a CDN service is to find the most elaborate content delivery network with numerous points of presence. You can also pick a free CDN service, but its effectiveness will be low. In such a case, the company may not fully achieve its goal of content acceleration. G-Core Labs stands out among the most reputable CDN providers. With a powerful infrastructure, it offers its users advanced functionality that can take a business to a new level.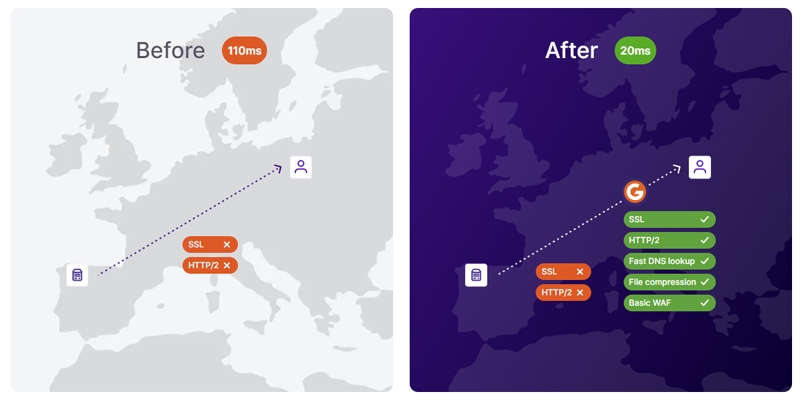 CDN Settings Algorithm With G-Core Labs:
Using the CDN services of G-Core Labs, you will be able to speed up and protect the entire website, as well as transfer individual static content that will be distributed along the network. Follow a few steps to launch this service for your site:
Register on the G-Core Labs platform without any fee.
Open your account and create a CDN resource by pressing the functional button.
Enter the name of your website and the domain where it is located.
Activate all the necessary features that are offered in advanced settings.
Confirm all your settings and get a ready CDN resource for your website.
The procedure for setting up CDN is very simple and intuitive. But if you have any questions, a round-the-clock technical support service will immediately answer them. Spending 10-15 minutes to set up a CDN will bring you significantly closer to your global audience and make your web page more responsive to requests from anywhere in the world.