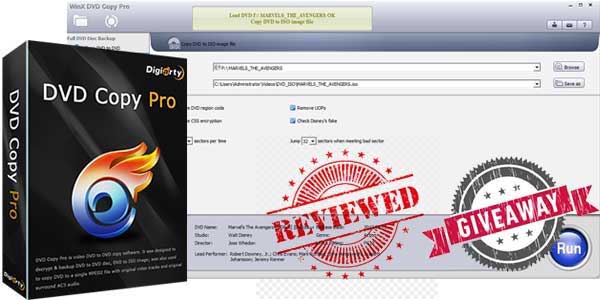 In the era of digital revolution, the simplicity is to enjoy music, videos etc. To get this relaxation, several kinds of traditional media players options, such as DVDs, have been replaced with the new tech! Still, when we take the case of our old collection of movie or music, we can observe the fact is that nearly all of us have a special connection towards DVDs, especially when we consider its unmatchable quality in both video and sound without buffering or downloading.
However, it is not possible for to keep all those DVDs wherever you go or even in your collection as time passes, they will become un-playable and also it will take a lot of space to keep. And, here you need an effective tool to keep such DVDs safely into your HDD or to share copies with your friends and families so that we have an awesome suggestion for you – WinX DVD Copy Pro.
Here are we with the review of this tool, and the review will discuss several aspects of DVD Copy Pro such as usability, features, compatibility and services. WinX is also running a special giveaway for WinX DVD Copy Pro so you can get premium licenses of the tool from there freely too.
A Little Introduction To WinX DVD Copy Pro:
WinX DVD Copy Pro a DVD backup or copier software provided by Digiarty Software Inc, specially designed to meet users' up-to-date DVD backup, cloning and copying demand like DVD to DVD disc for safe storage or sharing; copy DVD to ISO image for later burning or backup, playing or ripping; copy DVD to MPEG2 file with intact content for further usage in different media players etc.
WinX DVD Copy Pro provides an easy yet powerful solution to backup any DVD or to make clone of any DVD with the purpose of helping users store DVD contents more safely or to share with friend and family and so on. Now the question is how does WinX DVD Copy Pro work for you?
1:1 clone DVD to blank DVD disc, ISO, VIDEO_TS folder
Copy intact DVD contents to MPEG2 with original quality
Burn ISO image/VIDEO_TS folder to DVD disc
Support to Copy DVD chapter, extract video/audio from DVD
Able to copy region codes, CSS, RCE, UOPs, Sony ARccOS, APS protected DVDs.
Repair corrupted DVD sectors while backing up old/scratched, dirty, worn, cracked DVD.
Complete perfect DVD content copy at the fastest speed (12 to 17 mins) at low CPU cost (less than 1%).
Easy operations with flexible advance settings. E.g. choose the exact type of protection mechanism you want to remove, choose the number of sectors to be read and jumped while backing up read-only DVD movies.
WinX DVD Copy Pro Awesome Features:
This all in one DVD copy or cloning software works powerfully and efficiently, contain Unlimited access to all region codes and copy protection systems including fall file formats, Capabilities for burning and copying from scratched and old DVDs; Perfect 1:1 ratios, Fast 12-to-17-minute burn times for full movies, Easy mini editor that have a support for 9 DVD copy modes and many more.
Full DVD Copy with 1:1 Ratio: Clone DVD to DVD disc, DVD to ISO image and DVD to VIDEO_TS folder while keeping 1:1 ratio and preserving all Menus, Subtitles & Languages.
Repair Corrupted/ARccOS Bad Sectors: The software comes with advanced bad sector recovery engine which repairs corrupted DVDs to greatest level and recovers most of its content. It can also create clone using Sony ARccOS bad sectors deliberately.
Low CPU Cost, Fast Speed, High Quality: On an average, it uses only 1% of your CPU and provides high quality 1:1 DVD copy with crystal clear image and hi-fi sound. So, we can say the software is highly resource-efficient.
DVD Burner & ISO Mounter: WinX DVD Copy Pro comes with built-in functionality to burn DVDs. It is also capable to mount ISO image or Video_TS folder to a virtual drive to access them like nomal DVDs.
Flexible DVD Title/Chapter Copy: Copy original DVD content (audio/video) and remux it into a single MPEG-2 file to play them on PS3, Xbox, Wii and TVs using USB flash drive. Moreover, you can edit them into Windows Media Center. Support DVD Title / Chapter backup, Extract Video / Audio for particular use.
Constantly Support Any latest DVDs: It makes almost every powerful DVD protection accessible including CSS, Region Code, RCE, UOPs (FBI warnings), Sony ARccOS, APS as well as Disney X-project DRM tricks and lets you to successfully copy entire disk content.
Halloween Giveaway Campaign: Get WinX DVD Copy Pro V3.9.2 For Free:
WinX DVD Copy Pro is a DVD backup solution provided by Digiarty Software Inc, (A leading multimedia software company founded in 2006).
Here we offer WinX DVD Copy Pro, A superb DVD copier supports 9 DVD backup modes: clone DVD to DVD disc for safe storage; copy DVD to ISO image for later burning, playing or ripping; copy DVD to MPEG2 file with intact content etc, worth $67.95 but now for free in Giveaway offer for our Readers. You can Grab your Free WinX DVD Copy Pro from here by entering your email in between October 20th, 2019 – November 5th, 2019. A zip file that contains giveaway info will be automatically downloaded after you submitted email.

How To Use WinX DVD Copy Pro To Copy DVD To DVD?
There are only 3 steps to go through it.
Step 1: Insert the DVD you want to copy to new blank DVD disc into DVD drive. Launch WinX DVD Copy Pro and select Clone DVD to DVD option from Full Disc Backup section listed on left side of interface as shown in the above pic. Select Source DVD and Target DVD Burner (blank DVD disc). [Note: For this feature, you must have 2 DVD ROMs in your PC]
Step 2: The next panel shows copy protection removal and sector read options and others too. You can Customize the options depending on your desire and requirements. Next click on Browse button located at right of Temp Folder text field for saving the cloned ISO file temporarily.
Step 3: Click RUN button to start DVD to DVD copy.
How To Use WinX DVD Copy Pro To Back DVD To PC?
If you only have one optical drive, the source DVD will be copied as an ISO file firstly which will be saved in temporary folder in your PC. When the copy process is completed, it will require you to insert a blank DVD disc for burning in your same DVD ROM and then will start writing that DVD backup.
WinX DVD Copy Pro supports blank writable DVD disc in types: DVD-/+R (DL), DVD-+RW (DL) and DVD RAM.
Note: If you have multiple drives in your PC at a time, just insert source DVD and blank DVD where you want to copy together. Both DVDs will be automatically detected and you just need to hit RUN button after all settings are done to copy DVD to DVD automatically.
Our Remarks And Views:
No matter what kind of DVD you have in your backup, it weathers old or scratched or even strictly encrypted, WinX DVD Copy Pro can give you a perfect solution to make an intact DVD copy or backup in your PC. WinX DVD Copy Pro is a must-have DVD backup tool if you own a collection of DVDs in your home. This full featured software with uncluttered and user-friendly functions make it usable by professionals to novice users. And now, you can get a free version of this great DVD copy software by taking part in the giveaway promotion to produce a new copy of your damaged or out-of-print DVDs.