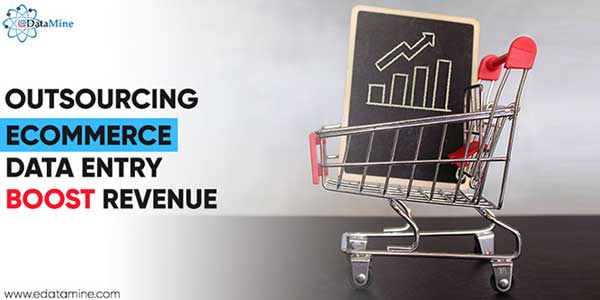 We truly live in a modern era as the majority of our daily activities are getting digitized. Be it ticket booking, food delivery, OTT platforms, or internet banking, every procedure is just a click away. Since so much is shifting online, shopping also is no exception.
We all know what a huge hit eCommerce shopping platforms are today. The convenience that online shopping offers have contributed to a new age of business. Consumers can browse and compare multiple products just by moving their fingers across a screen. Plus, eStores can get set up easily with a small budget.
The Remarkable Rise of Ecommerce:
The fast growth of eStores is thanks to various reasons. Covid-19 is the prominent one. During the pandemic, the very basic daily essentials were also bought through online stores. Fear of infection and lockdowns have driven changes in customer behaviour, shifting offline footfall to online shops. Such phenomenal success plus the following data has compelled many vendors & entrepreneurs to tap into the potential eCommerce offers.
The global eCommerce market attained a value of US$ 13 trillion in 2021. The market will reach US$ 55.6 trillion by 2027 at a CAGR of 27.4%.
There are approximately 12 to 24 million eCommerce sites globally, with more and more getting built each day.
59% of millennials open Amazon first while searching for a product, making the online retail giant one of the biggest rivals.
This analysis confirms that the eCommerce growth is outstanding and will not slow down anytime soon. Therefore, staying ahead in the competition is not an option — But a necessity.
Since there are a lot of competitors and increased competition, launching an eStore will sustain you in the market however won't promise the success you want. Turning visitors into customers & selling your products online is the real challenge. If an eStore fails to deliver a smooth product search, navigation & shopping experience, it can frustrate customers and damage the store's reputation. If you are an online retailer, wishing to expand your business, then choosing a reliable & expert eCommerce data entry Services Company will work wonders.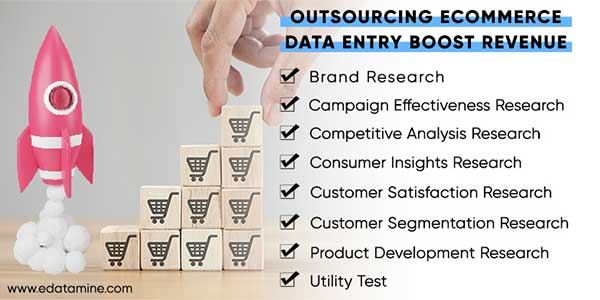 Take A Look at How Ecommerce Data Entry Services Will Boost Business:
Enhances the Estore Performance:
When you outsource eCommerce data entry services, you will see a difference in your business and performance. Your data entry requirements are taken care of by experienced professionals. Irrespective of the data volume or complexity, they deliver the perfect output within a quick turnaround time. Here's an example- Alibaba, the Chinese eCommerce platform, was launched on a small scale and today it is one of the leading online marketplaces in the world. Reason? They outsourced external development and the business skyrocketed.
Provides Perfect Product Data Management:
Ecommerce data entry experts understand the importance of successful digitization, organization, storage, and essential product data management across multiple platforms. Product data management ensures efficient document retrieval while making the data available to authorized personnel. Data filing and data indexing are the forte of the experts. Amp up your analysis and decision-making game by outsourcing product data entry services.
Saves Time:
When you partner with a product data entry services company, the data quality significantly improves. The assigned project gets completed with precision and technical edge. Plus the outsourced team is experienced enough to handle any glitches that might come their way. Basecamp, a project management software of a web consulting agency is the ideal example here. The growth of software was sluggish at the beginning of 2004. As soon as the founders outsourced development, the software grew to have a presence in 32 countries.

Save Money:
Many entrepreneurs prefer to conduct eCommerce data entry in-house and eventually experience the aftershock. Their costs in terms of team, technology, and infrastructure would shoot up like anything while leaving them with no useful outcome. Eliminate such expenses by outsourcing eCommerce data entry services to trustworthy partner. It will cut down the costs to 60% while getting you beneficial results.
Keeps You Ahead In The Game:
Outsourcing saves your costs. Plus takes up all the burden off you and your team. So you have sufficient time and funds to think about the ways you can improve your eStore. You can even focus on the marketing & promotion of the store. You can also take a good look at your competitors, their strategies, and current trends and plan your business strategies accordingly. Thus outsourcing helps you to stay ahead of the others in the business.
Customer Experience Improves:
Outsourcing eCommerce data entry services get you access to the team who will keep your store updated with the latest products, product images, SKUs, product information, (label. description, make, types), product availability, and many such relevant details for a satisfactory customer experience. Smooth & secure payment procedures also boost the revenue of the store.
Utilization Of The Latest Technology:
Data entry experts are experienced in enhancing the visibility of your eStore on popular search engines like Google, Bing, Yahoo, Ask.com, Mozilla, DuckDuckGo, and Baidu. Using a combination of specific tools, methods, and manual efforts, the experienced professionals optimise the ranking on SERP. So the website appears quickly and gains better conversions. The tools help to make the product images more appealing.
Provides Complete Data Security:
Absolute data security is a must for eCommerce firms especially when they are sharing their data with an outsourcing partner. Any experienced eCommerce data entry services company will understand the importance and will fulfil client requirements by having necessary security measures in place.
Accurate & flawless product data entry services are very necessary for business success. The process is monotonous and time-consuming therefore must be left to the experts. They do it accurately and keep it in line with various e-commerce platforms.
Product data entry services providers are equipped with the right skill, experience, and proficiency to manage your e-catalogues efficiently without a glitch. They can convert your paper catalogues into digital ones while taking care of the attributes such as manufacturer details, product SKU, images, metadata, product descriptions & attributes. They make the website SEO-friendly with Meta tags, keywords & specifications. It is a task that needs the skill and in-depth knowledge of eCommerce.
Rest assured, with the right partner, you will get the best team, technology, and tools at cost-effective rates. Take your eStore up a notch by outsourcing eCommerce data entry services today.