Customer reviews are a trusted source of information on all types of products and services. According to recent studies, customers trust online reviews just as much as they trust personal recommendations. Reviews tell people what to expect from a product/service and significantly impact their purchase decisions. Let's face it – no business is perfect, and everyone gets negative reviews. As a business owner, you cannot stop people from writing bad things, even if you have done nothing wrong. You cannot (or at least should not) delete negative reviews either. What you can do is use bad online reviews to your advantage. There are several ways to use negative feedback to improve your products/services and company reputation.
How Much Damage Can Bad Reviews Cause?
In order to learn how to use bad online reviews to your advantage, it's essential to acknowledge how much damage they can cause. Negative comments, low ratings, and bad reviews greatly influence other customers, causing problems to business owners, many of which are hard to solve.
Reviews affect how people perceive your brand. One of the biggest issues negative feedback can cause is harming your online reputation. Since many buyers base their judgment on a company's online reputation, they are likely to form a negative opinion as soon as they see some bad reviews.
Negative feedback can affect leads and sales, too, which deters company growth. Often considered a red flag, negative reviews can discourage new customers from giving your company a chance. They can also make existing customers lose trust and shop elsewhere. Even if they proceed with the purchase, a bad reputation causes uncertainty that may affect their experience with your product/service. Having doubts from the start, a customer may not be able to fully enjoy what they've purchased.
Also, dealing with bad reviews can trigger a lot of stress for business owners and their staff. Employees may feel less capable, which affects team morale.
All things considered, negative feedback can do a lot of damage; however, it can also be a blessing in disguise. If you learn how to utilize bad online reviews for your own benefit and take the right steps at the right time, long-term damage can be prevented or at least limited. Damage control may take some effort, time, and money, but it is definitely worth it.

To Use Bad Online Reviews To Your Advantage, You Must Read Them Carefully:
It is important not to take things personally and let your anger control your decisions. Even if you disagree with a customer's opinion, you should respect it. Instead of immediately rejecting criticism, try to understand the real reason behind it, and use negative customer reviews to your advantage. Yes, some customers are impossible to please, no matter how much effort you invest. Some people are simply unreasonable, and there is nothing you can do about it. But most customers are actually quite objective.
Read each review carefully and ask yourself why the customer feels the way they do about your business. Perhaps there is a genuine issue with your product/service. Is it an isolated review or one of many similar comments? Maybe you did not meet customer expectations. Were those expectations realistic? Is there something you can do differently from now on?
Respond To Bad Online Reviews:
A good response can help you use bad online reviews to your advantage. Instead of reacting to a negative comment with a negative response or trying to defend yourself, acknowledge every complaint. Show the complaining customers that you value their opinion. Apologize and let them know that you are willing to offer solutions. And, who knows, your response might even change their mind. Grab this opportunity to show how dedicated you are!
Online reviews are often found on social media sites and online review sites. Leaving a public response on these sites is easy and quick. Keep in mind that you are not just addressing the person who left the bad review but also hundreds or thousands of other people who will read it. This way, you can prove to other customers that your company takes their opinion seriously and wants to make changes where necessary, which is a great way to improve your reputation. Most people understand that everyone makes mistakes. They just need to know that you care enough to fix the problem.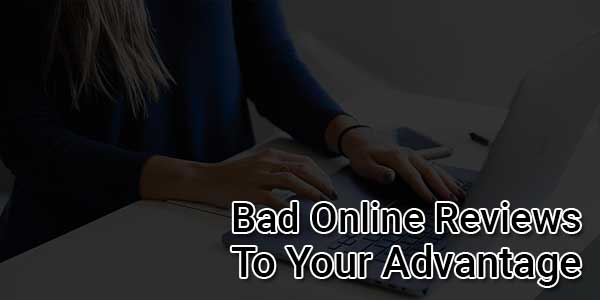 Negative Reviews Enhance The Effect Of Positive Reviews:
Many potential customers compare negative and positive reviews before making their final decision. When comparing the pros and cons, negative reviews can make the positive ones sound even better. Some customers also mention the good sides of the product/service they have purchased in their negative reviews. These mixed reviews actually benefit you because many potential customers look for unbiased opinions. Plus, unlike positive reviews, negative reviews help set realistic expectations.
Negative Reviews Help You Gain Credibility:
With so many fake reviews out there, customers are becoming more and more skeptical. Having only great customer reviews and perfect ratings is highly suspicious. Negative comments prove that you are not deleting them or trying to hide your flaws. Having a few negative reviews is the best way to prove that you are trustworthy.
Use This Opportunity To Learn And Improve:
You know that every cloud has a silver lining – you just need to find it. Bad reviews can turn out to be a valuable lesson. Even if they sound angry, the customers who are leaving bad reviews are actually helping you identify your weaknesses and become better.
Seeing a problem from a customer's perspective can reveal issues you might not have been aware of. This is a great way to use bad online reviews to your advantage. By reading the reviews, you can gain an insight into how your customers truly feel about your business. Once you learn what bothers them, you can work on bettering your business and avoiding future problems. Reviews can serve as case studies you can use to improve different aspects of your business, such as your marketing strategy, product features, employee training, etc.