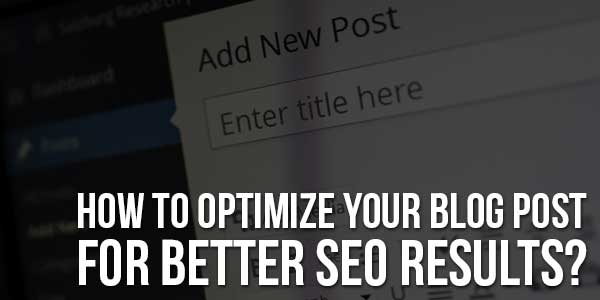 A blog post is a marketing tool largely used to attract organic traffic to drive leads to convert and ultimately increase revenue.
Creating valuable content is one side of the coin; the other side is making your content visible. This is where SEO optimization comes into play. An effective SEO strategy will bring in readers who are interested and involved in your content.
Here are four tips on how to optimize your blog post for better SEO results:
Conduct keyword search and implement the results
Customize the URL structure
Add internal links to your content
Optimize for featured snippets
1.) Conduct Keyword Search And Implement The Results:
Keyword search helps you identify the subject matter that appeals to your users most and is based on the search engine data.
When conducting keyword research, you can use tools such as SEMrush, which can help you find the right keywords and provide you with pointers on readability, tone of language, and average article length.
Choose the keywords with the highest search volume and the lowest ranking difficulty. Once you've found keywords relevant to your blog posts, you can use them to design your content strategy.
Implement your keywords in the blog's headline, the text itself, and in the meta tags.
Keep in mind your users' search intent. The types of users' intent can be – informational (users search for information), transactional (users looking to buy something), and fact-finding search (users search a specific product or a service and examine the best options).
Use long-tail keywords on your blog posts as they are intent-based and come with a higher possibility of converting your leads into customers. Long-tail keywords are longer and more specific phrases less used on search queries but used by the leads who reached a point-of-purchase.
2.) Customize The URL Structure:
The structure of your URL is a significant factor in SEO ranking as it is the link between your content and the user. You can have automatically generated URLs, but for blog posts, the customized URLs are the way to go.
Customized URLs help search engines and users alike know what the page is about, which allows Google bots to index pages correspondingly.
Another benefit of customized URLs is that it allows you to implement the keywords you are ranked for.
To create a good URL, use hyphens to separate words, remove all stop words ( a, the, and, but, en, etc.), and use canonical tags when necessary.
Because URL structure customization is very important for the success of your blog posts, consider getting some help from your local digital agency. For instance, if your business is located in New York, search for a New York website design agency to help you get on board with the local trends.
Working with professionals will ensure measurable results in a shorter timeframe.
3.) Add Internal Links To Your Content:
The internal links are a reference to another webpage on the same website. In other words, internal links give readers more content on a specific topic, in the place they need it.
Your internal linking strategy should include identifying the most important pages on your site, implementing the optimal number of links (the general rule is about four internal links per post), and making your internal links open in the same window to keep your readers on your site.
If you include internal linking to your blog posts, it will be easier for the search engines to find you and rank you.
4.) Optimize For Featured Snippets:
Featured snippets are short passages from a webpage that turn up in Google's search results. Featured snippets generally provide answers to users' who, what, where, why, and how questions quickly.
If Google recognizes your content bit as a featured snippet, you will automatically earn better SERP real estate.
There are four types of featured snippets:
Paragraph featured snippets – most of the paragraph snippets start with interrogative words "what "and "why "and have around 42 words or 250 characters. Find question keywords with a low Keyword Difficulty (KD) score to rank higher in the SERPs. KD measures the competition for a specific keyword and the lower the score turns up to be, the easier it is to rank for that particular keyword.
Featured snippets in the list form – consist of 6 points and 44 words and they can be ordered (1., 2., 3…) or unordered (divided by bullet points).
The table featured snippets – have five rows and two columns on average, with 40-45 words. To optimize for table featured snippets, mark the relevant content with the table tags in HTML.
The video featured snippets – last about 6 minutes and 35 seconds. The video featured snippets are not as common as the other types. Use them only if your audience prefers video content.
Understanding your users' intent can help a great deal in optimizing for featured snippets. Your users' intent can vary from wanting a short answer to reading a comparison or watching a video.
The users who want a specific answer know what they came for and are usually not interested in reading any additional information. This type of featured snippets is more likely to help in brand building than attract any significant traffic.
The users who want a short answer expect a paragraph or featured snippet in a list form with the option of getting more information when they click on the results.
Conclusion:
Blog posts are an important part of a digital marketing strategy because they help boost your website's visibility, attract new customers, build your reputation, and are a useful tool for advertisement.
All these make it vital to optimize your blog posts for better SEO results.