Building a business marketing strategy for this year is something that every company should do. The coronavirus outbreak, which later turned into a global pandemic, changed the way people buy, sell, and do business. It even changed the way people work and the way companies interact with their customers. If before the pandemic, many companies and businesses focused mostly on generating new leads and attracting new customers to their shops, now their strategies focus more on their retention.
This happens because people are finding business ideas to make extra money from the comfort of their own homes. And so, more and more options become widely available on the market for customers, which are competitors for many businesses. A business marketing strategy is one of the most important plans a business needs to build. As the market changes, so do the needs and values of people. And so do the marketing tactics and strategies used.
Besides, if your company is on the market for some time and it was active last year, you surely have some marketing statistics for your activity. These need to be used when planning the business marketing strategy for 2021. How your business has performed last year comes with many insights and it can help you tailor your marketing plan so that you reach your customers. So, how to do this plan? Find out below.
Get An Overview Of Your Past Activity:
As mentioned earlier, knowing how your business has performed is essential. Marketing trends change, and so do the needs and values of people. At the same time, the social environment the world is finding right now could influence your marketing strategy. 2020 was a difficult and challenging year for everyone, but one that fostered the digital transformation of many businesses.
So, it is essential to get an overview of your past activity, but also on the current marketing trends. Start with analyzing your past social media strategy, its goals, and the progress you have made towards achieving them. Analyze your target audience, maybe it has changed during the last year. Analyze how your past campaigns have worked and the set goals for them. Analyze the impact of the global pandemic on your business, your team, and the employees. This could come with implications that need to be considered when the business marketing strategy is built.
In this analysis, it is important to keep an objective eye. You surely are emotionally involved, but getting an overview as objective as possible is essential. Because it will come with many answers and starting points that will make the planning of the marketing strategy easier.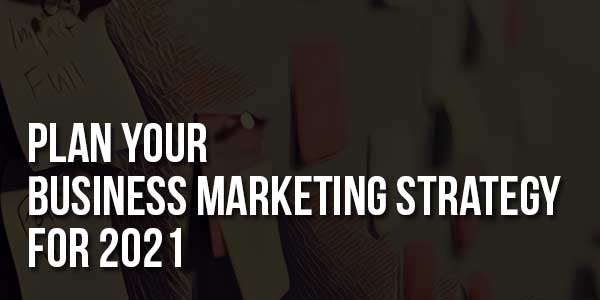 Focus On Your Target Audience:
Every business depends on customers to survive and thrive. You advertise and sell some products and services, and customers will inspect them and decide to or not buy them. But a business is more than this. It has employees, it has departments, it has a lot of responsibilities. And to increase the profit of your business, you need to shift to digitalization too.
The marketing world is a competitive and creative one. And knowing how to build and plan your marketing strategy is essential. The one thing which is the most important one is your target audience. Your marketing strategy depends on it, so it is essential to know it. Your target audience might have changed during the last year, and this is normal. It was a tough one and, anyway, changes like this happen naturally too.
So, take a look at your target audience and understand its needs, values, wishes, pain points, and so on. Take a look at its demographics too, as they come with many insights and answers to questions. Updating the profile of your target audience is an important step you need to take that will set the direction for the whole marketing strategy. Your target audience is represented by the people that have a higher chance of being interested in buying from you, so how you address them is decisive.
Engage With Your Audience:
As more and more people have started spending time online more than before, they have started looking for some things in the businesses and brands they follow. People are tired of fake engagements they get from brands. They want real ones. They want to see the people behind the brand and find out more about them. They want to see what is happening beside the camera. They want to feel that you are a real human too, and not just one with robotic views and interactions. They want authenticity.
So, this is the thing you need to include in your business marketing strategy. Social media is the place where you can unleash your creativity and build a brand image. Engage with your audience and let it feel the humane touch of your business.
Listen To Your Customers:
One of the most crucial points of any marketing strategy is listening to your customers. This is something that will be trendy forever, as customers give the direction for the strategy. So, asking your customers for feedback and considering it is the first step. Sometimes, you may overlook some things and details, and having someone pointing at them might not be pleasant. But if you see feedback as a present, as an opportunity for improvement, you could improve your services and plan better your marketing strategy.
Collaborations:
A thing that has changed the world of marketing during the last year is the rise of influencers. Because during the last year people spent more time inside, many of them turned to the universe of influencers. Influencers are nice people and some that could help your business grow. Improving your brand awareness should be one of the goals of your marketing strategy. And influencers can help you do this, as they have already built their audience and earned its trust. So, collaborating with influencers is one of the marketing trends that define this year. They can give you access to an entirely new pool of people, some of which might become your customers.
Final Words:
Planning a business marketing strategy for this year is crucial. This is because 2020 changed the marketing trends, changed the pain points and needs of people, and also the approach of many companies. When building a marketing strategy for 2021, it is essential to consider a few things. As things change, your target audience might have done the same.
Take an objective perspective on your progress and analyze your past campaigns, your target audience, and its needs. Engage with your audience and show your humane face and tell the story of the people behind the brand. Listen to your customers and let them know they are heard and their opinions are considered. Analyze the market and identify possible collaboration options. Influencers are some people you could start with and that can help you improve your brand awareness.