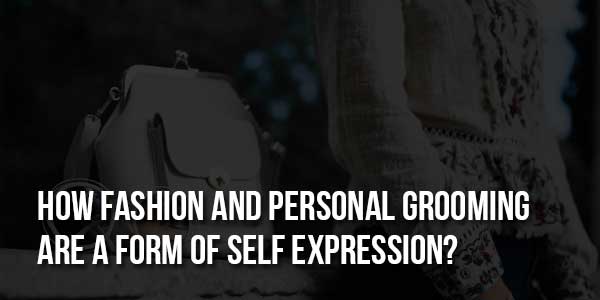 Most people believe it to be true that fashion is undoubtedly the easiest way to communicate after an individuals' body language. It is considered to be a form of self-expression without having to utter a word.
Whereas, on the other hand, a great sense of fashion and style is obtained through self-grooming. It gratifies one's sense of achievement by catering to an individual's personality and offering a neat, tidy, and presentable look. Fashion and self-grooming go hand in hand.
In case you are wondering what's more important, we would say it's self-grooming. Whether you are in a business or work field, a student, or a person who works from home, self-grooming is for all.
Self-grooming is simple and straightforward. It means taking care of you and your needs, i.e., making sure what suits your body, your skin type, brushing, shaving, and cutting your nails, taking a bath, and so much more.
Particularly, fashion, on the other hand, is the enhancement of self-grooming. It's a visual representation of one's self, thoughts, and lifestyle that helps a lot in the work field of an individual. Fashion has practical purposes like keeping you warm, protected, and covered. After all, physical appearance, body presentation, and posture are themselves a language for all, especially people with business meetings and interactions.
In this write-up, we will discuss why a well-groomed and fashionable personality is significant to obtain and how it helps an individual to express them in their professional lives.
Why Being Fashionable And Stylish Is Significant?
While personal grooming and fashion look alike, they are entirely different. To give off a completely stylish look, one must appear to be fashionable and well-groomed. After all, it's entirely meaningless if a person chooses to buy a leather jacket or designer-wear with zero sense of personal hygiene.
Grooming is an entirely personalized factor that works differently for everyone. The society we are in does not consider grooming to be stylish; however, it is more important than fashion especially when you have to meet people daily. As mentioned above, both of these factors go hand in hand. Obtaining them will make an individual more presentable, smart, and great-looking in their professional life, business meetings, and corporate dealings.
Below, we have discussed fashion and grooming altogether and what their benefits are on an individual's personality and lifestyle.
The Fashion You Love Helps You Showcase Confidence:
With fashion in mind, a person can easily showcase their confidence in their corporate life. Most people love dark colors to give a bold look to their personality, whereas some women choose to wear light colors to enhance their femininity.
Also, wearing something you really love and suits on you itself provides a sense of awesomeness. It's also good for a person to wear the clothes they like to increase their self-esteem and confidence which is most essential with public dealings. Overall, it makes you a happy and confident individual.
Personal And Unique Style Showcases Self-Care:
Furthermore, through fashion, an individual showcases self-improvement and self-care. Both of the factors are extraordinary signs which people don't really talk about often. However, by default, people do get attracted to those who are confident and smart. It also lets you earn respect from the community and colleagues.
In all honesty, every time you dress in a well-groomed and presentable manner, you are expressive that you are a manageable individual who takes care of yourself and the people around you. This makes you look serious in your offices as well. Also, it shows that you have a good sense of making choices and decisions. Overall, it helps you create a positive image of yourself.
A Polished Personality Showcases Inspiration:
As mentioned above, people get attracted to smart individuals with great and catchy personalities. If you are someone who likes and adores attention, then make fashion your best friend, and you're good to go. Hopefully, you'll get a promotion at your job too as being better at managing things is one of the business organization techniques.
Attention also lets individuals get friends and so many compliments. Needless to say, compliments are a great way to enhance one's confidence. Anyhow, choosing a good fashion sense to stick to will make you hear stuff like, "I want to dress like you too," which means you are setting a style-statement and inspiring others.
To foresee a longer approach, it can also make you a successful business coach or entrepreneur. After all, these lifestyle and personal changes create a better society. It's a great way to change society and people through setting an example of changing from bad to better and dumb to smart. Know that personal hygiene is something, to begin within all aspects of life.
Personal Grooming Has Good Impact On Relationships:
Hygiene practice is certainly the best practice to obtain, especially when you have a routine to meet colleagues, clients, friends, and family daily. It impacts so many factors of your life along with making you a better adult. It's no surprise that people will love to enjoy your company, and the people closest to you will also appreciate and compliment you for that. This results in increased self-esteem and a boost in confidence.
To make it a bit easier and simpler for you to understand, please know that wearing expensive designer-wear clothes or opting to buy leather products out of your budget is not going to help. There are so many individuals, models, corporate people out there that wear lavish attires and still smell with stinky breath and hairy parts.
Conclusion:
A growing young individual, especially someone who is outgoing and has business dealings to look after, must make two friends: fashion and grooming. After all, it's a saying that a group of 3 friends reaches success. Therefore, to maintain this friendship, one must choose not to have bad breath, have perfume and mints every time, along with having a well-managed beard, hair, and tidy clothes.
After all, opting for a style that suits a professional well and is comfortable to carry is the key to get a personalized, well-groomed style. These factors help create a unique approach and perspective to self-expression and self-care. Know that well-organized and well-disciplined behaviors lead to better relations in life with friends and colleagues. All begins from within.