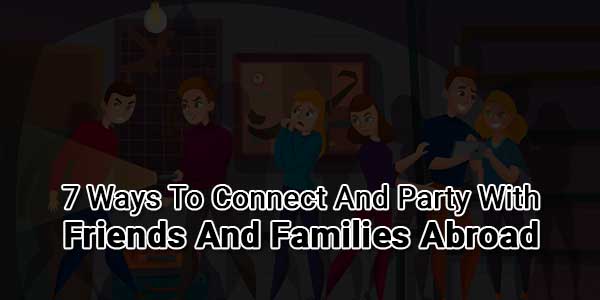 Traveling overseas is one of the best feelings in the world especially when you are visiting a family member or friend who you haven't met in a long time. But there is no denying the fact that you cannot travel very frequently because everyone has work that they need to cater to; also, traveling can be pretty expensive. All this makes it very difficult to stay connected with family and friends and almost impossible to party and celebrate events together. Especially in times like this when the Coronavirus has put the whole world under a standstill, it is nearly impossible keeping the safety measures in mind!
So, what can you do? How can you keep in touch with your near and dear ones who are living abroad?
The answer is with the help of modern technology!
Technology has helped us alleviate the logistical part of the distance. A virtual experience is a great alternative to a physical experience, considering the current challenging time. You can find comfort in the fact that even in a virtual experience, the euphoric feeling of togetherness is still present, and the celebration spirit has not lost its importance as well. To watch your loved ones smile and wave at you through a screen is enough to provide you all the happiness and solace in the world.
We are all living a lifestyle in which we face hundreds of problems every day. Sometimes, they generate a feeling of stress, anxiety, or depression. There are the bouts of homesickness that the people feel who are living far away from their loved ones and their homes.
A cure to all this is connecting and partying with our friends and families who are living far away from us.
Here are seven ways in which you can celebrate a virtual birthday party with your loved ones who are living overseas and how you can make the most out of the situation:
1.) Have A Face-To-Face Convo With Your Loved One's:
Be a little tech-savvy and download these apps, if you want to stay connected with your family members and friends living far away from you. Google Hangouts, WhatsApp, Facetime, Skype, and Zoom are the most prominent ones these days. During this lockdown, when everything is online, be it studies, work, or even recreation, it is important to have all those applications to communicate efficiently with others and make your own life easy. You can video call your loved ones via these apps to stay in touch about every up and down of their lives.
2.) Play A Virtual Escape Room Together:
To celebrate a birthday or have a virtual party, we present you with the perfect virtual party idea! Escape rooms! Escape rooms are 60 minutes of real-time adventure games where the players are locked in a room, and they have to escape. The game revolves around a story and relating to that story, the room has puzzles and quizzes. The players need to decipher all the clues and puzzles and solve the mystery. If they can do that, they will be able to escape the room and win the game. These games are usually played in a team. They are so very immersive and interactive which makes them ideal for a party or celebration. You can now virtually play these games from the comfort of your home. They can be played via zoom calls, WhatsApp or Skype calls. Any escape room that you play virtually will have a volunteer in the room who will solve the mystery on your behalf. The volunteer will be following everything that you say so that the chance of winning and losing still depends on you and your escape-skills. The volunteer will show you around via a camera, and this will enable you to have a full-on experience of real-time adventure.
3.) Online Karaoke Sessions:
Are you also a Karaoke lover, and now you are reminiscing the times when you and your friends used to jam together on your favorite songs? Don't worry! We have got you covered. You can bring the karaoke bar to your home on your screen! Organize a virtual meet-up; open your fav song lyrics on your screens, turn on your mics and Cameras, and sing at the top of your voices. A karaoke session is a great idea to release stress and also to celebrate. So, what are you waiting for? Go and sing along with your friends and families!
4.) Watch A Movie On Netflix Party:
Missing out on the movie dates because of the distance between you and your loved one? Let us introduce you to the long-distance movie-date night. You can watch the same movie at the same time by downloading Netflix party. What is great about this app is that you can synchronize your screens, and you can also chat with each other while watching the movie! To make it more authentic, we suggest that you make your popcorn and snacks. And voila! You are on a virtual movie date night!
5.) Join Virtual Yoga Classes:
In this modern era, we say that families that work out together, stay together! Yoga is an awesome way of exercising your body and it can have relaxing effects on your mind and soul. A yoga class is a great way to bond and spend quality time with your family as well. You can work out together and also keep yourself fit. We say it is a win-win!
6.) Have A Virtual Dinner Party:
Staying away from your family is tough. You might miss a lot of things, but one of them has got to be sitting with your family and having discussions over meals! Don't worry. You can still do that. Plan a dinner night with your family members, ask them to cook the same food as you. Then on the decided day and time, video calls them, set your phone or laptop in an apt position, and enjoy a warm meal talking with each other. We know this might not provide you with the same feeling, but still, it is a good alternative, and we suggest you give it a try.
7.) Organize A Baking/Cooking Night Once In A While:
One of the best ways to stay connected with your families is to organize a virtual cooking night. Decide a date and time, inform all your family members, video call them, and get in the kitchen. While making your favorite dishes, chat with each other, and give each other updates and cook a warm and delicious meal for yourself full of love.