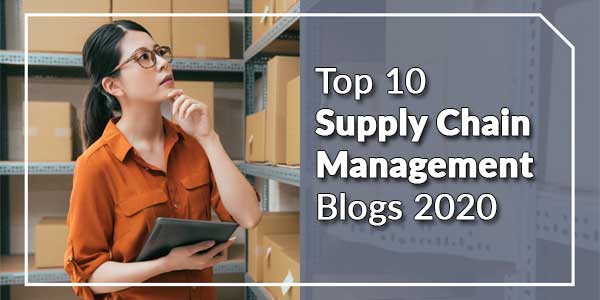 Supply Chain management is a very essential part of business trade. It can lower the cost of trade and increase profit. A supply chain is simply a network between the company and the suppliers to trade the products. With a growing business, many of the companies are finding a way to supply their products at a lower cost with profitable income. The supply chain management system plays an important role to keep a track of the business. There are many supply chain blogs that help to keep you updated with regular news on the supply chain industry. This will not only help you to know about the big companies' supply chain but will also help you to have a better understanding of the way this works. They all lead you with different topics and you can share your ideas with others for a better understanding. Let's look into some of the best supply chain blogs of 2020.
Supply Chain Matters:
It was Produce by Bob Ferrari the owner of the Ferrari group. Supply chain matters provide information about different supply chain management systems with their weekly news and updates. Ferrari Group is a blog writer providing useful topics for those who are new in this field covering various topics. One can follow their Twitter page to keep a regular check on their blogs.
Supply Chain Today:
Supply Chain Today posts regular blogs on different topics. Topics can include artificial intelligence, digital supply chain, BlockChain, logistics, and more. This Supply Chain Today focuses on future topics like drones, AI, and other future-related topics. One can follow the Twitter page for more information about supply chain blogs.
Supply Chain Digital:
This digital publication blog post contents on a daily basis covering a vast related topic on supply chain including from global and international supply chain matters. They even put unique blogs each month and topics could include new logistics technology and can also post few reports of companies. This blogsite will help you to understand how different companies run their business.
Supply Chain Management Review:
Supply Chain Management Review is a US-based business magazine. The owner of this group is Peerless Media. This supply chain site provides you with free news, interviews, and webcasts on a daily basis. This magazine covers topics like software and technology, transportation and logistics, supply chain education, and other topics related to the supply chain. It also publishes various case studies of big companies.
 Supply Chain Movement:
This supply chain blog helps to spread the news from Europe to the world. Supply Chain Movement blog consists of many topics like research papers, case studies, market trends, and different blogs on the supply chain. Supply Chain Movement also has their own magazine which provides you with different topics.
Supply Chain 24/7:
This site provides you with many business resources and logistics topics. Supply chain 24/7 post many of the new topics related to the supply chain so readers can keep a check for the latest news. They also provide a number of case studies, research articles, and papers from big companies. The main focus of this site is to keep his reader updated and provide the most relevant news about the supply chain system.
Supply Chain Brain:
Published by Keller International Publishing Corp… Supply Chain Brain provides information about supply chain management resources. This site provides the reader with news, articles, and views of different supply chain activities. Topics including trends, logistics, technology. This site posts on a daily basis. It also provides case studies, white papers, webinars, newsletters, and many more.
MIT Supply Chain:
MIT was published for transportation and logistics. This site provides you with different supply chain blogs every week from world-famous executives and academics. Topics can include future chain supply, green E-commerce, data science, sustainability, and other environmental topics. MIT supply chain provides the world's best education, research, and supply chain management. You can follow their Twitter page to remain updated for their weekly topics about supply chain management and more educational related topics.
Spihium Blog:
This site mainly focuses on e-commerce supply chains. Spihium blogs were formed by Amazon and Zulily supply chain executives. They don't post on a daily basis but when they do it covers a wide range of topics from logistics, e-commerce, software companies, and more. Readers get a better knowledge of the supply chain system. They also provide information about the global community supply chain and companies.
Supply Chain Network:
This site helps to make a network of people with similar interests to improve logistics. Supply chain Network provides you with various topics related to logistics and supply chain. The supply chain network was managed by Jeff Ashcroft who has been working for more than 20 years on logistics and supply chain management. This site posts on monthly basis articles.
These are a few of the best supply chain blogs of 2020 as the marketing strategy is growing. People should have an idea about how the supply chain works and if you want to grow your supply chain center for your business then you should probably know what's happening with the other companies and how they are dealing. Most people read about supply chain management to keep a check on the global supply chain market. This will help them to understand the purpose and keep them updated with daily news on the supply chain and how they can boost their performance and also some leading facts that change or affect the supply chain process.