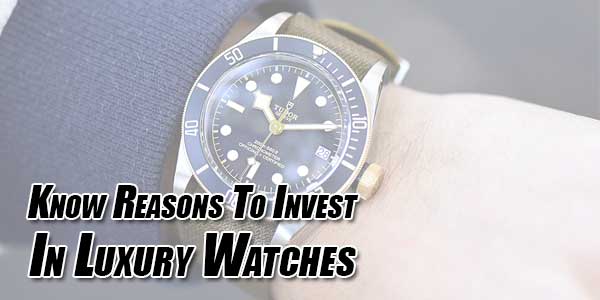 Don't feel guilty if you love collecting premium watches; you are not alone. Luxury watches are a great form of investment that you can tout effortlessly. Watches are a perfect accessory for both men and women. They are ironically timeless and can accentuate your look if you team me it up nicely. There are many reasons to invest in luxury watches. Read this blog to know more about luxury watches and why you should invest in them.
It Reflects Your Hardwork:
If you can afford to buy yourself a luxury watch, then you've probably worked hard to get to that position in life. And, while times may be changing, it remains the fact that men run most global businesses.
Wearing an investment watch is a status symbol and one that's particularly prevalent in the business world. We'll explore this later, but for now, we want to make the point that, as a woman, wearing a timepiece that is respected by men can be one way to demonstrate that you've 'made it' – if that is what you wish to achieve.
It reflects the hard work you've put in and the challenges you've overcome to get to where you are today. And the subsequent success you've earned.
It Is A Worthy Investment:
Similar to cars watches also retain their value depending on the model you purchase. Sometimes when you invest in a timeless piece, the value tends to increase over time. So, investing in premium watches is a valuable investment that might help you during a financially difficult period. So instead of burning your money on dresses that lose their value the second, you purchase them, why not invest in luxury watches and retain your money's worth. Ensure that you buy carefully, keep your watch in perfect condition, and keep the box and paperwork.
Luxury Watches Lasts A Lifetime:
One of the reasons why luxury watches are great sources of income or possible heirloom item years down the road is because they're built to last. Many of the luxury watches on the market are built by hand, using a balance between traditional techniques of expert watchmakers and modern technological innovations.
Swiss-made watches, like Rolex and Omega, have long been considered the premium watches among luxury designers and watchmakers.
Switzerland has long been home to master watchmakers, and that "Swiss Made" label is hard-earned. For a watch to be produced with the Swiss Made emblem, it must have been assembled in Switzerland using high-quality, handmade movements also crafted within Swiss borders.
Every piece is inspected for quality before the label is applied. The methods used to ensure precision and longevity. Consider the fact that the origins of these timepieces predate batteries and industrialization.
So above are some of the main reasons to invest in luxury watches. When you invest in a luxury brand, ensure that you are well aware of all their features and authenticity. Once you invest in a timeless masterpiece, it is going to stay with you for a lifetime.