The smart wearable devices by the android wear have been delivering notifications and signals to your wrists. And now with the android wear coming into its golden era with many devices like Motorola's Moto 360, LG's Watch R, Sony Smart Watch 3 and many others. With the latest Android wear 5.1.1 software update the experience only gets better. Before starting to use it you will have to download the full app into your Android Phone.
The selection of the number of Android Wear apps are very few for now, about just few more than 200 but those include some pretty fascinating apps with some amazing options like controlling the lights at home, fitness apps, app to order food etc.
1.) Android Wear Visualizer:
Turn your wrist watch into your own light show with this less than 1Mb app which creates visualization from the music being played on your smartphone. This app which is exclusively only for wearable will give a colorful glowing display at your wrist that will vigorously changes with any sound or music running in real time with 42 different music visualizers supported both for round and square screens.
2.) Slumber for Android Wear:
This simple app shows a black screen while your watch is charging allowing you to sleep without any bright lights from your watch. This screen will remain dark until you pick up the watch again from the charging mode or tap the screen.
3.) UhrArt WearFaces:
One of the simplest yet key features of the smart watch is being able to customize the display of the app which lets you select from a gallery of faces from the Wear Face community. Not only that you can also create and share your own designs.
If you happen to have an important thought or you hear some important news that you need to note it down for a later reference but unfortunately you don't carry a note and a pen all the time then there is nothing to worry if you have an android wear and this app called wear audio recorder. This app will let you tell your wrist all sorts of important reminders or notes. These audio will then be transferred automatically over to your smartphone.
5.) Wear Mini Launcher:
Using an app on the Android Wear can be at times difficult. But this app takes the trouble away and lets you quickly launch any app without lot of scrolling and swiping. This app also lets you quickly access and change settings like brightness, Wi-Fi and ringtones for your smartphones and granting loads of customization options inbuilt.
This has been named as one of the best apps by Google. It's an acronym for "If This Then That" and allows you to link your channels like Facebook, Instagram, Gmail etc. IF connects all the apps you love and creates a simple conversation between apps like Twitter, Facebook, Drop box, Instagram, and Gmail. Also on devices like Nest Thermostat, FitBit and Philips Hue.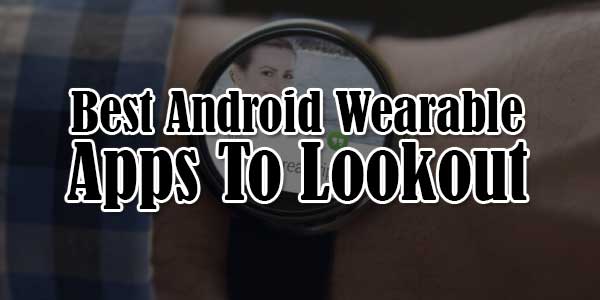 7.) Wear Aware:
If you happen to misplace your phone constantly then you need an app which will work like a chaining device on your phone fixed to your pant pockets. And for that Wear Aware app would be a perfect solution which will start buzzing just when your smartphone goes out of reach of your Android wear device. You can also make this app tell your smartphone to blast an alarm to make it easier for you to find it.
8.) At Work:
This app will help you figure out the exact amount of time that you are spending on the clock at work. The At Work app lets you punch in for a day on your smart watch which will basically start a timer. When you are done with the work just punch out the smartphone and it will give an indication of how long you had been working. Small business owners or freelance workers will find this app pretty useful.
You might have used pocket calculators but wrist calculators would be a first time experience for you if you have an android wear and the Calculator for Android Wear. This app gives you all the powers of a fancy computation at your fingertips with ease. You will no longer have to reach down for your smartphone to figure things out if you have this app.
10.) Flopsy Droid:
Inspired from games like flappy bird an experimental game was made for the fine-tuned android wear devices where you must navigate and control the floppily limbed droid through a series of pipes to rack up the points.
The authenticator plus is an amazing war to keep your accounts from being hacked. When you type your password into a websites which supports the authentication plus you will be occasionally asked to verify that it is you by inputting a number which is generated by the app on your smartphone. And you can check your phone or check the email on your web browser.  This will help for the website security and you can just look at the wrist for a special code that you need to log in to your Google authenticator protected sites.
The guardian app give you alerts whenever there is some kind of breaking that you must check out later. And unlike the alerts you will also definitely notice when any important news breaks on your wrists.
With such an amazing amount of app detonation for our wrist devices, now all we need to see is the perfect way to use it in our own way in the regular life. We can expect to see more of friendly and helpful apps in the search engines and other recommended sites which will further more grow the importance and value of the wearable devices.