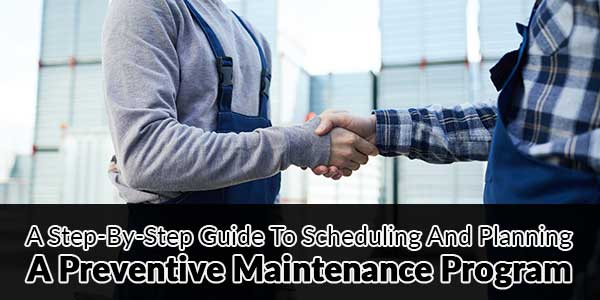 The inception of an efficient preventive maintenance program begins with meticulous planning. Focusing on scheduling inspections and maintenance for assets before any breakdowns happen is paramount.
To maximize the competence of your preventive maintenance program, you must keep track of data from all previous inspections and maintenance.
Here are some types of preventive maintenance –
Time-Based Maintenance
Failure Finding Maintenance
Risk-Based Maintenance
Condition Based Maintenance
Predictive Maintenance.
Such a program taxes the company less in time and capital to sustain the vital functioning of your assets and equipment because unplanned downtime can lead to the company sustaining severe losses in extreme cases.
Tips To Devise An Efficient Preventive Maintenance Program:
You are most effective when you plan and schedule 80% or more of your maintenance activities about a week in advance. You should aim for an 80/20 split between planned as-well-as unplanned maintenance.
Here is a step by step guide that you must follow to help you schedule and plan a preventive maintenance strategy –
Step 1.) Hire Qualified Technicians:
Before putting any preventive maintenance procedures in place, company managers must establish who will have involvement in the preventative maintenance project.
As per their company size, choices might include maintenance managers, maintenance techs, and personnel from the accounting or finance departments.
It is also vital that staff members remain fully invested in strengthening the program so that the PM implementation can get executed successfully.
However, not everyone would feel convinced by the notion of implementing advanced PM solutions and might wish to stick with traditional means.
Managers must convince them by explaining how PM eliminates pressure, streamlines workflow, and removes slow-paced methods by replacing parts of faulty machinery before it breaks down.
Step 2.) Set Goals For Your Preventive Maintenance Plan:
While creating a preventive maintenance plan, it is pivotal to determine the goal of the project to facilitate a smoother work order and conduct routine maintenance on critical assets.
Some PM goals include cutting down reactive or corrective maintenance costs by X% or reducing equipment downtime by X%. It is better to implement preventive maintenance as it costs significantly less than reactive maintenance.
You must monitor specific metrics that you can employ to track your PM program progress accurately.
A decent PM program will reduce stress and anxiety amongst the staff. Therefore, it will help if the managers find measurable parameters linked to stress and track them to realize if they have met the desired goals.
Step 3.) Manage Equipment and Assets with a Computerized Maintenance Management System (CMMS):
The most time-consuming phase of establishing a preventive maintenance plan is the initial set-up of a CMMS software program.
This step is significant as it ensures that a preventive analysis is made routinely on primary operational equipment. Managers cannot formulate a plan to cater to what they have if you do not know what you already have.
It is essential to note equipment make/model, specifications, serial numbers, asset identification numbers as-well-as fixed locations to understand the machines better and improve their operating condition.
Documenting the prevailing condition of the equipment and ordering for timely repairs and replacements of parts can help prioritize its significance as part of a preventive maintenance program.
Step 4.) Make Decisions:
The next step is to figure out the tasks or jobs needed to maintain each equipment and the frequency with which these tasks must occur. You must make vital decisions to ensure your PM model functions effectively.
For instance, managers can queue a PM to analyze your AC units in late spring. They must set PMs based on the number of cycles. Every 10,000 cycles, they must visually survey every piece of equipment.
Successful preventive maintenance pm programs comprise schedules as per the run-time hours; however, knowing how often these might occur will aid the scheduling process of a company. Such a maintenance strategy can greatly improve accountability as well as productivity.
A preventive maintenance plan must include a parts list, standard operating procedures (SOPs), safety/lockout systems, and estimated time to execute the PM tasks.
Step 5.) Use Equipment Manuals:
It is convenient to determine PM procedures by referencing the owner's manual and manufacturer instructions as-well-as documented industry standards to ensure that managers base their next step following the books.
Managers must become familiar with equipment O&M manuals, which educate about the recommended maintenance schedules and troubleshooting information to prevent equipment failure.
Serial codes help ensure that when machines require replacement parts, the managers order the correct ones.
Efficient Preventive Maintenance benefits from technicians who are informed about the assets they are regulating and have appropriate components available when required.
Step 6.) Schedule For Long/Short Term Preventive Maintenance:
Preventative maintenance scheduling occurs regularly and requires time, energy as-well-as staff resources to execute. When creating a preventive maintenance schedule, make a list of top priority items as your starting points.
Preventative maintenance programs take time to get created, and managers must schedule the highest priority maintenance before burdening staff with tasks on a lower priority.
Once the managers identify the top priority items, they must commence by scheduling preventive maintenance tasks with longer intervals first (annual, quarterly).
Equipment that requires preventive maintenance on longer intervals demands the most time and resources, and thus, scheduling may be best during low-active times of the year.
After completing top priority long-term preventive maintenance, managers must schedule tasks with shorter intervals and more frequent cycles (weekly, monthly).
Considering that these short-term preventive maintenance tasks demand less time, they can also close the gaps between the long term and top priority preventive maintenance.
Step 7.) Train Employees:
Companies must prioritize the training of its maintenance staff as they act as the core users of the system. Training staff members to use a program is a vital determinant of rewarding outcomes.
Firstly, ensure that the techs realize the future benefits of the program. They will not go through the training if they cannot understand the point of the program.
Managers must provide their employees with as many learning methods as viable. Modern CMMS providers offer numerous training opportunities and resources.
Training sessions can happen onsite or online, with training that walks the techs through the software. Ensure that they also have convenient access to supplementary videos, manuals, and other documentation. Use this opportunity to refresh your team's knowledge of OSHA laws as well to maintain safety standards.
It makes more sense to introduce additional features and workflows to the techs with time. Train personnel on a minimal subset of features and let them build experience before presenting more complex aspects.
Final Words:
Preventive maintenance systems streamline each aspect of preventive maintenance programs, such as development, scheduling, as-well-as tracking.
By helping maintenance departments identify minor issues before they grow substantially, the software minimizes downtime and boosts profits.