Advancements in technology have affected all walks of life and paved the way for newer forms of generating money. Electronic sports are one such field where organized tournaments are held for video games. Most such tournaments have the provision of either participating as a team or as individual members.
In recent days, eSports have gained immense popularity. They have many sub-sections like first-person shooter (FPS), card games, real-time strategy, multiplayer online batter arena, and a lot more. The ease of access to streaming platforms like YouTube has further compounded this trend. This has had several people to take to the establishment of an eSports Company to make money.
If you are one such person, then building an app can give your eSports company the boost you had always hoped for. Here's all that you need to know about it.

The Need For eSports Apps:
From teams, coaches, and leagues to tournaments and prizes, eSports replicates traditional games' features in every possible way. Players of popular eSports like Counterstrike or Fortnite would reveal that the adrenaline rush with these is like that in physical games and sports.
Now you must realize that while video games have been in place for quite some time, and the first video gaming tournament was held in October 1972, professional gaming became popular in the last decade. With platforms like YouTube and Twitch coming into the picture, professional players have started streaming their games. Amateurs follow their videos to pick up some skills, and soon eSports became popular among the viewers.
Over time, this field became a source of income, not just for the players but also for their coaches, managers, and marketing team. Today, eSports tournaments need coordinators, commentators, hosts, and several others. This makes it a lucrative business and the perfect time for you to invest in an eSports app.
You can integrate several APIs that aggregate real-time eSports information and make it to a user viewable form. Focussing on the interface layout, app design and ensuring that the app has all the necessary functions will help you gain visibility in the iOS store and PlayStore. Considering that 1.57 billion people worldwide are already aware of eSports, such an app has a high revenue-generating potential.
Types of eSports Apps:
Having realized the potential of the eSports business, opting to make an app is a smart choice. However, before you decide on the technical aspects of app-making, you need to figure out the type of app you want to build.  While some businesses prefer investing in tournament streaming apps, others create apps for team management purposes.
Forum apps, statistics, and tracking apps are other types of popular apps. You need to decide if you want your app to be niche-specific or if you would rather have an app that combines the functionalities from multiple apps. Also, look up your area of business operation's cyber laws to confirm that the app you are trying to create is legal in that area. For example, although betting and gambling apps are common in the eSports circle, they are not legal in many countries.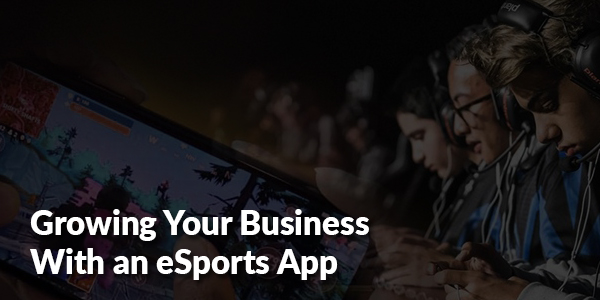 Growing Your Business With an eSports App:
Once you have the app created to your taste, the next step would be looking for ways to monetize the app and grow your business. Here is how you can do it.
In-app Advertisement:
In-app advertisements require no additional efforts on your part and are a great tool to make money. As your app gains popularity, you will find several sponsors reaching out to you for advertisements.
Never accept an advertisement from a firm whose brand ethics are not in alignment with that of yours. Choose your ads carefully, as they can sometimes be instructive, which can take a toll on your app's engagement. With immense competition in the world of eSports, the tiniest of errors may cause you to lose out on your retention rate.
Subscriptions:
If you are confident of providing constant updates to your followers and can promise new features and fresh content in your app, you can consider the option of subscription to make money. Come up with multiple plans offering different types of subscriptions. That way, the app will give a predictable and stable flow of revenue to your eSports business.
In-app Purchases:
If you are in your app's initial days, you may want to start with a safe freemium monetization model. Under this, keep the basic access to your app free for all members and offer special features to those that make in-app purchases. The special content can be gaming hacks, interviews with top plays, sneak peek of major tournaments, and a lot more.
Features You Must Have for Your App to Make Money:
While eSports apps' money-making potential is unquestionable, you need to realize that just any app will not be popular enough to get money. You need to ensure that your app has the following features.
Calendar:
It is an absolute must for a gaming app to have a calendar feature where users can quickly glimpse past and upcoming events. If possible, try to have an option where users can directly open tournament pages from the calendar. Allowing the user to set reminders of important eSports events in their calendar is another feature you must consider.
Analytics:
Have your agile development team integrate analytics in the mobile app so that you can evaluate its working from a technical as well as a business standpoint. This section will tell you about the number of users, how many of them have converted to paid subscribers, how the content is being viewed if your app is crashing on a particular OS or smartphone model, and a lot more. All of this will allow you to better control the app and figure out how to grow.
Favourite League:
Sports fans are loyal to their team, and you can leverage this emotion by having an in-app feature that allows players to select their favorite leagues. That way, the user's news feed will have more information about the selected team, and they will receive a special push notification when there is any major news from that league.
While creating your app is a good idea to consider evaluating the top traditional gaming apps and taking cues from them. However, make sure that you have something unique to offer and that users downloading the app will not be disappointed.