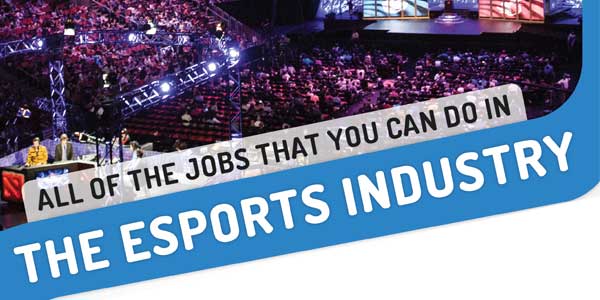 If you're stuck in a limbo and eager for a new and exciting career opportunity, the esports industry is the place to try. This fast-growing, multi-million dollar industry revolves around competitive video games that are played online and streamed live across the world to thousands of fans. This lucrative industry is inclusive and accessible to all career fields – far beyond the typically associated professions of technology, IT and professional gaming. Esports is increasingly relying on cooperation from all sectors as the market continues to expand, with increased participation from players and fans internationally forcing the market to adapt accordingly.
The esports industry has created a demand for financial, business and marketing roles to manage aspects including high-profile sponsors including Redbull and ESPN. Art and design roles including mobile developers, game designers and software engineers are required, as well as apparel designs and booth planners. Careers in communication such as translation services are necessary for international events, while management roles are in demand to build online communities. The esports industry is also creating new job roles with huge potential for growth.
The esports industry offers job opportunities with above-average salaries and exposure to the newest technological developments worldwide. Benefits of the job include international travel, valuable networking connections and the chance to learn new skills. The modern nature of the esports market also allows for part-time and remote work opportunities without compromising on salaries and growth opportunities. The esports industry is open to job seekers from all walks of life and requires both fresh graduates and experienced professionals. Take a look at the infographic below from Computer Planet to find out more about these very exciting opportunities. It also provides an overview of the skills and experience required for each career type, as well as the average expected salary.

This Infograph is shared here after legal permission from Computer Planet.